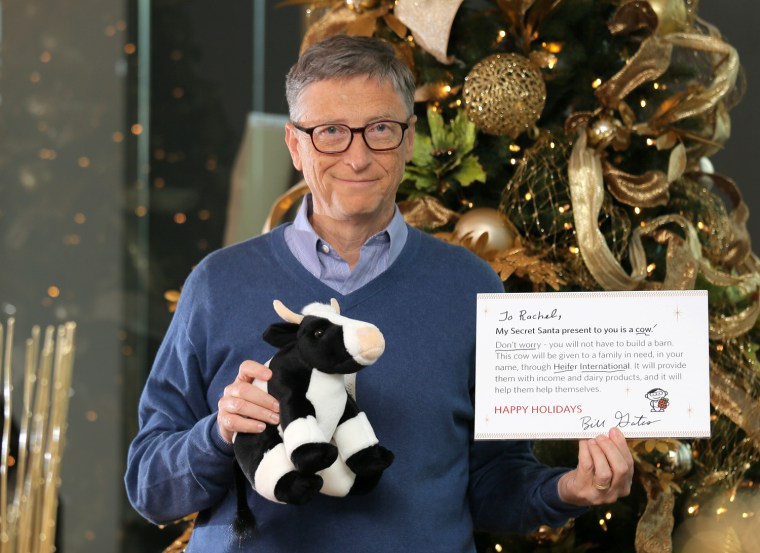 Most Secret Santas are average gift givers, but one woman got a big holiday surprise this week when she participated in an online gift exchange and received a package from none other than Microsoft co-founder Bill Gates.
The lucky recipient, who identified herself online as Rachel and who goes by the handle NY1227, signed up for Reddit's gift exchange website Reddit Gifts, and revealed in a post on Wednesday how shocked she was to open her package and discover her gift-giver was Gates.

In her package, alongside a plush toy cow, was a photo of Gates holding the toy and a message addressed to her. "To Rachel," it read, "My Secret Santa present to you is a cow!"
In addition to the stuffed, black-and-white cow in the box, Gates also included a certificate from the non-profit organization Heifer International, which provides families around the world with agricultural products and animals to generate both food and income.

"This cow will be given to a family in need," the certificate read. "It will provide them with income and dairy products, and it will help them help themselves."
A representative for Gates confirmed to TODAY that he had indeed sent the gift.
It's no surprise that Gates chose Heifer International to make a charitable donation on Rachel's behalf: The Bill and Melinda Gates Foundation has been a generous supporter of the organization, granting it more than $51 million in funding in the past several years. The cow that Gates gifted costs $500.

"I was so excited," Rachel wrote, in a post spotted by Fast Company. "the cause seemed really worthy and amazing, and it is the season of giving. It makes me so happy that he was able to donate to a charity on my behalf that helped people with both needs and educational benefits. Nailed it, Bill!"
Gates also included something else — an inscribed and signed hardbound travel book featuring 500 of the world's "greatest" trips, which earned glowing reviews from Rachel.
"I went on and on in my likes and dislikes for my love of travel and seeing the world, and I cannot WAIT to read this," she wrote. "This gift was perfect!"
When she first received the gift, Rachel didn't immediately realize just who had written the card bearing the name Bill. She had no reason to expect someone famous, as Reddit's gift exchange is a global affair. Last year, nearly 45,000 people participated.
"I thought Bill sounded like a friendly fellow," she wrote. "In fact, I had this whole image of this poor guy named Bill trying to navigate my wishlist full of makeup, nailpolish, glittery things to buy me."
Unfortunately, Rachel also included an Apple iPad on her wish list. "Sorry," she joked, "that was really awkward."
She wrote about wanting to thank Gates, but said he hadn't included a return address on the package.
"I want to start by giving a HUGE THANK YOU to Mr. Bill Gates for an amazing gift and secret santa experience," she said. "Bill- you ROCK (can I call you Bill?! I feel like we're friends now!). I am so very, very grateful for the amazing and thoughtful gift you have picked for me!"
Her post has since received more than 5,000 Facebook likes and over 100 comments. Something tells us Gates has gotten her message.