Don't place those Oscar bets yet: Sunday night's Screen Actors Guild Awards showed that there's no universal favorite among the films and actors who'll be competing at the Feb. 24 Academy Awards ceremony.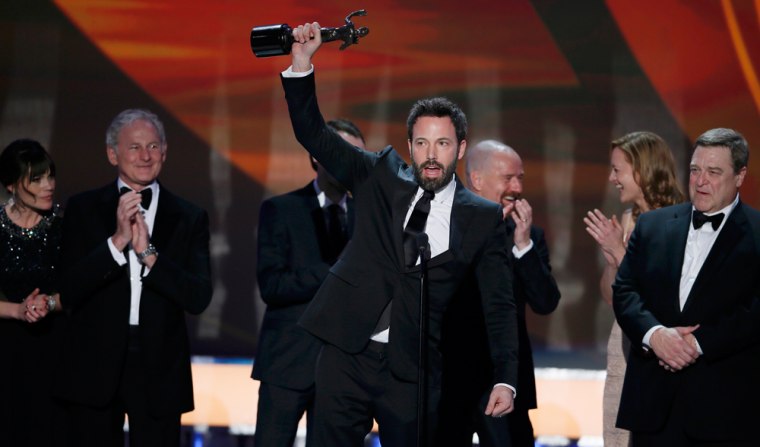 "Argo," whose director, Ben Affleck was not even nominated by the Academy, won the biggest film award of the night, outstanding performance by an ensemble cast in a motion picture. Many awards-watchers had expected Steven Spielberg's "Lincoln" to take home that prize, but that film hasn't shown the awards dominance critics expected.
"Argo" also beat "Lincoln" at the Golden Globes, taking home the best drama award as well as the best director award for Affleck.
While accepting the award for "Argo," Affleck praised "Lincoln" star Daniel Day-Lewis, who won the SAG award for outstanding actor in a motion picture, as expected.
"I can't believe I'm standing in the place where Daniel Day-Lewis just was," Affleck said. "Maybe I'll be a better actor, just from the radiation."
For his part, Day-Lewis, who's a heavy favorite to win best actor at the Oscars, noted that "it was an actor that murdered Abraham Lincoln, and therefore it is only fitting that every now and then, an actor tries to bring him back to life again."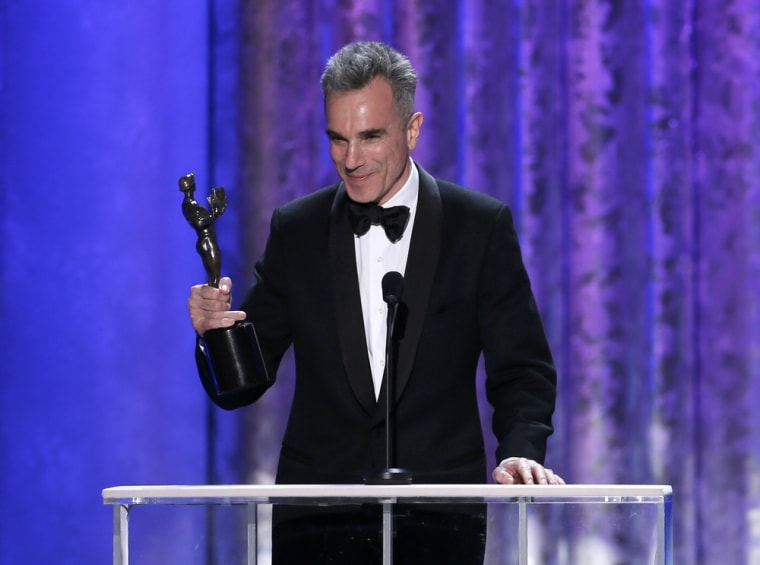 Day-Lewis' "Lincoln" co-star Tommy Lee Jones, who was suffering from the flu and wasn't in attendance, won the outstanding supporting actor award for his role as fiery Congressman Thaddeus Stevens.
Another film award came as a surprise to many. Jennifer Lawrence won the award for outstanding performance by a female actor in a leading role for "Silver Linings Playbook," an honor many thought would go to Jessica Chastain for her role in "Zero Dark Thirty."
Lawrence thanked director David O. Russell, whose 18-year old son is bipolar, like Bradley Cooper's character in the film.
"You made a movie ... for your son so that he wouldn't feel alone and so that he could feel understood," she said. "And I think I can speak on behalf of most of us in saying that you helped more than your son, you've helped so many sons and daughters, husbands, wives, everybody." 
In an expected win, Anne Hathaway took home the outstanding supporting actress award for her role as Fantine in "Les Miserables."
Actors in movies and television honor the great performances of individuals and ensembles on both the big and small screen at the annual celebration.
"I have loved every single moment of my life as an actor," Hathaway said. She went on to thank her mother, who once understudied the Fantine role, "for voting for me -- at least she better have!"
The first two television awards went to actors from "30 Rock." Alec Baldwin won for outstanding male actor in a comedy series, and Tina Fey for outstanding female actor.
Baldwin collected his eighth SAG award, noting that his good fortune was "ridiculous," and said that his experience on "30 Rock" was "the greatest experience I've ever had."
Fey won her fifth SAG award. "Thank you for letting me in this union," she said in her speech.
She then earned big laughs for calling out fellow nominee Amy Poehler, joking that "I've known you since you were pregnant with Lena Dunham."
At the Golden Globes on Jan. 13, Dunham, 26, had thanked show hosts Fey and Poehler and other Globe nominees for "getting me through middle school," a remark the hosts were quick to pick up on when they returned to the stage.
Although "30 Rock" was nominated for outstanding performance by an ensemble in a comedy series, the award went to "Modern Family."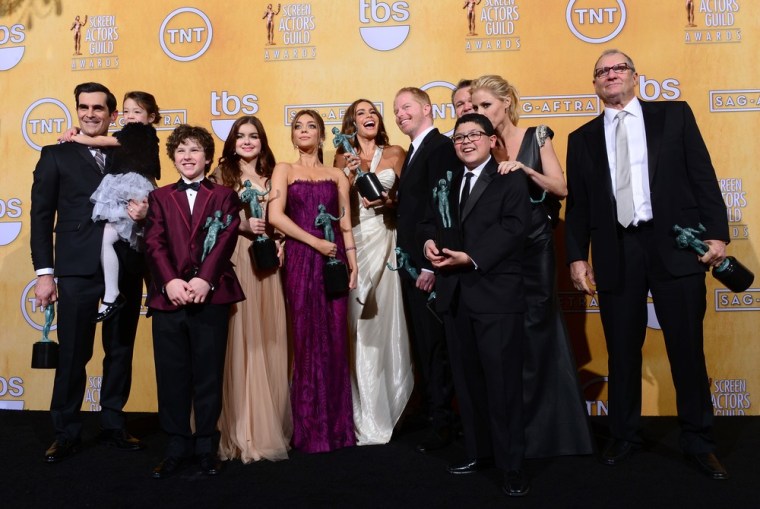 Bryan Cranston took home his first SAG award, for outstanding performance by a male actor in a drama series for "Breaking Bad." Cranston thanked series creator and producer Vince Gilligan, saying "he wrote the role of my career." Cranston would later return to the stage to stand with the "Argo" cast, as he plays a CIA supervisor in that film.
Claire Danes won the award for outstanding performance by a female actor in a drama series for "Homeland," another expected win.
Perhaps the biggest surprise in the television categories came when "Downton Abbey" won for oustanding performance by an ensemble in a drama series, beating the highly acclaimed "Homeland" and "Mad Men," among others. Scottish actress Phyllis Logan, who plays housekeeper Mrs. Hughes, charmed many by hollering "Shut the French windows!" before thanking the cast and crew.
Julianne Moore won for outstanding performance by a female actor in a television movie or miniseries for her role as Sarah Palin in "Game Change," and Kevin Costner won the male actor honor for his role in "Hatfields and McCoys."
Dick Van Dyke received the SAG life achievement award. The award was supposed to be presented by Baldwin and longtime Van Dyke collaborator Carl Reiner, but Baldwin presented it solo. Van Dyke noted that Reiner was ill and couldn't attend. 
Van Dyke, who famously played comedy writer Rob Petrie on "The Dick Van Dyke Show," also joked that Reiner "waited five years to tell me it's PEE-trie, not PET-rie."
He also poked fun at his own much-lampooned Cockney accent in "Mary Poppins" and praised his peers as "the greatest generation in the history of acting," calling out the social activism of many actors in Darfur, Haiti, Somalia and other parts of the world.
Take a look at Hollywood's biggest stars showing off their designer gowns and tuxes on the red carpet.
Related content: