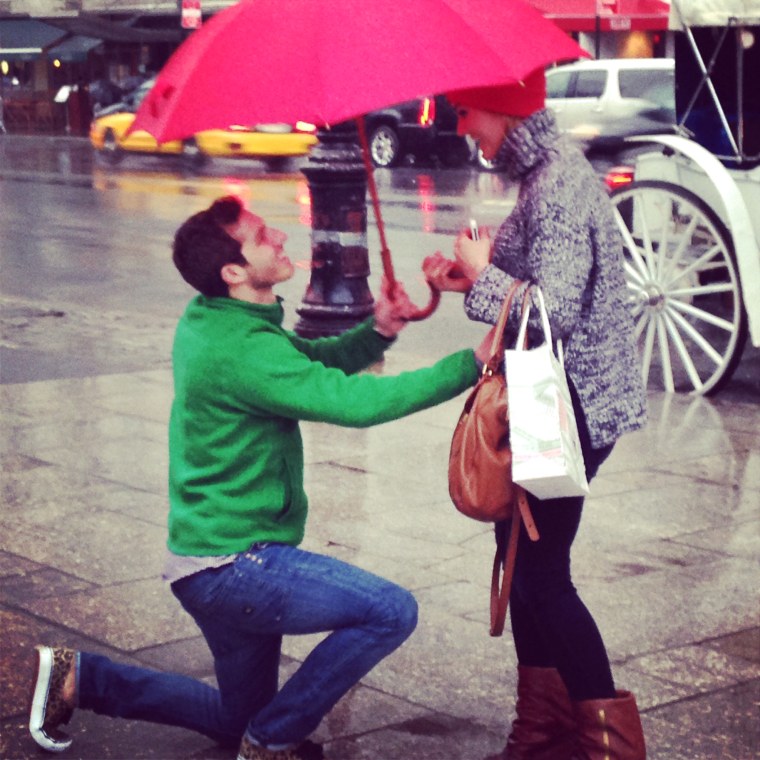 Some marriage proposals are elaborately staged affairs, designed with the goal of creating an over-the-top moment to remember.
But for one Rhode Island couple, a simple and spontaneous engagement turned into a truly unforgettable experience, thanks to some priceless photos they never expected to be captured.
When Elan Spreiser, 23, and Koren Lockwood, 25, visited New York City earlier this month, the plan was to do some sightseeing in their favorite city. What Lockwood didn't know was that her boyfriend was planning to pop the question.
"New York City is our place," Spreiser told TODAY.com about why it was important for him to propose during their visit to the Big Apple. "We always go for our anniversary and really enjoy it together."
But his plan to propose to Lockwood on the observation deck at Rockefeller Center was foiled by the rainy spring weather. Still looking for a romantic place to propose, he took her to Central Park, where he tried to take her on a carriage ride — which she declined because of the rain.
"Then he said, 'do you at least want to go see the horses?'" Lockwood recalled, laughing. "So I put him through the ringer trying to think of an idea of what he was going to do."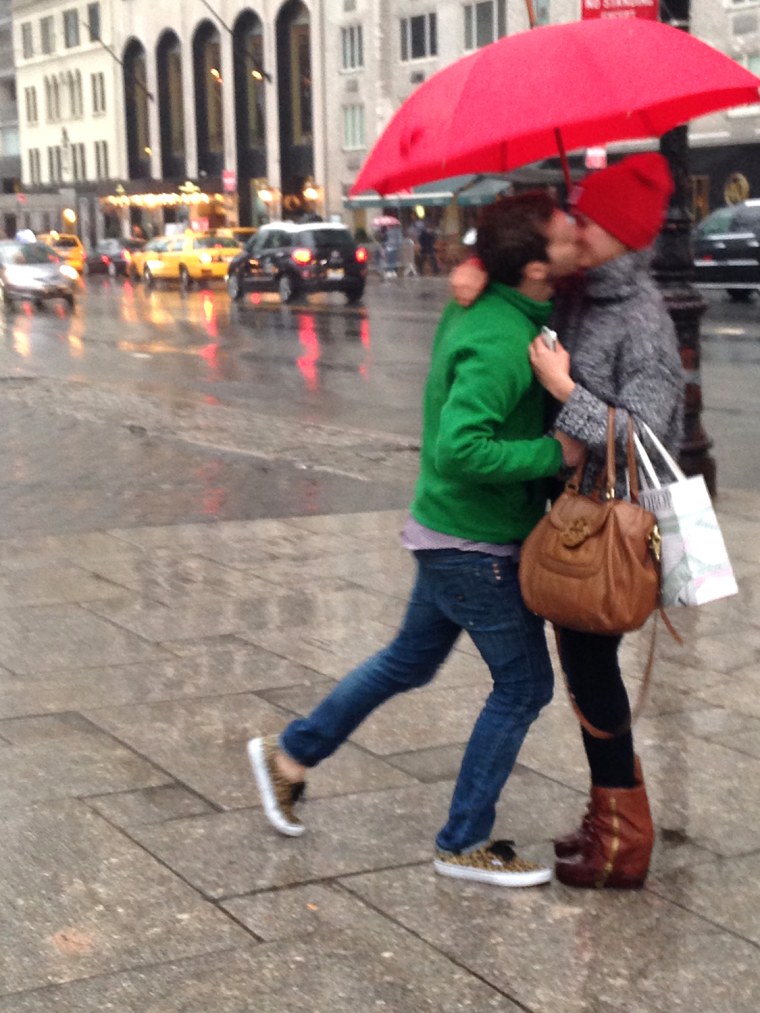 Though the inclement weather was conspiring against him, Spreiser felt the urgent need to propose while they were still in the city, so he decided to pop the question right there on the sidewalk in front of Central Park.
Little did he know, Lockwood wasn't the only one who appreciated the romantic gesture.
Jeannae Zuloaga, 23, had been standing nearby, checking her phone because she thought she was lost, when she saw the marriage proposal unfolding in front of her eyes.
"I immediately was like, 'They need pictures of this moment, they're going to want pictures,' Zuloaga said.  
She was able to take two photos: one of Spreiser on one knee, and the other of the two embracing after Lockwood said yes. "I think it was just a magical kind of happenstance," Zuloaga said, of being in a position to take the pictures.
When she approached the newly engaged couple to let them she know she had photographed their proposal, Spreiser hugged Zuloaga and told her, "You're my favorite person right now, besides [my fiance]."
The couple still marvel that she was there to document the occasion, which Lockwood calls "half random act of kindness and half random act of God." The two are still in touch with Zuloaga, and Lockwood said that they would like to invite her to their wedding, which will take place sometime next year.  
As for the proposal, Spreiser said he couldn't be happier with how it turned out: "For something that went so not according to plan, it couldn't have gone any better."
And Zuloaga said that being a part of such a major moment in the couple's life had personal significance to her as well.
"That was the quintessential New York moment that I needed to make me feel like I was in the right place at the right time," she said. "To have it happen just after moving to New York was really special. It was a wonderful moment, and I couldn't be happier for them."