/ Source: TODAY contributor
Crushed beneath mountainous rogue waves off the Northern California coast, surfer Jake Trette was within a breath of losing his life when a guardian angel came to his rescue — riding not on gossamer wings, but a jet ski.
TODAY hosted a reunion Monday between the grateful surfer and Russell Ord, an Australian photographer who spotted Trette being tossed around like a rag doll as he battled a titanic wave at a surfing site known as Mavericks at Monterey Bay National Marine Sanctuary. Ord, who is also a firefighter, taxied the unconscious Trette back to shore, saving his life in the process.
"I just would like to say thanks, buddy — I'm alive because of you," Trette told Ord live via satellite hookup between his home in Los Angeles and Cowaramup, Australia, where Ord lives. "I get to see my family and to see my friends, and hopefully we get to hang out one day. I just want to say God bless to your family, and thank you very much."
'Everything happened so fast'
That 30-year-old Trette is around to thank his rescuer, who he called an "angel," is something of a medical marvel. The surfer floated facedown in frigid waters for 6 to 8 minutes before Ord reached him and whisked him to shore.
A veteran California surfer who first mounted a board at age 4, Trette had traveled north to tackle Mavericks, a renowned spot in Monterey Bay that brings out both fear and exhilaration among the world's surfers. Waves there have been known to swell up to 80 feet.
Paddling his board out on Jan. 22, Trette found the swells averaging a manageable 15 to 18 feet. But, Trette told NBC, his "eyes were popping out of my head" when he and other surfers were suddenly faced with a looming 30-foot wave. As captured on film, several surfers were sent flying by the wave, while Trette rode the swell on his board.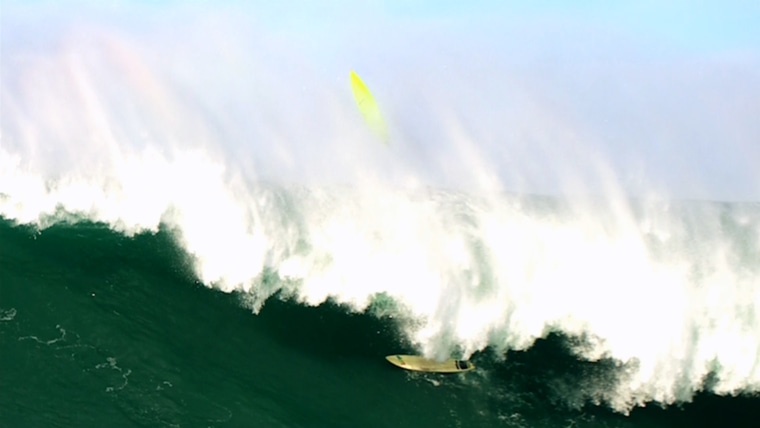 Trette told TODAY's Matt Lauer that in retrospect, he thinks he would have been better off ditching his board and trying to dive beneath the wave. "But it seems like everything happened so fast," he recalled. "I probably should have gone under it, but there was somebody behind me and there were people to the side of me, and I didn't want my board to hit them. So I decided to go over it."
The wave, as high as a three-story building, knocked him off his board and slammed him into the ocean floor. Trette bobbed back up, only to be hit by a second, then a third wave, knocking him unconscious.
'Sticky situation'
Matt Kirzan was kayaking nearby as the waves crested, sending surfers and boards alike flying. And when the waves passed, he saw a body floating.
Kirzan told The New York Times that he knew he would be unable to maneuver fast enough to save the downed surfer, and frantically began waving a paddle to draw the attention of a jet skier who was videotaping the surfers. As luck would have it, the jet skier was Ord, a trained firefighter from Down Under with rescue experience.
"It was a pretty sticky situation," Ord told Lauer. "There was about four or five guys that got swallowed by those waves. To me, it was just a quick squirt on the jet ski, and I'm out of there. But I wouldn't have wanted to be in their position."
Ord made a beeline for Trette and hustled him to the shore, and he told NBC that he initially was fearful for the surfer. "I could not believe he had a pulse when we dragged him up onto the beach — there's no way," Ord said. "Maybe every 20 seconds you'd have a tiny little cough, but his eyes were rolled back."
Another onlooker had already called 911, and a rescue helicopter arrived to fly Trette to Stanford Medical Center. He was put into a medically induced coma to lessen his brain's need for oxygen. But amazingly, Trette walked out of the hospital four days later barely the worse for wear.
Ord maintains an aw-shucks attitude toward his rescue. "That's just the way things happen, really," he told Lauer. "I'm just thankful that Jake's in the studio right there talking to us. It worked out for the best in the end."
Even more amazing is the fact that Ord was a tourist in the bay — if he had been a local resident, he likely would not have been there. Personal watercraft devices are banned from the waters of Mavericks because of damage they can cause to marine life, a law of which Ord was unaware.
But Jeff Clark, a renowned surfer credited for being the first to tackle Mavericks back in the 1970s, says Ord's rescue of Trette should make lawmakers rethink their stance.
"If one of those guys gets hit in the head by a surfboard, then his other buddies are going to have to try to find him, get him on a surfboard and paddle him 600 yards to the beach," Clark told The New York Times. "He's not got a chance."
And Trette may have been thinking much the same thing when Lauer asked him what his 4-year-old would think when he gets old enough to watch his dad being "tossed around like a rag doll" by a monster wave.
"Well, hopefully he doesn't want to actually go there," Trette replied. "Hopefully I'll be out there with him, watching him on a jet ski — or telling him not to go."