Mike Morita was surfing in the same spot off the island of Oahu he's caught waves for more than 20 years when he was attacked by an 8-foot tiger shark.
Morita, 58, told TODAY from his hospital bed he initially thought a seal had latched onto his leg when he was surfing near Kewalo Basin on Sunday, April 9.
"I just felt the pressure and the strength of it," he said, before he realized a tiger shark had latched onto his leg.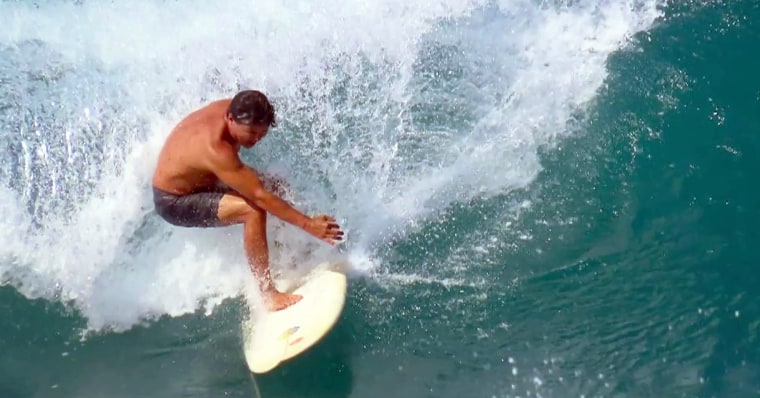 "I started to pray to God and I said, 'God let this shark let go of my leg,'" Morita said. "I was going back and forth, back and forth with it, and it didn't let go. So I guess God wanted me to fight."
The longtime surfer said he started punching the shark as hard as he could, but he felt his punches were "weak and slow." He said he decided to wrap his other leg around the shark and squeeze.
"My hand went right to the gills and as soon as I got to the gills, they released me," he said.
Morita said his deep faith is what kept him calm during the attack.
"I have God in my life and I have a lot of faith and trust and at no point was I scared," he said. "At no point was I thinking that I was going to die."
As other surfers rushed to help Morita, he realized how bad his leg had been injured.
"I looked back and I saw how bad my leg was," he said. "From my ankle to like halfway to my knee, there was no meat, it was only the bone."
Morita lost his right foot in the attack, and will need to have another surgery this week to try to save as much of his leg as possible. Despite the attack, Morita said he is not in much pain.
"So with the pain medication, and this nice, soft hospital bed, I'm at about a two or three as far as pain," he said.
Morita commended his "brave" friends for their quick first aid. "They saved my life because they got the tourniquets on," he said.
"I cannot believe the courage my friends had because I'm getting attacked and they paddled towards me," he continued. "They're my heroes."Following the incident, Hawaii Department of Land and Natural Resources said in a statement that lifeguards posted signs in the area warning swimmers and surfers of the shark and cautioned for them to stay out of the water until noon on April 10.