"Superman" Sam Sommer, the 8-year-old boy who while battling cancer had his wishes granted by his local community, passed away Saturday.
"He died peacefully and calmly and quietly at 12:33 a.m.," his mother, Phyllis Sommer, wrote on her blog that's tracked her son's illness. "He was not in fear or in pain. And for that I am eternally grateful." 
Sam was diagnosed with acute myeloid leukemia in 2012. After months of treatment — and even a short period of remission — doctors told the Sommers that their son's illness was terminal.
The Illinois community rallied around them, creating a group named "One Wish, Two Wish, Red Wish, Blue Wish" to help make "Superman" Sam's last few months happier and his family's life easier.
They lit up the night sky with a professional firework show, shopped for his siblings' coats, and took his sister to ice-skating lessons.
TODAY also saw an outpouring of support from readers after we told his story in early December.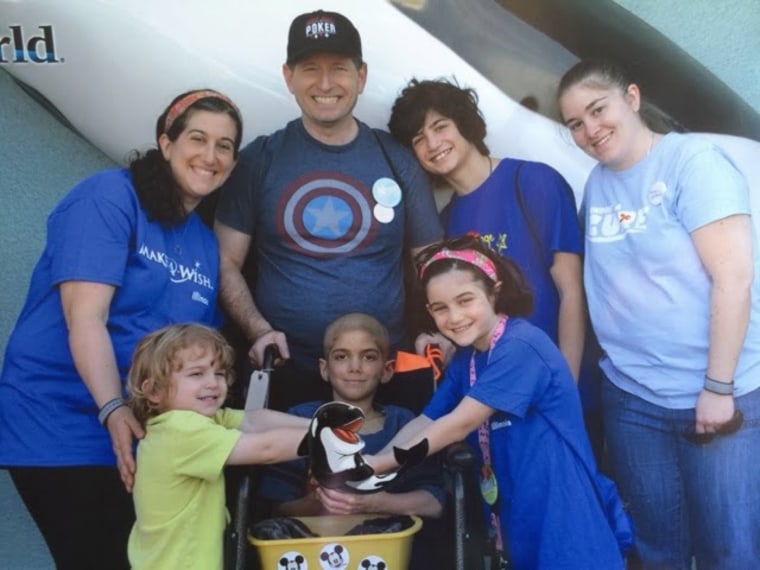 The evening before Sam passed away, family and friends who had supported the Sommers came to their home to say goodbye. 
"Around midnight, the last ones left ... I quietly sat down next to him and very very very softly sang his bedtime prayers," his mom wrote. "I whispered in his ear, I love you." 
"We held our child close. He took one final breath."  
"Sam was not alone for a single moment of his life." 
Learn more on how you can help the efforts for Sam and others with pediatric cancer here. 
TODAY contributor Linda Carroll contributed to this report.