Steven and Roger Ham couldn't have predicted they'd one day foot a $1,500 monthly grocery bill, drive a 15-passenger van, and do four loads of laundry a day — but that's what life now looks like for the couple, as they raise more than one dozen kids from the foster care system.

"It was never our intent to adopt 14 children," Steven Ham told TODAY.com, of the parenting journey that started a decade ago.
When the Hams first set out to adopt, they excitedly formed a mental picture of their future child: the one baby they'd bring into their home. But their family quickly diverged from what they originally imagined.
It all started with Michael, in 2003. Child Protective Services sent the Hams to meet the 5-year-old, who was living in a group home, so that the couple could consider adopting him. In a whisper, Michael confided to Steven and Roger that he was beaten up because he was the littlest. Steven's heart broke.
"He's been with us ever since," he said.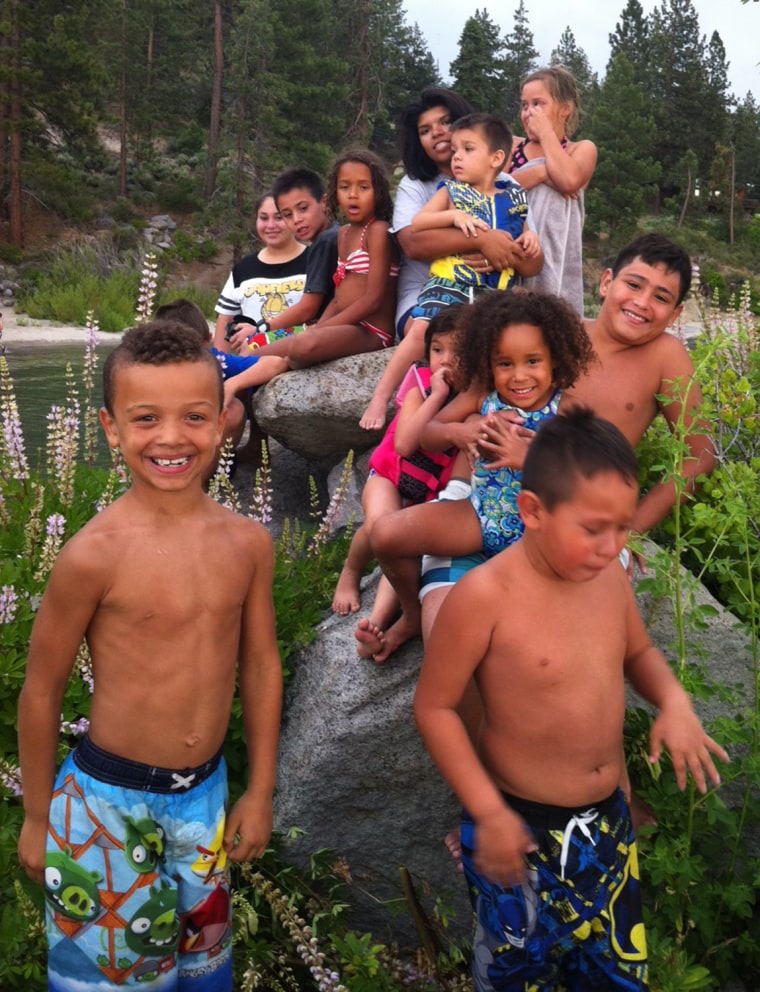 After he was adopted, Michael revealed that he was worried about how his four younger siblings were doing, who he'd helped feed and clothe before foster care split them up. Inspired by Michael's devotion to his family members, the Hams vowed to try to keep them together.
A call to CPS led to a poignant reunion for Michael with two of his younger siblings, 4-year-old Elizabeth and 3-year-old Andrew.
"Tears were rolling down these kids' faces," Steven said. "What child at three, four and five has tears of joy?"
The Hams soon adopted both Elizabeth and Andrew, and found they couldn't ignore the children's pleas to see their other siblings, 2-year-old twins, Jackson and Madison. The couple ultimately adopted the twins, and by 2004, they had five children.
In 2006, Steven became a stay-at-home dad. In the groove of fatherhood, he was ready to raise a baby. Though he says he was told by CPS time and again that he would likely not be selected to care for an infant in the state of Arizona because he was gay, he continued to try, and sure enough, was one day asked to foster an infant.
He poured his "heart and soul" into taking care of the infant, but the baby went back to his mother after five months, an experience that still brings tears to Steven's eyes. Just three days later, however, a new bundle of joy arrived: Marcus, then 15 months old, came to the Hams and stayed.
"He was the cutest kid you could imagine," Steven gushes.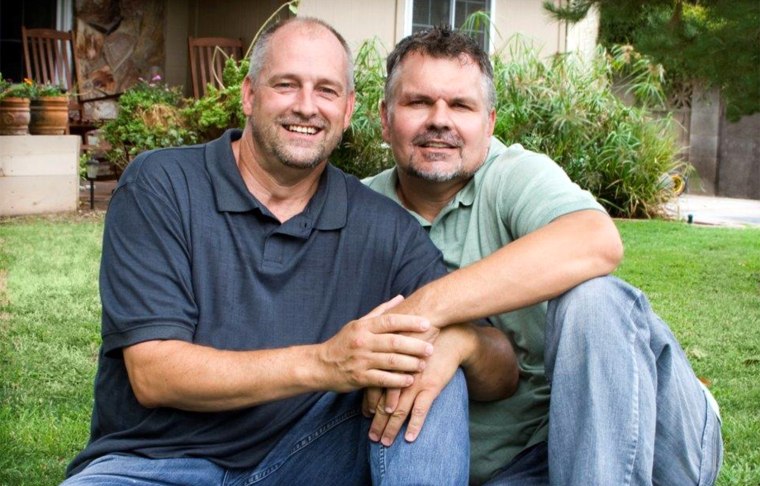 Two weeks later, the Hams faced a rapid-fire decision on 11-year-old Vanessa, a cousin of Michael and his sibling, who had been kicked out by her aunt. Guided by the principle of what it means to be a Ham, they took her in.
"We built our family on the value that family is family," Steven says Roger told him.
After adopting Vanessa, the Hams raised their brood while functioning as a "revolving door" for foster children in emergency situations. Some of these children also ended up making the Hams' house their permanent home, like Cooper, the 6-month-old baby they brought home in 2008 after he was abandoned behind a Wal-Mart, and his little sister Olivia, abandoned at a local hospital.
And their family continued to grow. One Halloween, as Steven and the kids were hanging decorations in their front yard, CPS showed up with 10-month-old Ambrose. Again, Steven devoted himself to this baby, his "shining star," only to see Ambrose return to her mother through the foster care system. But she continued to visit the Hams, and when she was 3 years old, her mother asked Steven if he'd take her.
The couple also adopted Logan, a 4-year-old boy from Washington with an ear deformity, and his sister Isabel in 2009, after learning there were plans to separate them.
"At that point, we were 12 and done," Steven said. The Hams closed their foster-care license.
Then, last January, they saw a local news story that changed their minds. A teacher reported finding bruises on a 4-year-old girl, leading to the arrests of her foster parents on child-abuse charges. The state also took her 2-year-old brother into care.
The report hit close to home — the children resembled Ambrose's half-siblings. A call to CPS confirmed the Hams' hunch: They were actually Ambrose's relatives. The Hams called a family meeting to make a joint decision with their children.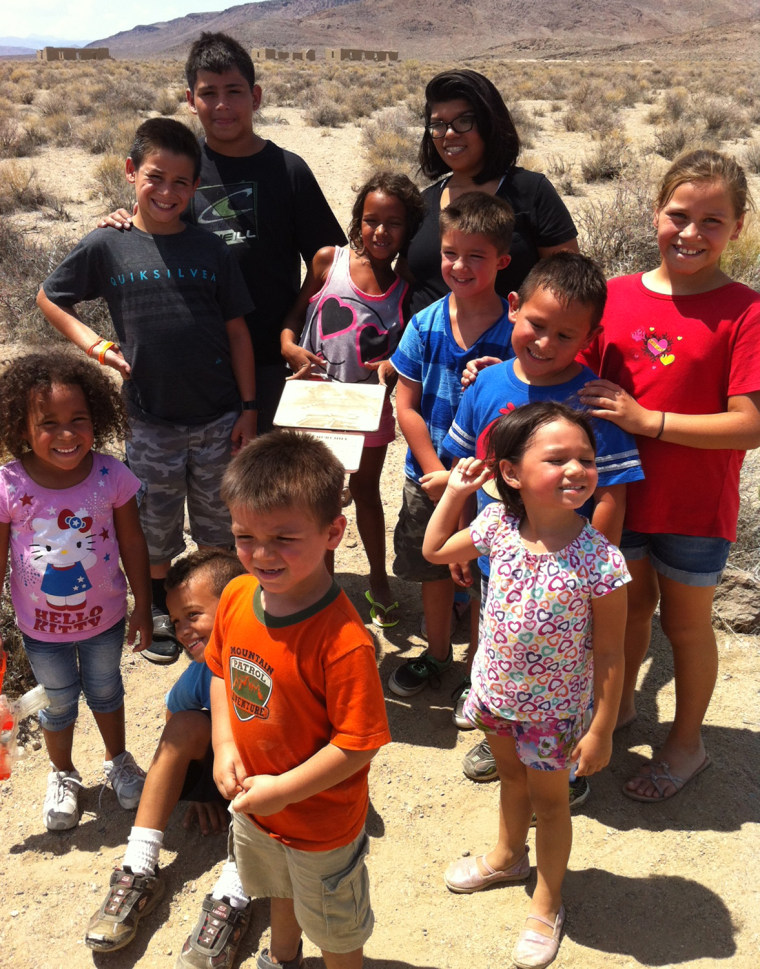 "When can we get them?" Michael, who is now 15, interjected.
The family agreed to expand its numbers once again, and in February, the Hams brought Ambrose's siblings, Julian and Bella, home.
For such a large family, the Ham household is surprisingly quiet, said Heather Shew-Plummer, the Hams' adoption case worker. "When you walk into their home, you wouldn't know there are 14 kids living there," she said. "It's clean and orderly."
Most of the Hams' children experienced the instability of life in foster care. That makes structure and stability crucial. Each child must have an extracurricular activity and a household chore, with one exception.
"I don't have them babysit," Steven said. "Their job is to be a kid. My job is to make sure they have what they need. That they have the skills to be a successful adult."
Shew-Plummer says the Hams have turned their children's lives around. "Their hearts are amazing," she said of the couple. "They will fight all day to get what they need for their kids."