Q: Can a short, curvy woman wear a pantsuit without looking frumpy? I feel like I can only get away with skirts and heels.
A: Dear Petite Flower, a short woman with a less-than-thin build can absolutely wear a pantsuit. There will, however, be tailoring involved, even in petite sizes. The key is finding a pant that fits you in the rise, most importantly, which is the crotch. The crotch of a pant cannot be altered significantly so first, you have to make sure the crotch of the pant is somewhere NEAR your anatomical crotch.
The pant and jacket must fit the biggest part of you. For example, if you carry your weight in your waist, tush or thighs, the pant must fit over that area and be tailored to fit the smaller ones. In a jacket, fit your midsection, chest, back, shoulder — whichever is your biggest part — and tailor the rest down to fit. It is essential to find a suit with a fabric and seaming that create structure on the body. Look for a three-season fabric (usually, fall, winter and spring) that drapes on the body but retains its shape. Look for darting on the jacket that can help to create a waistline. Make sure the jacket hits the top of your hip to keep your legs looking as long as possible.
Other alterations, such as narrowing the sleeve, help to maintain a curvy shape by widening the gap between the arm and the waist. Look for a straight-leg trouser without pleats to easily alter the length. Hem pants to the heel height you normally wear and have them hemmed with a shoe so that the pant falls to the correct length (about a ¼-inch from the ground). You can remove pockets and stitch them closed to smooth and lengthen the appearance of a heavier thigh. Add a belt to create a strong, delineated waistline.
In terms of color palette, I always recommend a neutral-color suit, something that you can change up with printed or bright-colored underpinnings and different shoes. For petites, I do usually recommend staying in richer color palettes for the underpinning pieces. Pastels and primary colors can make small women look childish or older. Keep it sophisticated and modern by wearing jewel tones and saturated brights.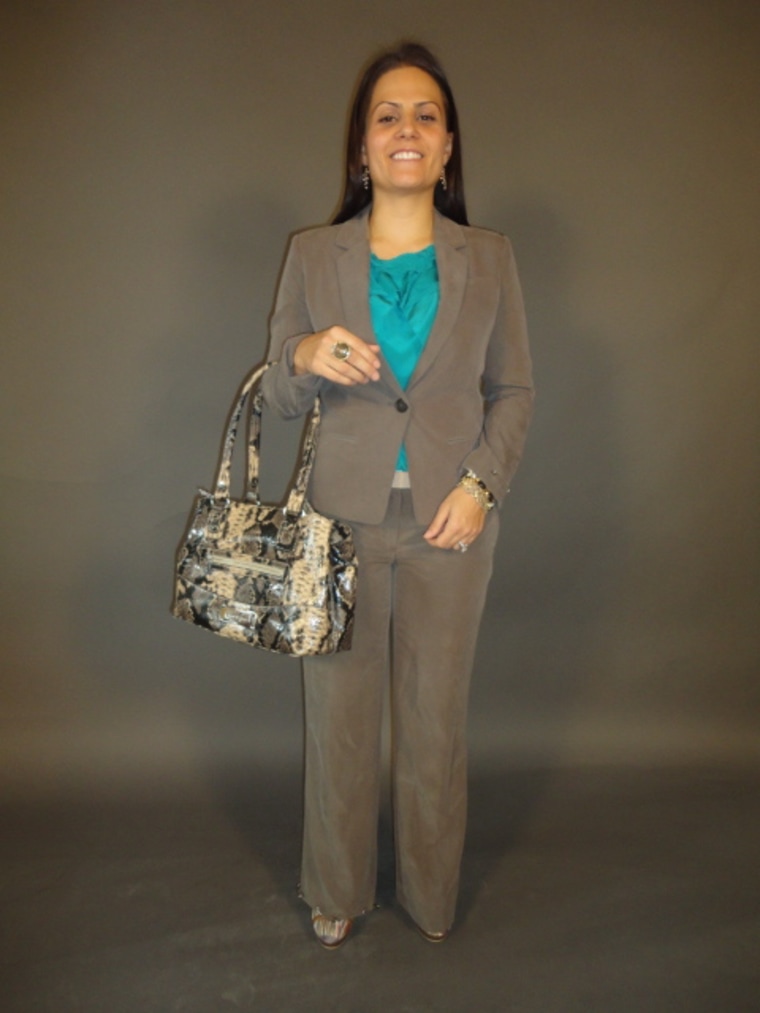 Clothing Credits:
Suit Jacket: LOFT, $98, Taupe suiting, available at
Suit Pants: LOFT, $69.50, Taupe suiting, available at
Top: T Tahari @ Lord & Taylor, $66.99,  Sea Cove silk ruffle front blouse, available at Lord & Taylor (212) 391-3344
Shoes: Madden Girl @ DSW, $49.95,  printed pumps, available at select DSW stores
Belt: Ann Taylor, $48, utility belt in lizard embossed leather Style # 184722, available at
Handbag: Kohl's, $79, London Triple Entry Satchel in pvc faux snake, available at
Bracelet: Banana Republic, $39.50,  gold woven w/tan ribbon available at Banana Republic stores nationwide
Bracelet: Banana Republic, $39.50,  gold w/green stones available at Banana Republic stores nationwide
Ring: Banana Republic, $39.50, gold w/embossed design available at Banana Republic stores nationwide
Earrings: Croft & Barrow @ Kohl's, $12, gold tone pearl drop earrings, available at Kohl's stores nationwide and
Q: I am a 53-year-old stay-at-home mom. I have decided to go back to university this fall, but have no clue what to wear without looking too young. How can I look college appropriate, yet still age appropriate?
A: Dear School House Rock Momma, throw your 27-year-old daughter's jeans in the trash can and start from scratch. Just because you can fit into your daughter's clothes doesn't mean you should wear them. Going back to school doesn't mean you have to dress like a "mom" OR a "kid." Just update the basics to a more grown-up style. If you are concerned with age appropriateness, look for jeans with a higher rise and more room in the hip, or even tummy control in the midsection, especially after having kids! Wear dark, uniform-wash jeans only — no bleaching or fading or rips. All those details on jeans make them look younger, more junior.
Look for easy wash-and-wear tops in cotton or poly-cotton in skin tone-flattering colors and prints. Always top your outfits with a completer piece, like a cardigan or casual jacket, in a user-friendly neutral for a more tailored, mature look. Find a comfortable boot with a flat or stable stacked heel that allows you to run from class to your kids, and leave the backpack for the teens (and those with bad backs, of course). Opt for a chic leather tote for a timeless and classic look.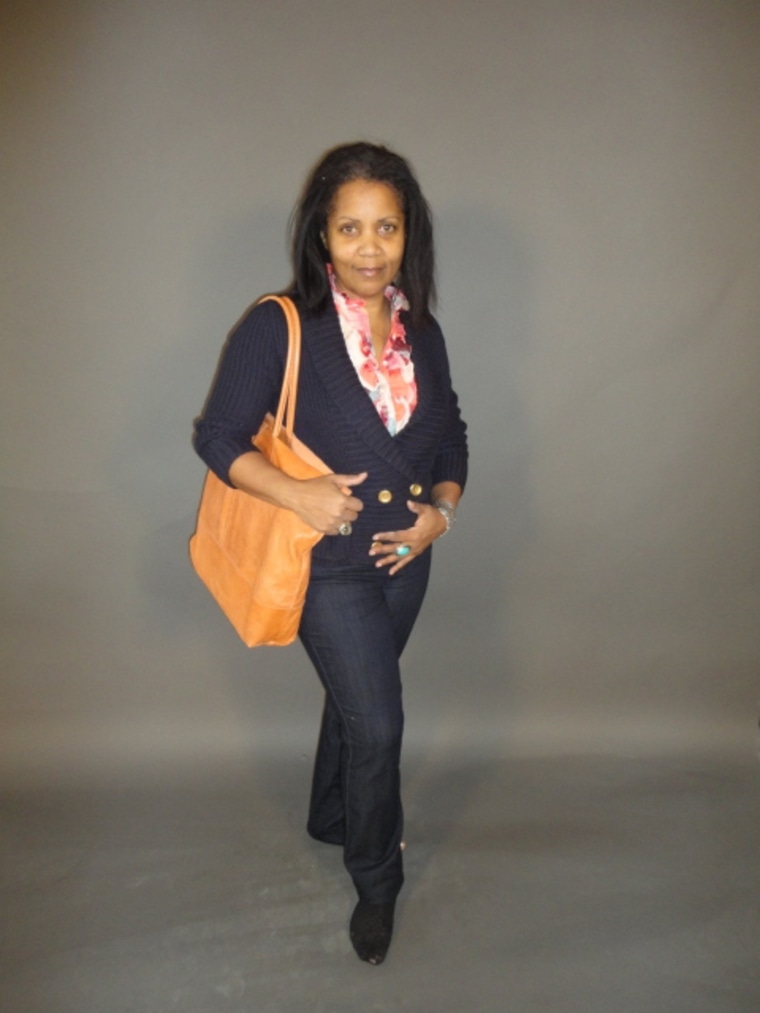 Clothing credits:
Cardigan: Ann Taylor, $88, textured shawl collar sweater in navy Style # 248038, available at
Top: LOFT, $49.50, printed ruffle blouse, available at
Jeans: Not Your Daughter's Jeans, $98,  Marilyn original slimming jean, straight leg in premium denim, available at
Shoes: Seychelles @ 6pm.com, $60,  Secret in whiskey leather, available at
Handbag: Banana Republic, $99, orange leather tote, available at Banana Republic stores nationwide
Belt: Banana Republic: $49.50, brown braided, available at Banana Republic stores nationwide
Necklace: Liz Palacios @ Supplements NY, $55, gold locket with charms, available by calling 1-800-631-3844
Earrings: RJ Graziano, $55, gold bead clips, available by calling (212)685-3737
Ring: Gerard Yosca, $68, Style #: R9903 HOOS (Horn resin) oxidized silver plating, available by calling (212) 302-4349
Ring: Allison Daniel Designs, $68, Turq Stone Ring available at
Q: I am a young professional working in a fast-paced corporate environment. I often work late hours, surrounded by extremely conservative colleagues. After work, I hang out with my friends. How do I incorporate extreme comfort and my youthful style into my work attire?
A: Dear Gal Friday, OK, working in a conservative corporate environment means one thing more than any other: Cover up. You must look professional and you can, with suiting or a dress worn appropriately.  If you know you are going to meet friends after work, come to work prepared: Throw a clutch and some bolder jewelry into your office bag. Wear a sleeveless dress with a well-fitted, structured — but light — blazer you can keep on at the office.
Look for a dress with some visual interest to it, perhaps a printed top and solid skirt or some subtle embellishment or embroidery at the neck. Be careful that the visual interest isn't too "evening." Shy away from bold embellishment like rhinestones, which really don't look office appropriate, even with a jacket. 
Try sheer or opaque hose with a neutral but festive closed-toe shoe to keep your legs covered. At the end of the day, take off the blazer and stockings. Or, alternately, wear a silk blouse and trouser and add a shiny sequin cardigan with a bolder-colored shoe for evening pizzazz. Add the jewelry and the clutch and you are ready for a night out!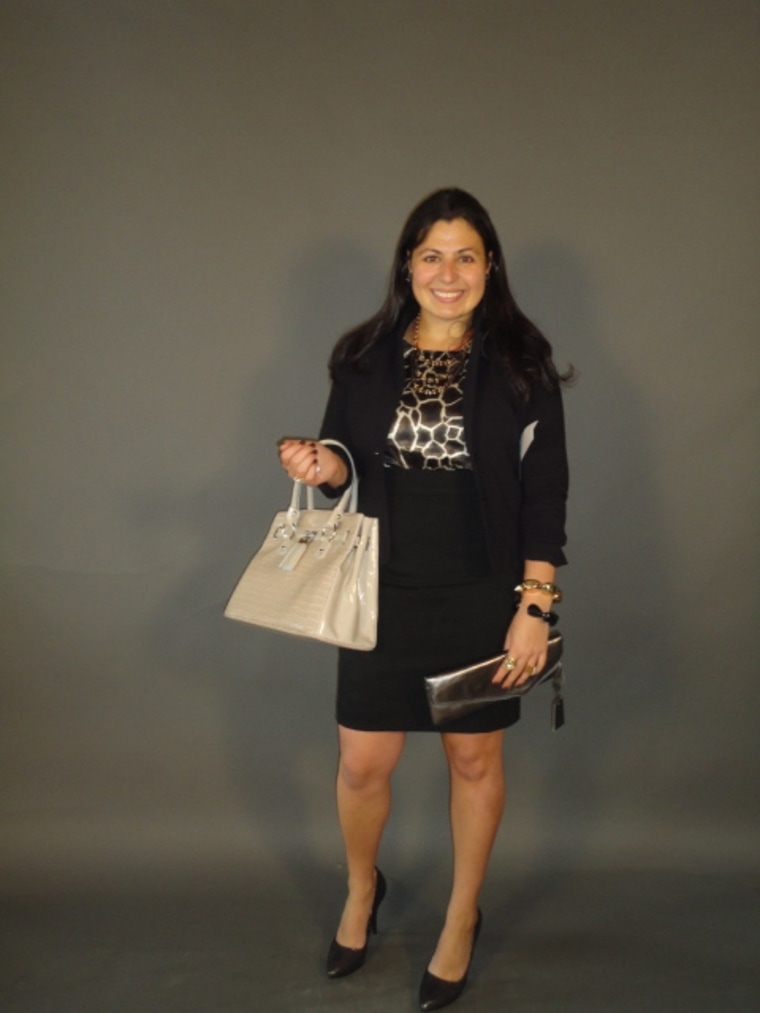 Clothing credits:
Dress: T Tahari @ Loehmann's, $79.99, tribal print sheath dress available at select Loehmann's or call (212) 352-0856
Jacket: Kenneth Cole @ Lord & Taylor, $109, Savvy Chic Style 66821501 in rich black available at Lord & Taylor (212) 391-3344
Shoes: Nine West @ Zappos.com, $89, Halina in dark silver leather, available at
Handbag: White House Black Market, $88, Style 3888C/Large Natural Croco Structure Bag, available at White House Black Market Stores
Clutch: Hobo International @ Zappos.com, $71.06, Effe Wallet in flint metallic leather available at
Necklace: Allison Daniel Designs, $78, Wood Necklace available at
Earrings: Sorrelli, $57.20, Style # ECF10CAGAUS available at
Bangle: RJ Graziano, $65, black large lucite stone, Banana Republic, available by calling (212) 685-3737
Bracelet: Banana Republic, $39.50, gold with 2 pearls available at stores nationwide
Ring: Express, $50, gold octagon, available at Express stores nationwide
Ring: Juko @ Supplements NY gold ring with crystal details, available by calling 800-631-3844