/ Source: TODAY contributor
I know the long lines and cramped chaos at the Halloween store can suck the fun out of the spooky celebration, but don't ditch your plans just because you don't have a costume! There are some everyday items from home and alternative stores that can help to create an original outfit instantly.
With a little help from feathers or duct tape, some of these last-minute looks can even be pulled together in a matter of seconds.
Bobbie Thomas, TODAY's Style editor and author of the Buzz column for In Touch Weekly, offers some fun DIY costume ideas that will transform you in no time.
Costumes with color
The FANTANAS are back! Just pull a group of gals together and pick a shade — purple, orange, yellow or red. Your haute hue may already be hanging in your closet; if not, one visit to American Apparel will cover everyone in their colors. Dress head-to-toe in your fashion "flavor," find a bright beverage and get ready to shake it! Optional: Add white go-go boots (Target, $29.99) for a fun mod throwback to the original Fanta gals.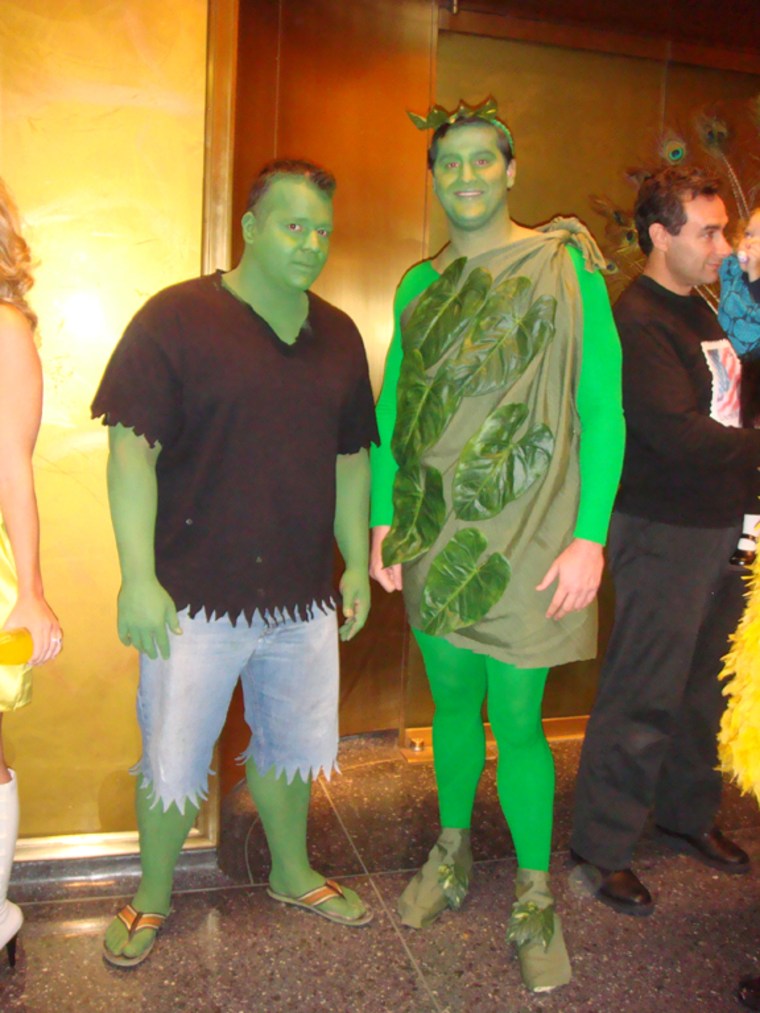 And guys can go green. Pick up some body paint and tear up a T-shirt and jeans for THE HULK. Or tie an old green tablecloth, sheet or even a garbage bag toga-style and cover with some faux leaves to be the JOLLY GREEN GIANT. A green turtleneck and men's tights (WeLoveColors.com, $8) can be an alternative base layer to paint. If you don't find what you need in the closet, consider your local thrift store or hardware supply store; green spray paint can help camouflage old tattered clothes!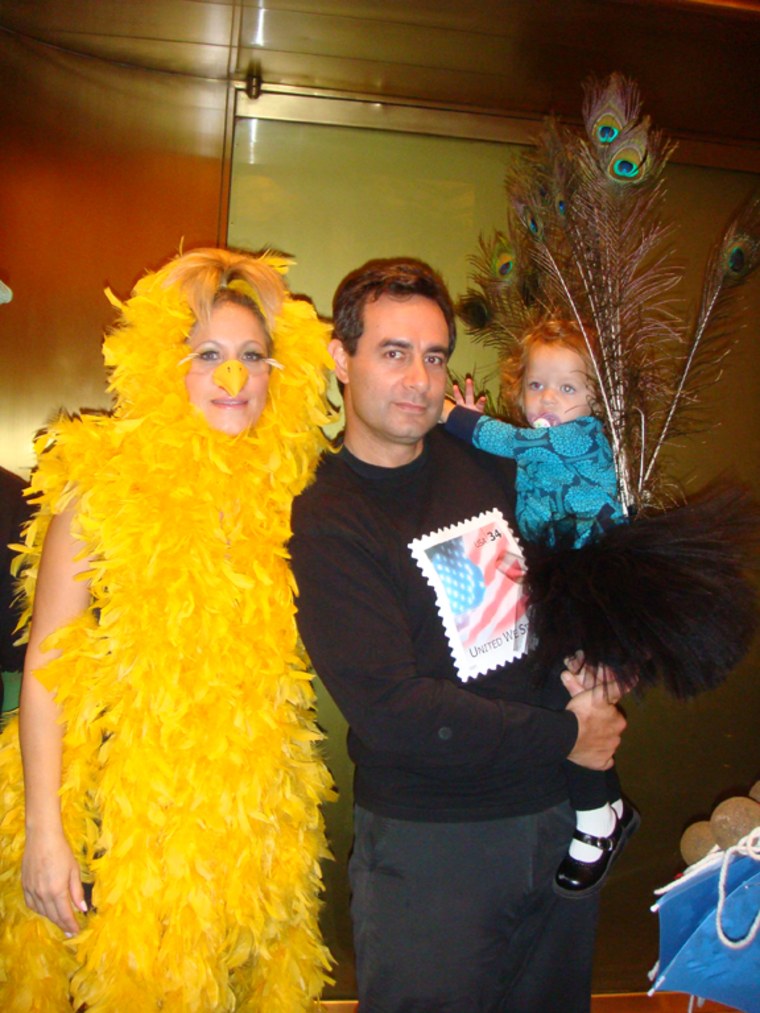 Fun with feathers
Be the cutest CHICK in town! Find some yellow feather boas and a beak at a party supply store. Pull on a slip or tube dress, drape the boas over your shoulders, and secure with a belt around your waist. Play up your eyes with dramatic false lashes, use some double-stick tape to attach orange feathers to your shoes, and you'll be all set to shake a tail.
And birds of a feather flock together!  All it takes is some feathers from a craft store to pull off the PROUD LITTLE PEACOCK.  Start with a teal blue top and black tights, slip on a skirt or tutu, and then attach the feathers to the back of your shirt with a belt. Finish the look with some fantasy makeup or a glitter mask.
Recycled umbrella ideas
Let your favorite book-turned-movie be the basis for this year's Halloween costume. You can be CLOUDY WITH A CHANCE OF MEATBALLS by decorating an umbrella with Styrofoam meatballs and yarn spaghetti (Joann.com, . This kids' book may be a classic, but your costume will be an original.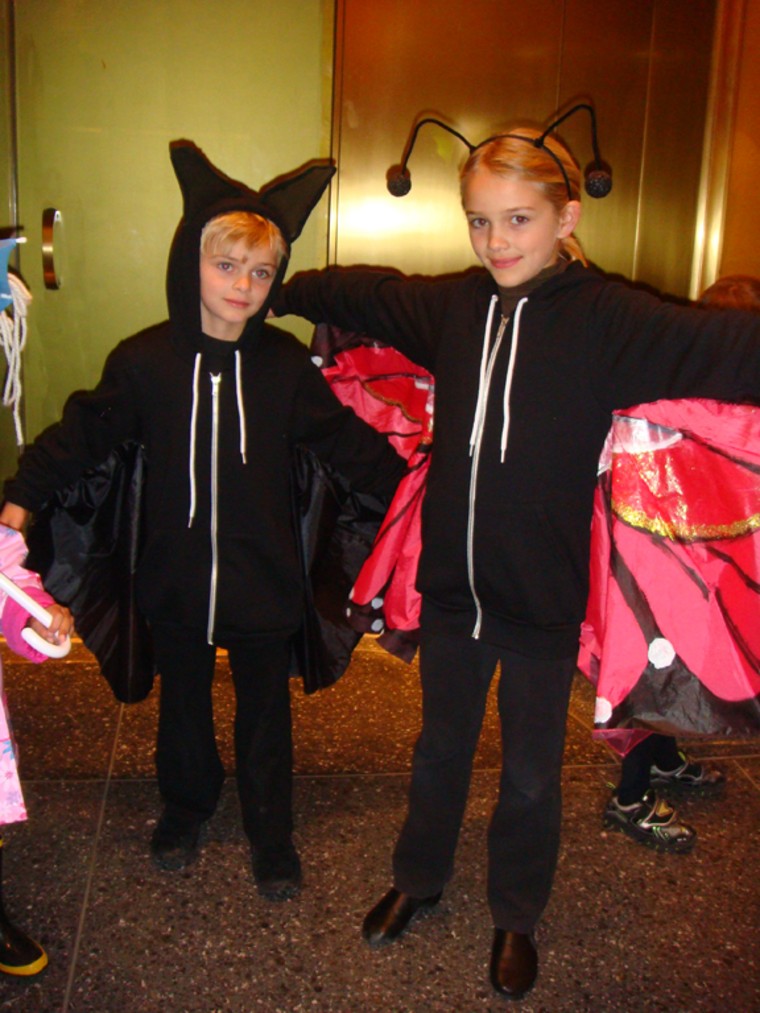 Before you toss that broken umbrella, give them wings! Remove the metal spokes and cut the nylon circle in half. Use black for a BAT BOY, and sew each half to the underarm and sides of a black hoodie, then attach ears. Bring a BUTTERFLY GIRL to life by painting each wing first, then sewing to underarms and sides of a black hoodie, and finishing with pipe-cleaner antennas. Dress in black bottoms for both looks, and then fly, fly away!
Think out of the box
Using construction paper and paint, let your imagination transform a cardboard box. Create your own RUBIK'S CUBE by pasting colorful squares of paper (Michaels.com) all around your box. Or, take a cue from the TRANSFORMERS and build a 'bot using boxes in varying shapes and sizes. Tissue-paper boxes work well for the arms and feet, and logos can be found online and printed out. Bonus challenge: Try designs that will "transform" with different poses! For example, put a photo of headlights under each forearm, and a grill on top of the head to look like a truck when arms are folded up and head is down.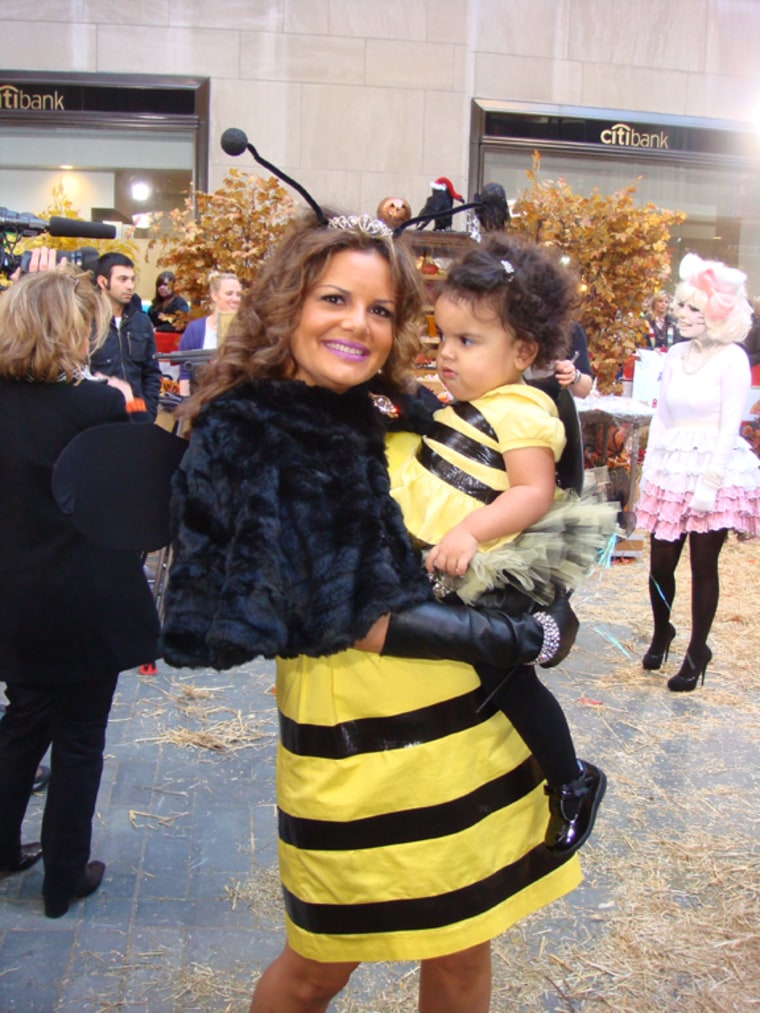 Boo with black tape
Any yellow dress can instantly be transformed into a QUEEN BEE or BABY BEE costume! Just wrap a few even stripes of black tape around the entire dress, and top it off with a store-bought set of wings (unless you care to get crafty and make a pair by stretching some black nylons over reshaped wire hangers). Top it off with a tiara and antennas. Even the busiest bees can pull this one off!
Guys can use this quick-fix item to create their costumes, too. Arrange the tape in lighting-bolt zigzags against a yellow shirt to achieve CHARLIE BROWN-like innocence, or tape up a white shirt to look like a LITTLE REFEREE. Just add shorts and kneesocks.   
You're late, you're late, for a Halloween date
These last-minute costumes can be created almost instantly: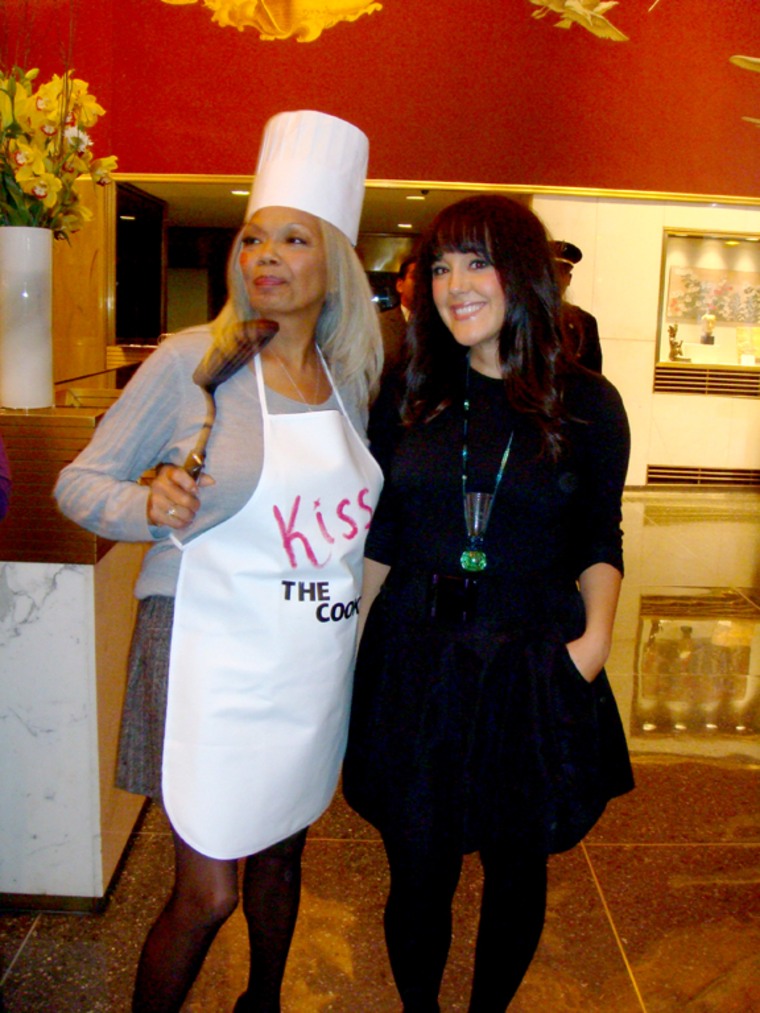 Throw on an apron, chef hat and grab a spatula — you'll be a KISSABLE COOK without even leaving the kitchen to find your costume!
Or, for those who prefer a WORK OF ART, hang an empty picture frame around your neck, and people will surely praise your beauty!
Let MEN IN BLACK be your guide, and start with a solid outfit. Then opt to be A SHOT IN THE DARK by tying a shot glass around your neck, or play off the word BLACKMAIL and put a printout of an enlarged postage stamp right on your chest.
And finally, MY "LITTLE PUMPKIN" is perfect for a pregger! Just use a black marker to draw a jack-o'-lantern on an orange top!