More than 37 years after graduating from high school, Kevin Perz still had some unfinished business to attend to.
A few months ago, he sent his former home economics teacher a handwritten note telling her how much he had valued her class and guidance — and included a check for $10,000.
But it wasn't a random act of kindness. Perz, now 56, had tried to track down Mrs. Mecham for years.
Back in 1992, he had the idea to thank three teachers from Parkway Central High School in Chesterfield, Missouri, who he believed had truly changed his life.
"That was over twenty years ago now," he explained to TODAY.com. "I sent the first note to my senior year calculus teacher, Mr. Putz. I never worked hard until Mr. Putz's class. He's the reason I was able to eventually get an engineering degree. So, when I had the means to do so, I sent him $5,000 and a thank-you note."
Putz's astonished and thankful reaction left Perz eager to continue paying it forward. "I thought, you know, I should really do this with the other two teachers that changed my life," he said.
Perz got in touch with Parkway Central and, armed only with last names and nostalgic memories, requested the contact information of Ms. Fisher, his 9th grade business teacher, and Mrs. Mecham, his 11th grade home economics teacher. The school let him know that "Ms. Fisher" was now "Mrs. Phillips," and that she'd moved to Florida. They sent him her contact information.
"Right away, I sent her a check and a thank-you note," Perz remembers.
But they could not track down Mrs. Mecham. In fact, they didn't even know her first name; it turns out she had only taught at Parkway Central for one year.
That's when Perz made it his mission to get in touch with her.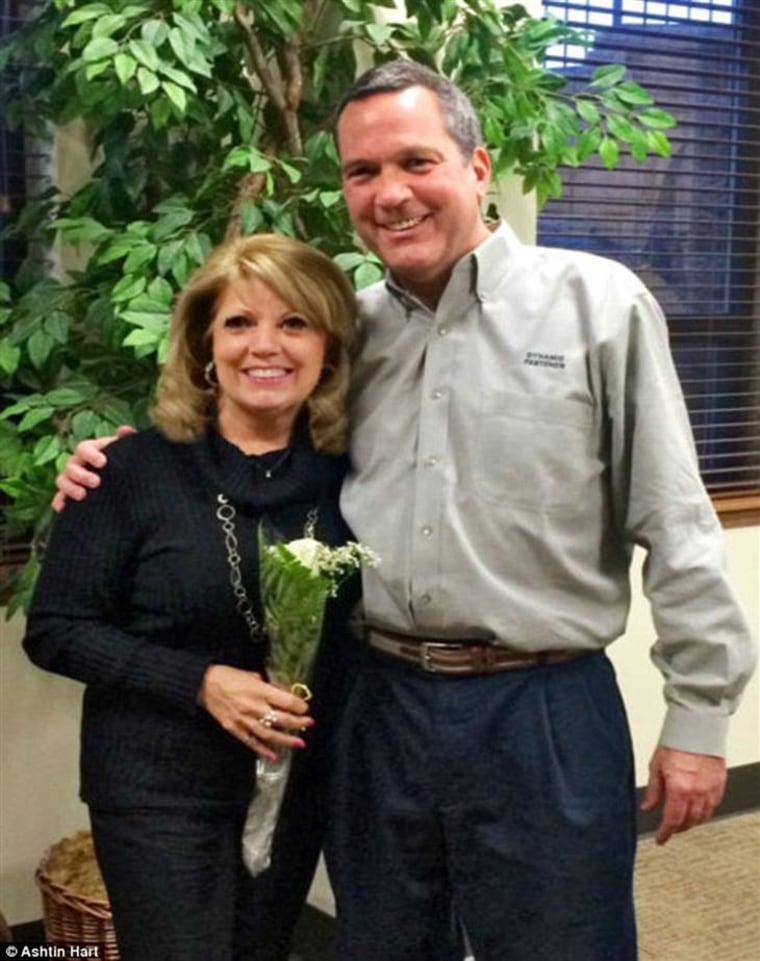 "I just had to," says Perz matter-of-factly. "She was the best. And there's a funny story that goes along with this, actually. A couple weeks into the school year, I started calling her 'Mrs. Mecham, ma'am.' I couldn't tell you why. We were all just so comfortable with her, and it felt like a good way to show my respect in a funny way."
"When I came to class, it was always, 'Good morning, Mrs. Mecham, ma'am!' and when I left, 'Goodbye, Mrs. Mecham, ma'am!' She would just smile, like, 'You're so full of it.'"
Jokes aside, Perz was quick to emphasize just how serious of an impact Mecham had on his life: "Mrs. Mecham set it up so that we were always able to get our work done, but still have a ton of fun. She really connected with the kids. I never forgot her smile."
And so he began calling the Parkway Central administrative offices once or twice a year, hoping that eventually, someone at the school might uncover the trail of "the absolute best teacher in the world."
One day, his patience paid off.
"Someone from the alumni association went through these 40-year-old pay records, and, at long last, she found Mrs. Mecham," Perz says. "Finally!"
He gave her a call, and after 30 minutes of chatting and catching up, Perz asked if she'd mind if he sent her a note in the mail. She, of course, had no reason to turn that down.
The Monday after Perz had sent the note, it was Mecham's turn to call him. "She said she'd got it Friday, and she'd wanted to call me, but that she hadn't been able to stop crying."
TODAY.com got in touch Mecham to hear her own thoughts on all of this.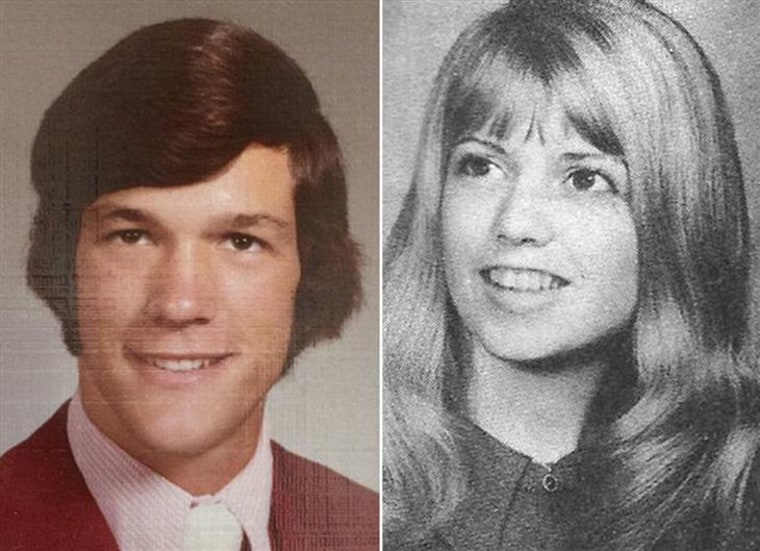 "I got this big envelope from the mailbox, and I just thought, 'How cool is this?' I was already tearing up just reading the letter. It really took me back," she told TODAY.com. "And then I noticed that he'd written something about a gift. I looked, and there was this check face down, and I turned it over and saw the word 'thousand.' What? I was overwhelmed. I just stood there in silence. It was humbling and surreal."
Mecham said it's not her reaction, but the reaction of others, that should be noted. "Not one person has said to me, 'Oh, I wish someone would do that for me,'" she points out. "They all say, 'Hey, that's a great idea. Now, how can I find my own childhood mentor and thank them?' That's remarkable."
The former teacher has three children and now works as the executive director of Mentors, an organization that empowers people to become self-sustainable through the provision of scholarships, grants and mentoring.
"Isn't that something? That she works for this charity group?" says Perz. "She's just exactly the way I remembered. Kind, generous, and always cheerful. And yes, it was the first time we'd spoken in 39 years."
Perz, too, is now married with four kids — three girls and a boy — and all of them are engineers or on their way to becoming one.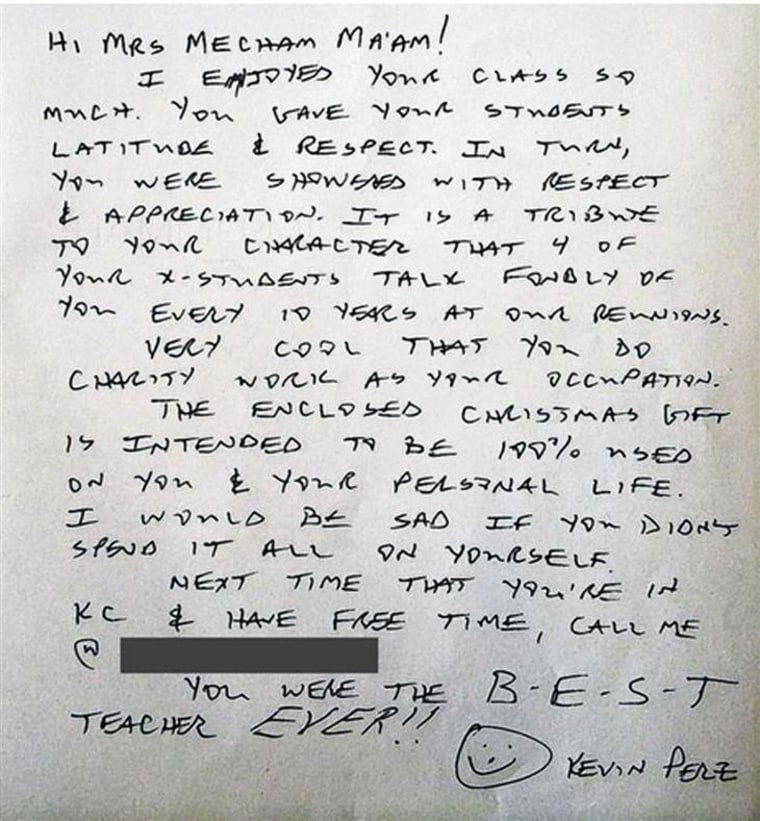 And as for the contents of that handwritten note?
Well, it closes with, "You were the B-E-S-T teacher EVER!!" and includes the following line: "It is a tribute to your character that 4 of your x-students [sic] talk fondly of you every 10 years at our reunions."
But the greeting just might be the best part.
"Hi, Mrs. Mecham Ma'am!"