A high school student's amusing reaction to seeing wild animals in a recent science class has gone viral after another student caught it all on tape.
Jalen Brooks, 17, and Jill Lojas, 18, are both seniors at Riverside Brookfield High School in Riverside, Illinois. During zoology class last Friday, Lojas told TODAY she was trying to take a photo of one of the animals when she caught Brooks' expression.
"It was the one class where we were allowed to take our phone out and take pictures, and I was trying to take a picture of the black duck, and I saw Jalen's face over the duck, and I just zoomed in and started filming," Lojas said.
Her peer's stunned reaction has sparked memes across the internet — and even a T-shirt — but it was no joke, she said.
RELATED: Zoo plans baby shower for pregnant orangutans (and they're registered at Target)
"He had no idea I was filming him," Lojas, who posted the video on Twitter, added. "He's just a very animated guy."
Brooks told TODAY he was simply surprised to see the animals, which were part of a presentation by a guest speaker, a herpetologist.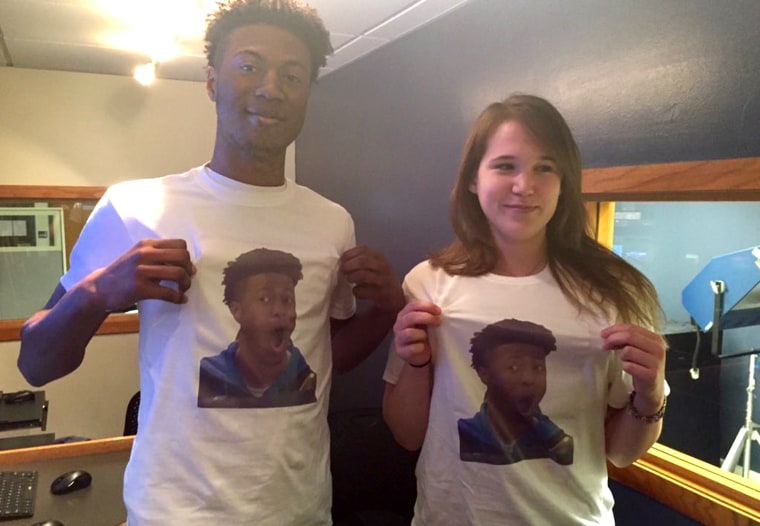 "Especially when he pulled out the snake — it was humongous!" he said. "It was the largest python I've seen in my life."
RELATED: This goat with anxiety only calms down when she's in her duck costume
The class also saw monitor lizards, frogs, a rooster and a dog.
Lojas' video has been retweeted more than 130,000 times. Now the teens are enjoying the fame that comes with being an internet sensation.
"Jalen is loving it," Lojas said. "He called me his agent."
Another student at the school even created T-shirts for the pair, printed with a photo of Brooks' jaw-dropped face.
"I like this because it's spreading a positive message about paying attention in the classroom," Brooks said. "A lot of teachers are contacting me saying how much they enjoyed it. And the community is getting attention, too. It just makes me happy."