/ Source: TODAY contributor
Be careful around that soccer mom sitting next to you. She may just be a trained killer.
Courtesy of the Stiletto Spy School, ordinary women around the country are channeling their inner Bond girls — learning everything from hand-to-hand combat to seductive dancing, SWAT team-style firearm skills to keeping a poker face among high rollers at casinos. Based in both Las Vegas and New York, the school puts women through vigorous weekend training sessions that come straight out of tongue-in-cheek Hollywood action thrillers — but are designed to help its students feel confident and empowered in the real world.
TODAY's Natalie Morales and Amy Robach entered the shadowy world of intrigue by enrolling at the weekend spy school's Las Vegas campus. While the pair struggled a little with the necessary component of selecting their spy names (Morales went with the generic "Bond Girl," while Robach, after much waffling, chose "Steady Aim Amy"), they successfully completed the course along with a group of everyday women seeking to awaken their dormant femme fatale personas.
Fun with a purpose
Stiletto Spy School founder Alana Winter told TODAY that while her project is largely fun and games, she has a serious goal — to increase self-confidence and self-esteem in workaday women, and to release their untapped potential.
"I went out around the world, looking for top experts in the field who had incredible knowledge — who could deliver that knowledge in a fun, incredibly effective, precise way, so that the girls in a weekend can get an incredible take-home value," Winter said.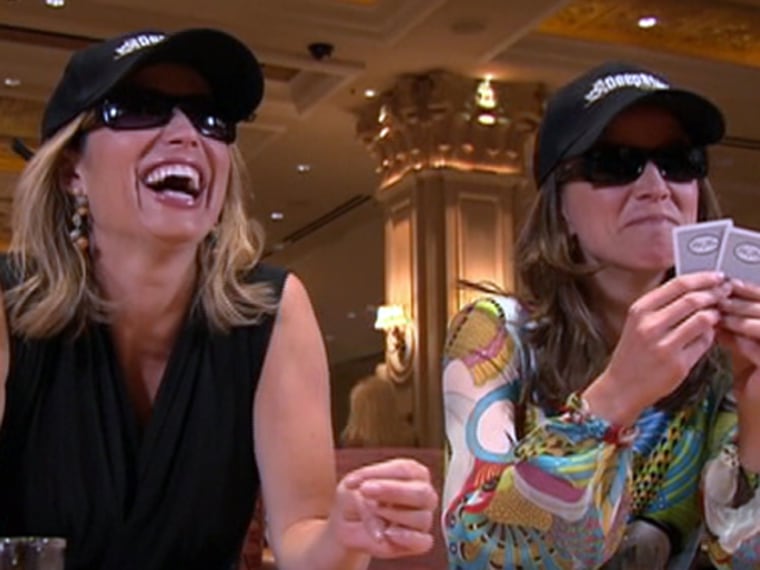 The Stiletto Spy School originated in Las Vegas and recently expanded to New York City, with the goal of eventual expansion around the country. While the school offers plenty of mirth, the real-life skills offered weren't lost on the participants who went to spy school with Morales and Robach.
After engaging in a spirited bout of knife-fighting with her daughter Raychal, participant Shary Moxley (code name: Betty Ballcaulk) told TODAY she believed her daughter was truly earning her stripes at the school.
"I think it's empowering women and giving them confidence and the ability to protect themselves," Moxley said. "It helps at any age to know how to protect yourself in the world."
Soccer mom no moreIt also allowed one participant to step out of her more mundane — albeit fulfilling — life as a civilian. South Dakotan Sharon Parker Wilde told TODAY her transformation into a Charlie's Angel was a dream mission accomplished.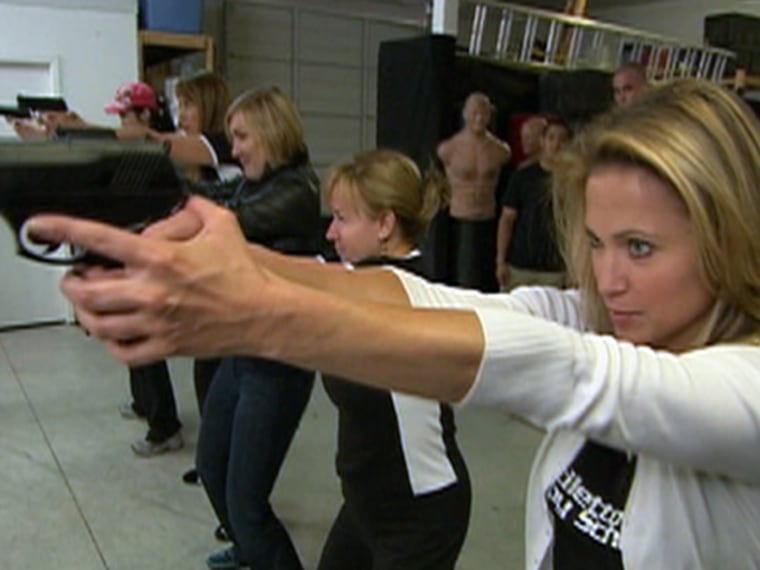 "I feel like such a soccer mom," she said. "Not that there's anything wrong with soccer moms, but I want to be something a little bit different — I wanted a little edge to the soccer-mom thing."
As for founder Winter, the Stiletto Spy School is the culmination of a lifelong curiosity about what she saw in the larger-than-life ladies of TV and big-screen fantasies.
"I saw these female icons in the movies — from Diana Rigg in 'The Avengers' to Uma Thurman in 'Kill Bill' — and they were cool, calm and collected," Winter told the New York Daily News. "They knew just enough about everything to get out of almost anything.
"I just thought: 'Where do they go to learn all that?' "