One year ago, Caroline Oberle and her husband, Brian, were living a nightmare. Their son, Andrew, then 4, had been diagnosed with t-cell leukemia, and had started a grueling chemotherapy regimen designed to kill the cancer cells that had taken over his body. Oberle says the treatment nearly killed her son, describing his condition at the time as, "circling the drain."
Today, Andrew is 5, in the maintenance portion of his treatment, and has returned to school as a kindergartner. He's also making headlines for the cancer-fighting tips he's passed on to a man he affectionately calls the "King of Maryland" — Maryland Gov. Larry Hogan.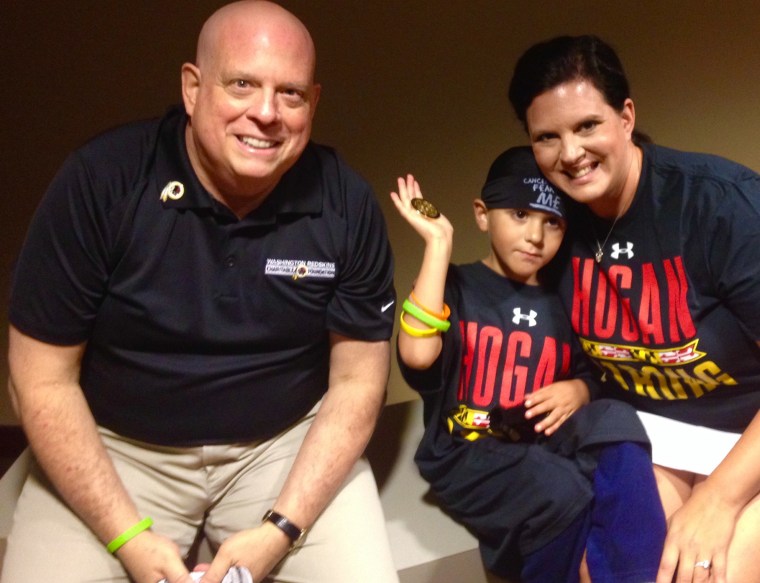 "The whole irony of the fact that this time last year, he was skin and bones, no hair, on week two or three in the hospital — and now he's advising the governor. We've just come a long way," said Oberle, who lives in Glen Arm, Maryland.
Hogan was diagnosed with stage 3 non-Hodgkin's lymphoma in June of this year, just 6 months after taking office. The governor has shared his fight against the disease publicly on his Facebook page, and after being declared 95% cancer free this summer and completing his 6th round of chemo last week, hopes to learn he is cancer-free after a PET scan next month.
After being introduced to the Cool Kids Campaign, a Maryland non-profit organization dedicated to improving the quality of life of pediatric cancer patients and their families, Hogan and his family began working with the organization, taking pediatric cancer patients to sporting events and visiting pediatric oncology wards to offer encouragement to kids undergoing treatment and their families.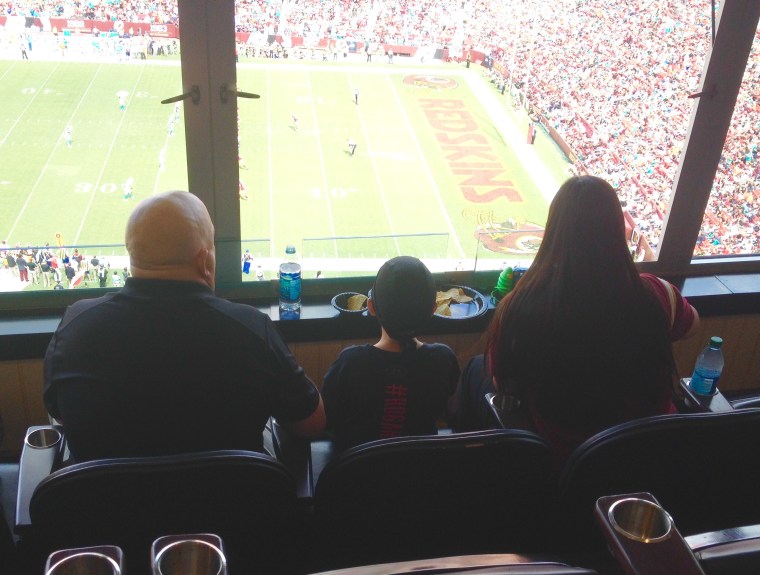 "From the beginning, I decided to try to use my diagnosis for good — to raise cancer awareness — and we've done that," Hogan told TODAY.com. "I love kids; these kids have particularly touched me with their strength, courage, and positive attitudes. It's been important to me to let them know somebody cares. I set out to help them, but in reality they helped me."
In September, Hogan enlisted the help of the Cool Kids Campaign to find pediatric cancer patients who would be interested in attending a Washington Redskins game with him as a way to bring attention to Childhood Cancer Awareness Month.
When she and her family were invited to the game, Oberle says they jumped at the chance. Explaining to her son, however, the importance of being invited to the game by the governor proved to be a challenge.
"Trying to explain to a 5-year-old that he's meeting the governor, how do you do that? So I explained it to him by saying the governor is like the king of Maryland — the protector of Maryland," said Oberle.
"I said to Andrew, 'You know, you've been in treatment for a year — you're kind of a pro at this,'" said Oberle. "I said, 'He's got cancer like you — and he hasn't been doing it very long. Would you like to give him some advice?'"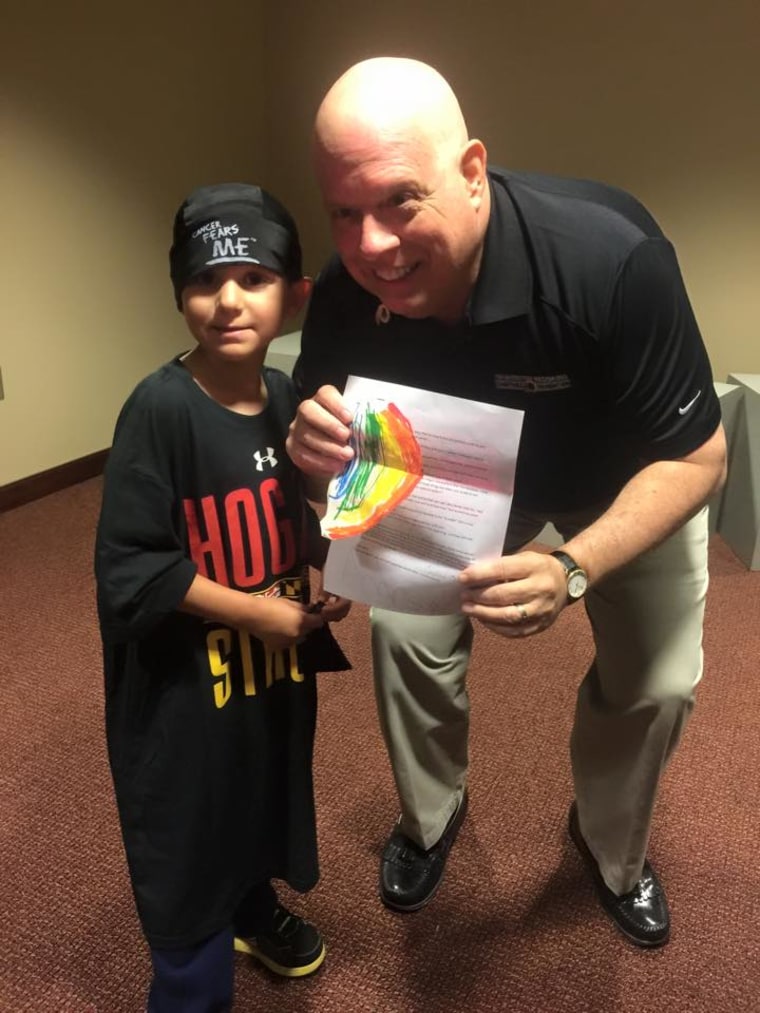 Oberle says she and Andrew sat down together and she typed — in her son's words — 10 tips for making it through difficult chemotherapy treatments. They were later posted on Hogan's Facebook page.
Among Andrew's tips:
Ask for numbing cream before getting your "pokie" (the needle used in chemotherapy infusions)
Be sure to have your "hugging person" close by
Remember that it's ok to cry
When Andrew met Hogan at the game, he presented the governor with a collection of drawings and the list of tips.
"Andrew is an incredible kid…he personally came over to me and said he knew I had cancer and asked if it was OK if he gave me some advice," said Hogan. "I wouldn't even have known he was sick if he didn't have a bald head – he had so much sparkle, energy and personality. I started to read the 10 suggestions and it touched me so much that I broke down into tears right there."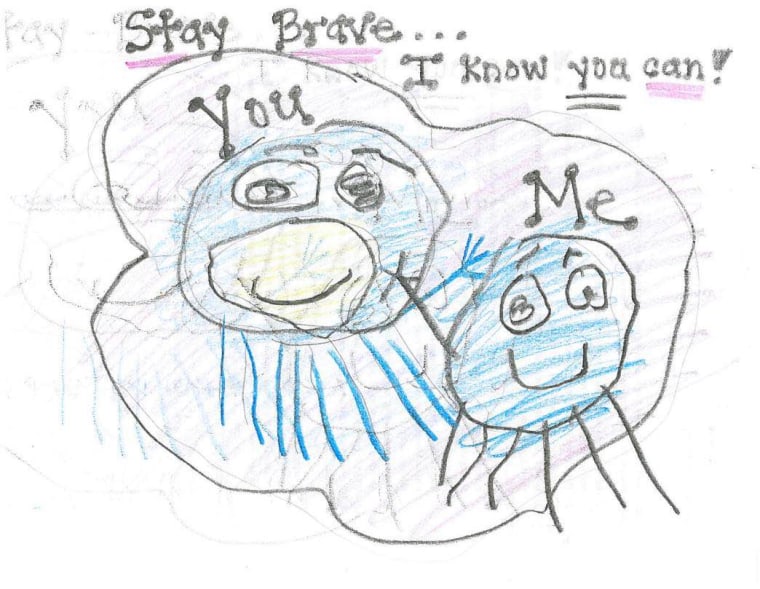 Oberle says she was surprised when, in the days following the Redskins game, Andrew received a letter from Hogan.
"Dear Andrew, thank you so much for coming to the Redskins game with me last week. I had so much fun and I hope you did, too," Oberle read from the letter. "I also want to thank you for sharing the ways you stayed brave and positive with me. Number seven in the list you wrote was to make a friend who knows how you feel and be their pen pal. I'm so glad we are friends now, and I hope we can be pen pals, too…Keep showing everyone how strong you are — let's kick cancer's butt."
Oberle says her son and the governor have, indeed, become pen pals, sharing their feelings about battling cancer.
"We write letters back and forth and he asks me how I'm feeling,' said Hogan.
"In our prayers, Andrew prays for Governor Hogan every night and he definitely knows what he's done and how he's helped him," said Oberle. "Mostly, I think Andrew is pretty psyched that the 'King of Maryland' liked his letter."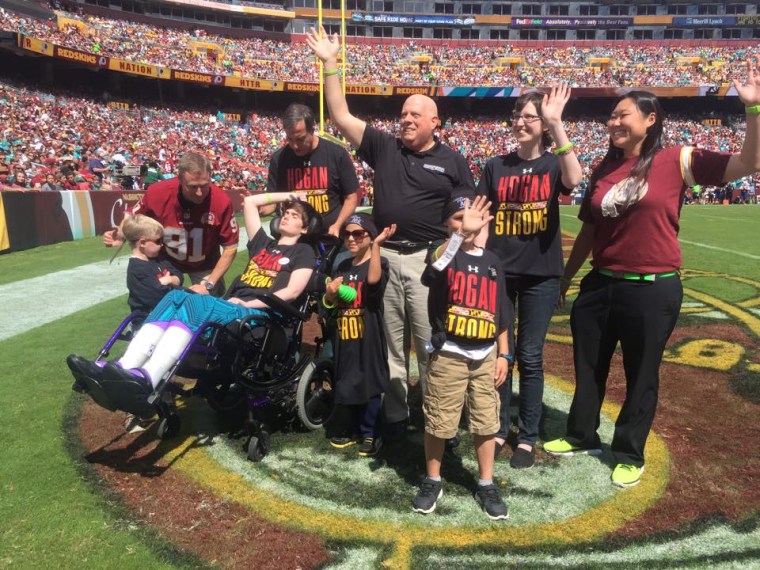 Hogan says that regardless of the outcome of his PET scan next month, his life has been permanently touched by not only Andrew, but by all of the families he has had the opportunity to meet as a result of his diagnosis.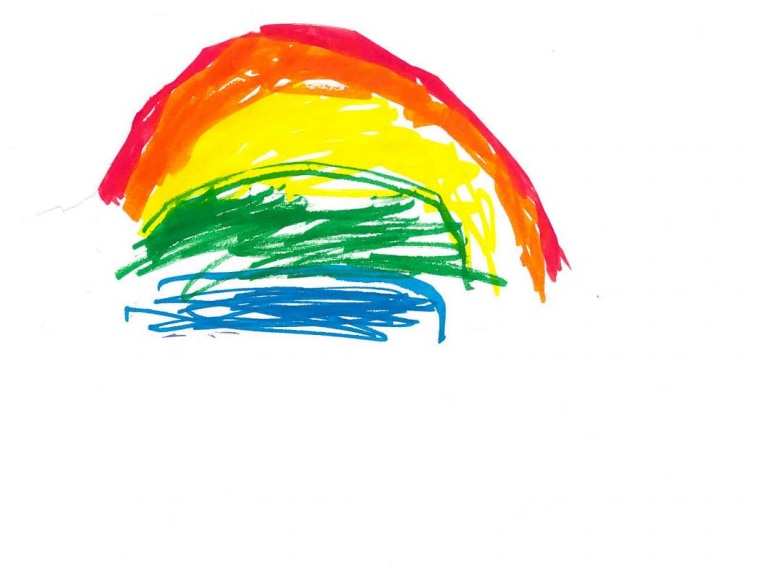 "All of these kids and their families have become a big part of my life. They're my family now. I've met dozens of incredible young people...I will continue to do everything I can to promote awareness and the need for a cure. I won't forget them."