After staying silent for more than two years following a high-profile sexual assault case involving an older classmate, Chessy Prout took a giant step into the spotlight when she revealed her identity in an Aug. 30 TODAY interview.
Prout was 15 when she was assaulted by senior Owen Labrie as part of a sexual conquest game on the campus of the elite St. Paul's School in New Hampshire.
Now 18 and a senior at another school, Prout spoke with TODAY about the impact that going public has had on her life. Her conversation is part of our Voices series of essays and interviews with newsmakers behind some of the year's biggest moments.
Was it a big relief to go public?
It was definitely scary. It was also strange. I still haven't processed all of that yet. It felt almost natural because I didn't want to keep quiet about it. I didn't want to be put in a corner and go live a "normal" life when nothing was normal about it.
With the interview, I felt like I was finally able to do something positive with the terrible thing that had happened to me. And through that, I've met new people and other survivors and traveled to different schools to speak. The human connection that I've made since then has been incredible and has helped me heal so much more.
MORE: Chessy Prout, St. Paul's School assault survivor, sheds anonymity in TODAY exclusive
When I came home after the interview aired, kids at school were coming up to me left and right and texting me. Everybody was trying to reach out to me, trying to either tell me their stories, or just say, "Thank you for doing that. I think it's so important."
And that was what I wanted out of the whole thing, to be sort of a lighthouse, a light where people could come if they had any issues, or if they wanted to talk about things if they didn't feel comfortable sharing with their family or school. I wanted them to know there are people who are ready to embrace them and help them out.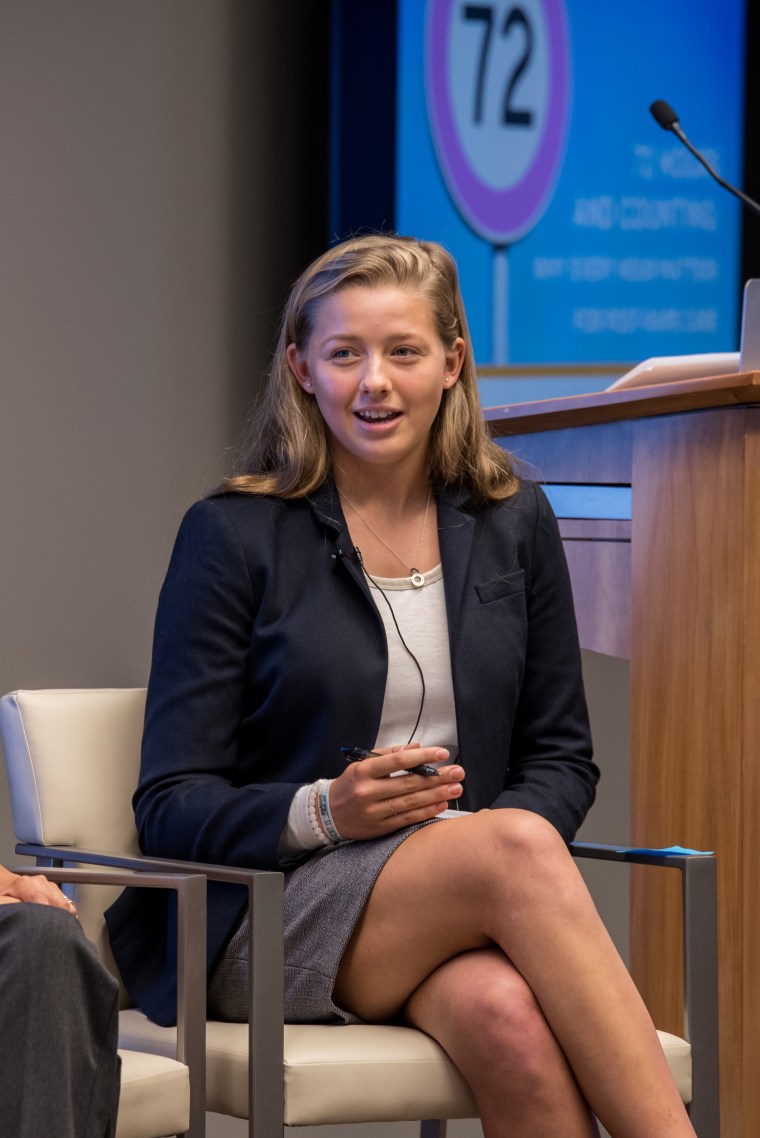 You launched the I Have the Right To campaign on the day of your interview, with help from PAVE (Promoting Awareness Victim Empowerment). What other advocacy efforts have you participated in these past four months?
The first public speaking engagement I was lucky enough to be a part of was for Together for Girls. They were holding a 72-hour special conference on International Day of the Girl to speak about how important the first 72 hours are after a sexual assault. They invited me to speak in front of people from the World Health Organization and these great big global organizations and companies. I got to answer questions and tell my story. It was really powerful to be in a roomful of supportive people who all felt the same as me.
And then a couple of weeks ago, we were in Arlington, Virginia, to kick-start this high school's healthy relationships task force. I went there with another young woman, and we both spoke on a panel there, telling people our stories and hopes for the future.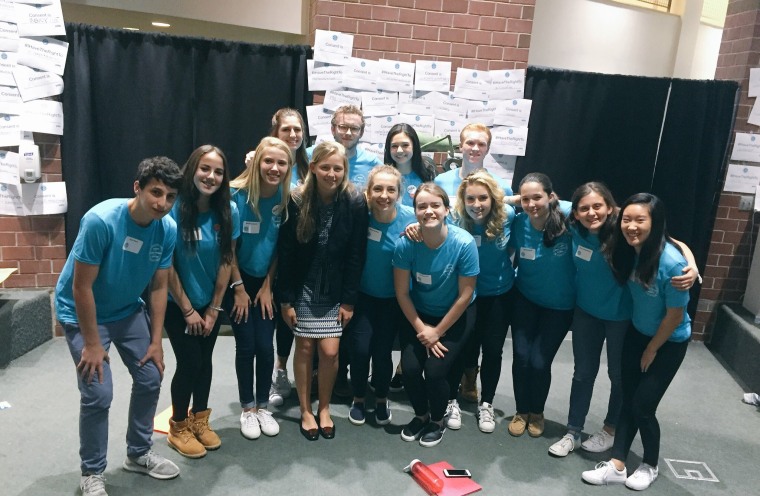 I listened to this young woman's story. It really broke my heart, fixed it and then gave me so much hope. The day of her abuser's sentencing was Aug. 30. She came home that night after something traumatic and her parents were watching "Nightly News" and saw my story. They said, "We have to meet her. We have to contact her," because they had gone through something very similar.
It was crazy to think I could help impact somebody's journey like that, just by telling the truth.
Where are you in the healing process from the assault?
Now that people know what's been going on, I feel like a big pressure has been taken off of me, that I don't have to hide anything and conceal my feelings about certain topics anymore.
Even though there are still legal proceedings going on [Ed. note: against St. Paul's School and related to Labrie's appeal], and there are still so many hurdles we have to get over in the case, I'm trying to live a pretty back-to-normal life here at my home.
I'm definitely living in a very unique moment where I was given a platform to speak and to use my voice and to help myself and help others grow and talk and heal. It's been exciting to move forward. I feel like my purpose right now is to help people feel comfortable talking about something that used to be uncomfortable to talk about.
MORE 'Voices 2016': Mom talks grief — and Berlin truck attack — 5 months after losing son, husband in Nice, France
You know, this is the new normal. The new normal is speaking and making new relationships everywhere I go with new people, always being open to teach and learn and speak with other people.
In June, your family filed a civil lawsuit against St. Paul's, arguing it failed to protect children entrusted to its care. What's the status of the suit?
I have a funny story about this. Right after the TODAY show interview came out, I was sitting there crying with my mom and my dad, and we got a phone call from the rector of the St. Paul's School. He was calling my dad's phone.
I picked up the phone and said, "Hello Mr. Hirshfeld." He sounded very surprised to hear me. He said, "I didn't think it would be you picking up. But oh, Chessy, it was so nice seeing you on the television show! I'm glad you're feeling so much better. It was great to see you being able to speak out like that."
So I said to him, "Mr. Hirschfeld, I don't understand why you're doing this to our family." He said, "Sometimes, I don't even understand the lawyers either."
But this is so beyond myself and so beyond my anger towards them, so beyond my family's hurt, my physical hurt and my mental hurt. I mean, this is the safety of kids that's at stake here. We're fighting for change — social change and cultural change at this school. They need to own up to it, so that more young women don't have to be at risk there.
(Ed. note: St. Paul's School did not respond to TODAY's repeated request for comment.)
Besides being an advocate for victims and human rights, do you ever have time to just be a teenager? Do you ever have time for hobbies?
I did give up some of my sports this year, but I did take up a new one: boxing. It's something I love to do. It's very fun. I had always been looking for self-defense classes to teach myself that when I'm put in situations that are scary like that again, I can fight and protect myself.
At school, I'm part of my theater class. I'm also on my school's mock trial team. We have our trial coming up. That's been something else that's been really empowering for me, being able to fight and seek justice as a prosecuting attorney in real courtrooms has been really cool.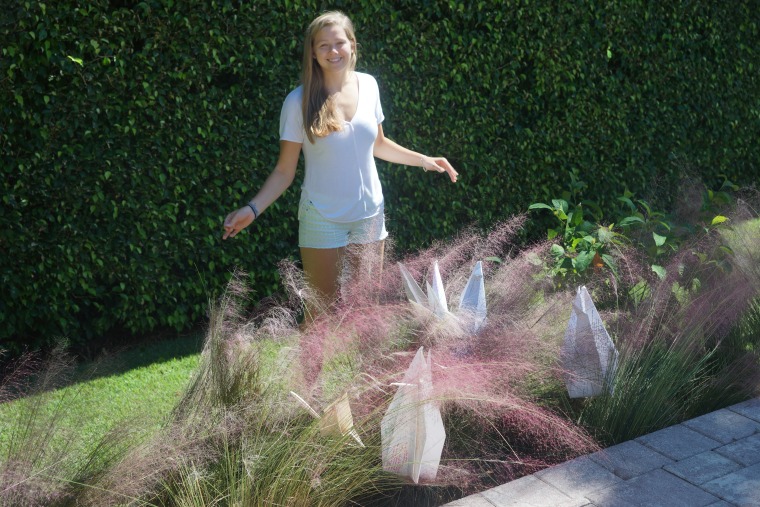 I told my parents, I was bound to make the completely traumatizing experience of having to be in the courtroom for two weeks and turn that into something positive. I wasn't about to let that be something I delegated to the darkest corners of my mind that I try not to remember, because that is so unhealthy. So I decided to own that, too. I've been trying to face things head on.