There's no sibling rivalry here.
Kansas City Chiefs tight end and newly minted Super Bowl champion Travis Kelce says he wears No. 87 on his jersey as a way to honor his brother, Jason Kelce, an offensive lineman for the Philadelphia Eagles, the team the Chiefs beat to win the 2023 Super Bowl.
"If there is a Kelce legacy, two brothers making it to the NFL, it all started in 1987, because this big guy was born in 1987," Travis Kelce told NFL Films in an interview with his older brother prior to the Super Bowl.
"It's very cool, Trav," Jason Kelce responded.
Jason Kelce, 35, doesn't reciprocate by wearing 89 in honor of his younger brother's year of birth because NFL rules stipulate certain positions can only wear certain numbers.
"I love him and I've tried to be a good big brother, but I think Trav sometimes gives me a lot of credit, but I'm just so happy for everything that he's done to get to where he's at," he said.
"Seeing him turn into the player and the man that he is has been just the ultimate feeling of being proud," he added.
Travis Kelce, 33, meanwhile, says his big brother has set a good example for him.
"He's paved the way," he said. "I can't think him enough for doing that. I just hope he stays as happy as he is right now and that that never changes for him and that he only wins one Super Bowl and that I win the rest."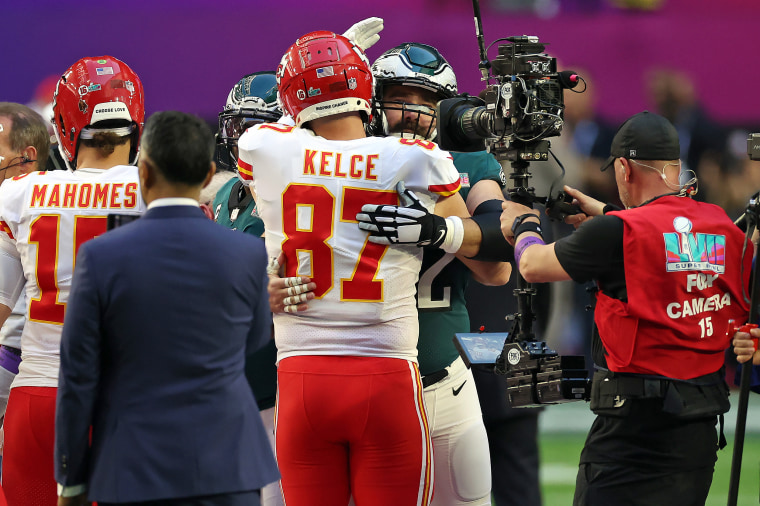 Travis and Jason Kelce are the first brothers to face each other in a Super Bowl, and with the Chiefs' victory, the younger Kelce now has two Super Bowl titles to the older Kelce's one. After the game, Travis Kelce said he struggled with what to say to his brother.
"There's nothing you can really say to a loved one in a situation like that," an emotional Travis Kelce told reporters.
"You joke around all the time and say that you want to beat your brother in the biggest stage ever, but it's a weird feeling. It's a weird feeling, and that team had great leadership, great coaches. Obviously, it came down to the end and we got all the respect in the world for those Eagles, man, but there's nothing I could really say to him other than I love him and he played a hell of a year, a hell of a season."
Travis and Jason Kelce's mother, Donna Kelce, also became a media darling in the two weeks leading up to the game.
"I'm a true fan of football. This is going to be so awesome," she said Feb. 1 on TODAY while sporting a combination Eagles-Chiefs jersey.
"They've already got the first win under their belts, so this is just going to be pure joy. We're going to really enjoy this, have a great time."