Since 1967, George Toma has worked as a groundskeeper for every single Super Bowl, earning him a variety of nicknames, including "The God of Sod" and "The Sodfather."
But after 56 years, the 2023 Super Bowl — his 57th — will mark the last of his career.
"This is my last Super Bowl definitely, and I would like to see the youngsters carry on," Toma, 94, told WNEP.
Ahead of the matchup against the Philadelphia Eagles and the Kansas City Chiefs Feb. 12 at State Farm Stadium in Glendale, Arizona, Toma reflected on his decades-long career maintaining athletic fields.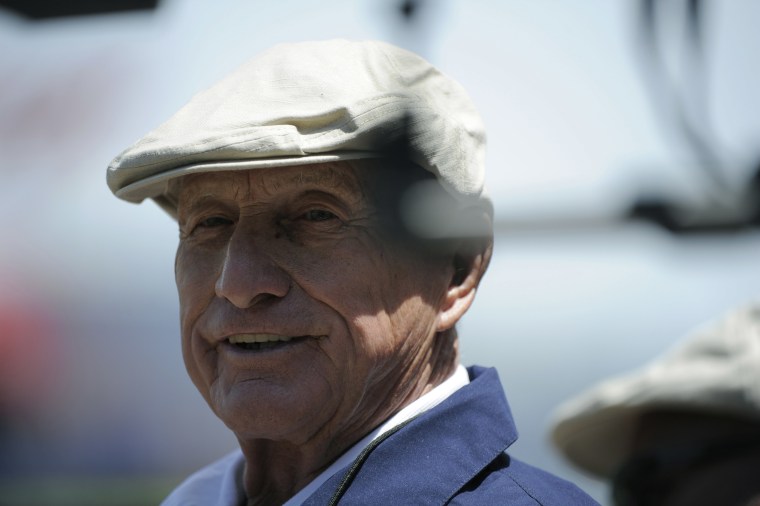 "First 27 Super Bowls, we only spent $500 on the field now, this field here is $750,000," he explained to the outlet. 
He also shared how he was unsure about who he was going to root for in the big game, explaining, "Commissioner Goodell told me, 'George, you work for the league, the league pays you, you have to be normal, or I can't cheer for anybody.' But in my heart, there is the Chiefs, and on the other side is the Eagles."
Toma got his start when he was just 12, working at Artillery Park in Pennsylvania after he got a job with his neighbor. The ballpark was then home to the Wilkes-Barre Barons, the farm team for the Cleveland Guardians, then known as the Cleveland Indians before the team's name change in 2021.
By the time Toma turned 16, his neighbor made him the head groundskeeper at the ballpark, which kickstarted the rest of his career.
In 1957, he worked in Kansas City, eventually becoming the head groundskeeper for both the Kansas City Royals and the Chiefs for a majority of his career. 
By the time the first Super Bowl came about in January 1967, the late NFL commissioner Pete Rozelle gave him the green light to decorate the field to his liking for the first matchup between the Green Bay Packers and the Kansas City Chiefs, Toma told TODAY's Craig Melvin in February 2021.
"Commissioner asked me to do the first Super Bowl and I asked him what he wanted on the center of the field, what logo," he explained. "He said, 'George, whatever you want, you put on.'"
At the time of the 2021 Super Bowl, which saw the Kansas City Chiefs against Tampa Bay Buccaneers, Toma tried to remain partial in his response on who he was rooting for that year. 
"I can't say," he told Craig. "They're both good teams. But people here say in your heart there's a Chiefs logo, so you know what I mean."