As the 2023 Super Bowl approaches, fans are not only gearing up for an intense game between the Kansas City Chiefs and Philadelphia Eagles, but also seeing some iconic commercials, a sibling rivalry and a long-awaited performance from Rihanna, not to mention national anthem performances from Chris Stapleton, Sheryl Lee Ralph and Troy Kotsur.
Here's everything you need to know about Sunday's big game:
When is the 2023 Super Bowl?
This year's Super Bowl will take place on Sunday, Feb. 12, 2023.
In the past, the game has been held on the first Sunday of February, but due to the NFL's decision to add an additional game to the regular season in 2021, the game now takes place on the second Sunday of the month.
What time does the 2023 Super Bowl start?
Kick-off is scheduled to begin at 6:30 p.m. ET.
How can I watch the 2023 Super Bowl?
Fans can watch the game on Fox, which will also be available to stream on a service like Sling TV, YouTube TV or Hulu + Live TV. Check out more details about tuning into the big game here.
What teams are playing in the 2023 Super Bowl?
The Kansas City Chiefs will face the Philadelphia Eagles on Feb. 12, setting up the first Super Bowl with two Black starting quarterbacks.
The match will also pit two brothers against each other: Jason Kelce, a center for the Eagles, and his younger brother Travis Kelce, a tight end for the Chiefs.
The game will make Donna Kelce the first mom to have two sons playing each other in the Super Bowl, and she's already got her special outfit picked, featuring a jean jacket that has "Eagles" on one sleeve and "Chiefs" on the other.
As for who will win? We spoke to three astrologers to try and divine an answer.
Who's performing the halftime show?
Rihanna announced in September she would be making her long-awaited return to music by headlining the halftime show. If you want to catch the performance, be ready to watch between 8 p.m. and 8:30 p.m.
The singer posted a simple photo of her arm holding up a football, while her label, Roc Nation, confirmed the news.
Rihanna has not performed in six years and has largely stepped away from music following her 2016 album, "ANTI."
She became a mother last year when she gave birth to her son, and said in an interview with Extra TV that becoming a mother inspired her to say yes to the performance.
"I feel like it was now or never, really," Rihanna said. "There's this weird s--- that happens when you become a mom — that you just unleash or unlock other parts of your superpower."
"I wanted to take on the challenge and I wanted to do something that would force me to get back onstage," she continued.
How long is the Super Bowl?
Most NFL games clock in around three hours, but since the Super Bowl's halftime show is longer, expect for the game to end around 10 p.m. ET.
Where is this year's Super Bowl?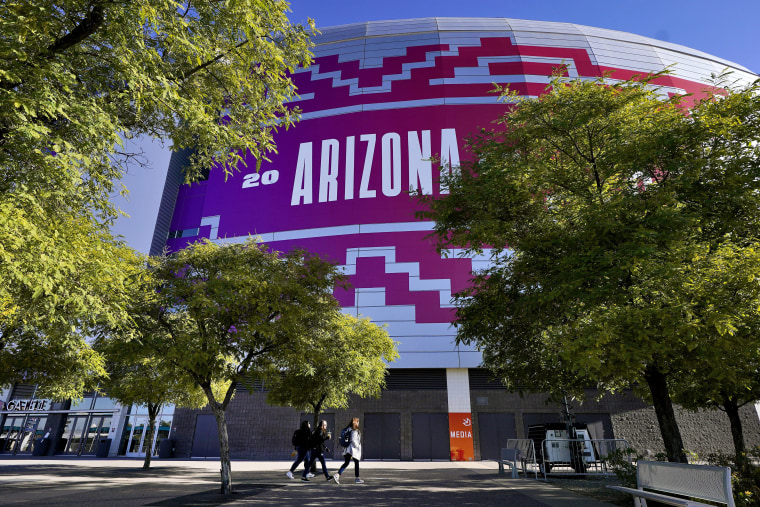 The 2023 Super Bowl will be held in Glendale, Ariz., at State Farm Stadium. The stadium has hosted three other Super Bowls, including the 2015 matchup between the Seattle Seahawks and the New England Patriots, where Katy Perry's halftime show birthed the "Left Shark" meme.