Mikaela Shiffrin has made history. With her 87th victory, the 27-year-old claimed the alpine skiing World Cup record after winning her slalom event March 11 in Åre, Sweden.
After her giant slalom victory March 10, Shiffrin tied the win record of 86, set by Swedish skier Ingemar Stenmark in the 1980s.
The monumental achievement makes Shiffrin the most accomplished alpine skier of all time for both men and women.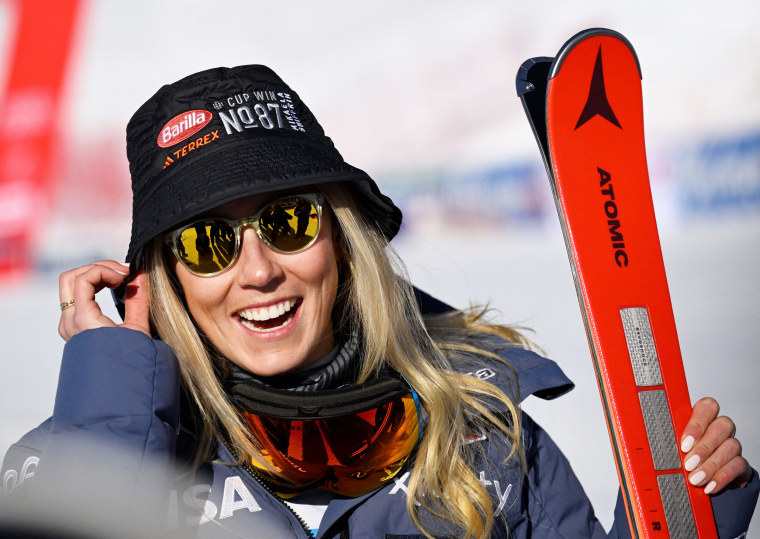 In an interview with the International Ski Federation after Saturday's event, Shiffrin called the new title "pretty hard to comprehend."
"The best feeling is to ski," she said. "On the second run, of course you want to when you have a lead, so you have to, sort of be smart, but also I just wanted to be fast too. And ski the second run like its own race. So I did. I did exactly how I wanted."
Aside from the excitement of winning, the two-time Olympic gold medalist was shocked to find that her brother, Taylor, was there cheering her on, calling his appearance "so special."
As she was on stage to receive recognition for her win, Shiffrin looked to her mom and coach and spotted two initially unknown individuals — only to realize it was her brother and his wife, who both came to surprise her, NBC Sports reported.
"It's a little bit funny how something I never thought about can become important because of who's talking about it," she said, according to NBC Sports. "Everyone's talking about it, and it becomes important for the sport, or for the people who are around me, so that it becomes important for me, too. I don't think that's a bad thing."
In January, Shiffrin beat Lindsey Vonn's record for most World Cup wins by a female alpine skier.
Speaking from the slopes with TODAY after her record-setting 83rd victory, Shiffrin said, "It's a little bit hard to put words to it. I don't know if there are words."
"To be at this point in my career and still be contending to win this many races in a season is just, it's pretty hard to explain," she said.
As of this weekend, Shiffrin has secured 13 World Cup wins so far this season, the most victories for any skier in a single season since her own 17-win run in 2019.
According to NBC Sports, she became the third skier of all time to eclipse 2,000 points in one World Cup season, joining the ranks of Tina Maze, who scored 2,414 points in 2013, and her 2019 self, who scored 2,204.
Shiffrin is expected to compete three more times during the World Cup Finals next week.