Haley and Hanna Cavinder ended their college basketball careers at the University of Miami with a bang.
The twin seniors led their team to its first Elite Eight in program history last month. They played college basketball for four years — including one at Miami, after transferring from Fresno State — and are considered architects for how to take advantage of name, image and likeness (NIL) deals.
They announced in a joint statement on Instagram earlier this week that they will not opt into their fifth year of eligibility that the NCAA is granting athletes because of the COVID-19 pandemic.
The sisters appeared on TODAY April 13, with Haley Cavinder saying they opted out of their fifth year of eligibility to explore new opportunities.
"After playing all four years together and deciding not to take our fifth year, we just decided there's more opportunities besides basketball," she said. "Obviously, this is such a difficult position to be in because we wanted to take our fifth year and play and continue, but I think it came down to just optimizing on all the opportunities we have ahead of us."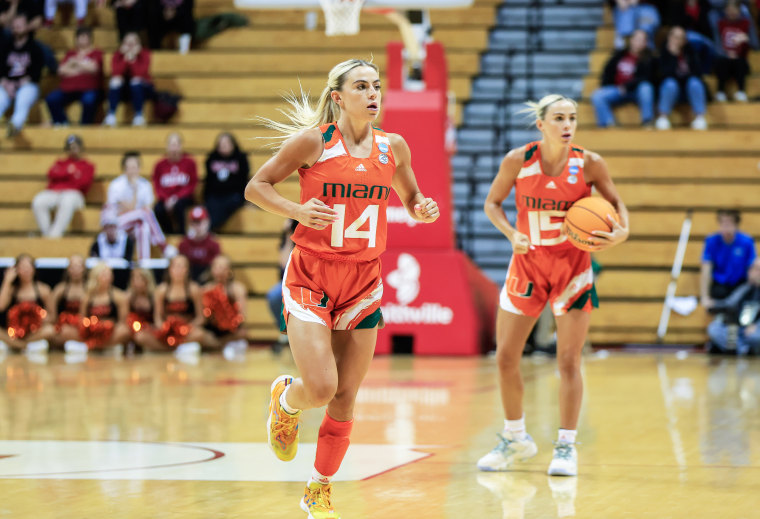 Those opportunities include an NIL agreement with WWE and "a lot of long-term deals," the sisters said.
The NCAA allowed student-athletes to profit off their name, image and likeness in 2021, reversing a previous policy that had prohibited it.
Haley and Hanna Cavinder shared on TODAY why they partnered with WWE.
"We love WWE," they said together.
"Their fan base, the sport, the fitness side of it. That fits Hanna and I's brand and aligns great with us," Haley Cavinder said. "They're a great partner and we're very excited with the future with them."
Hanna Cavinder explained how profiting from their NIL deals in college sets up the next generation of basketball players for success.
"I think just being able to optimize and to be able to monetize as a student-athlete, especially female athletes, because not everybody has the opportunity to go pro," Hanna Cavinder said. "So I think we'll be prime examples to show people what you can do after college with NIL experience."
Haley Cavinder also said these NIL deals help them transition into adulthood and away from college basketball.
"Being a female athlete, there's very little chance to go pro and be very successful for women's basketball," she said. "Being able to show the younger generation, if you prioritize NIL in college, you can set yourself up for success beyond basketball or beyond your sport."
In their Instagram statement earlier this week, Haley and Hanna Cavinder thanked fans for an "unforgettable season" and said they were starting a "new chapter" in their lives.
"The U Will always be home and we are forever proud to be Hurricanes," they wrote.
"What started as us playing basketball 16 years ago, turned into something bigger than we could ever imagine," they added.
Related: