NBA star Giannis Antetokounmpo is remaining optimistic after his Milwaukee Bucks' season was cut short.
On April 26, the Bucks, the No. 1 seed in the Eastern Conference playoffs, faced off against the Miami Heat, the No. 8 seed. Despite Antetokounmpo scoring 38 points, his team fell short and lost to the Heat in a back-and-forth overtime game. 
That defeat meant the Heat won the series and the Bucks were eliminated from the playoffs, falling short of high expectations.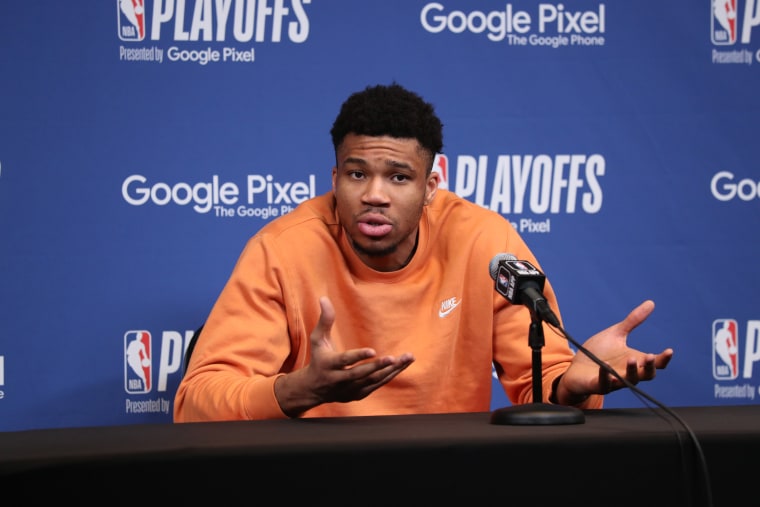 After the game, Antetokounmpo spoke to reporters about his team not making it out of the first round. 
Eric Nehm, a reporter for The Athletic, repeated a question that he previously posed to Bucks head coach Mike Budenholzer during his press conference. 
"I just asked Bud the exact same question, but I'm curious for you. Do you view this season as a failure?" Nehm asked. 
The 28-year-old athlete sighed and pushed back on Nehm's question. NBA TV shared the tense exchange on its official Twitter account. 
"You asked me the same question last year, Eric," the former NBA MVP said before using an analogy. "Do you get the promotion every year on your job? No, right?"
He pointed out that the sports reporter still works hard even if he doesn't achieve his goal. 
"It's not a failure. It's steps to success," the Greece native explained. He then took a breath and said he did not intend to personally call out the journalist. So, he used another comparison. 
"Michael Jordan played 15 years, won six championships. The other nine years was a failure?" he asked. 
Nehm replied, "I mean, I don't think so. No."
Antetokounmpo said, "OK, exactly. So why you asking me that question? It's an odd question."
He continued, "There's no failure in sports. You know, there's good days, bad days. Some days you are able to be successful. Some days you are not. Some days it's your turn, some days it's not your turn. And that's what sports is about. You don't always win."
The "Greek Freak" said another team will win the championship soon, but the Bucks will try again next year. 
To further stress his point, he included another example. "So 50 years, from 1971 to 2021, that we didn't win a championship, it was 50 years of failure?" he said, referring to the Bucks taking home the Larry O'Brien Trophy in 2021 after a long gap in between championships. 
Antetokounmpo answered his own question and said, "No, it was not. It was steps to it. We were able to win one. Hopefully we can win another one."
At the end of his lengthy response, Antetokounmpo apologized and said he did not mean to single out the journalist, but he wanted to be clear. 
"Because you asked me the same question last year. I wasn't in the right mindspace to answer the question back, but I remembered it," he concluded.
Twitter users applauded Antetokounmpo for his positive outlook on the tough loss. 
"This made me a bigger fan of his. Such a great answer," one person tweeted. 
Another wrote, "More people need to be like Giannis." 
NFL star Russell Wilson chimed in to support Antetokounmpo's stance. 
"Through the highs and lows..Keep going," Wilson said and included multiple raised-hand emoji. 
Although Antetokounmpo is keeping his head high, NBA fans are still processing the shocking upset. 
ESPN reported that the Bucks became just the fourth No. 1 seed in NBA history to lose to a No. 8 seed during a best-of-seven series. 
The Bucks had a rough start to the playoffs. Antetokounmpo injured his back in the first game of the series and was sidelined for Games 2 and 3. He returned to the starting lineup for Games 4 and 5, but it was not enough to stop the Heat from advancing to the next round.