Brittney Griner, who was freed from Russian custody in December after being detained for nearly a year, will return to play for the Phoenix Mercury, signing a one-year deal with the team, TODAY.com has confirmed.
Diana Taurasi, the WNBA's all-time leading scorer, also re-signed with the team.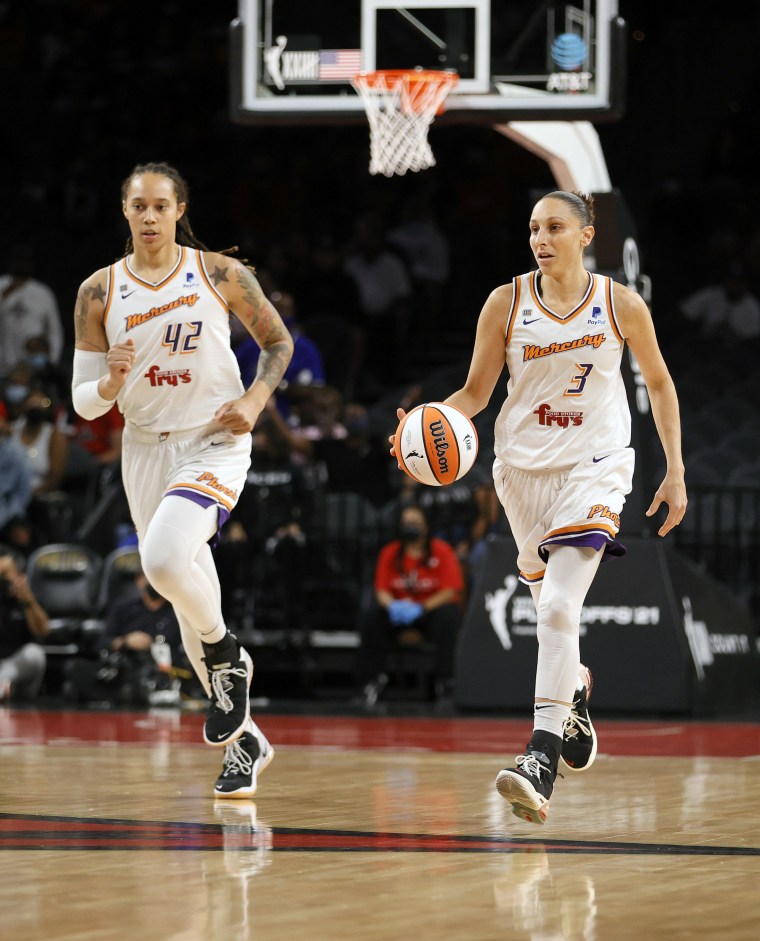 In addition to playing together in the WNBA, Griner and Taurasi both played on the UMMC Ekaterinburg team in Russia from 2015 to 2017 in the off-seasons. Griner continued to play until 2022 before her 10-months long detainment.
In Griner's first post since returning to the U.S., she shared her intention to continue playing in the WNBA after the ordeal.
"I intend to play basketball for the WNBA's Phoenix Mercury this season, and in doing so, I look forward to being able to say 'thank you' to those of you who advocated, wrote, and posted for me in person soon," she wrote in the Dec. 16 Instagram post.
Griner, 32, plays center for the Mercury and is a two-time Olympic gold medalist.
Griner was detained at an airport in Moscow in February after Russian authorities said they found vape canisters with cannabis oil in her luggage.
In November, Griner was sentenced to 9 years working in a Russian penal colony after pleading guilty to the drug charges, insisting it was "an honest mistake" and that she did not intend to break Russian law.
The Biden administration negotiated her release in a high-profile prison swap, with arms dealer Viktor Bout returning to Russia.
On Dec. 9, Griner was welcomed back to the U.S. at Joint Base San Antonio-Lackland in Texas. 
Griner's wife expressed gratitude to those who helped bring the basketball star home, including President Joe Biden, Vice President Kamala Harris and Reverend Al Sharpton, in a Dec. 10 post on Instagram.
"I'm humbled by their hearts," Cherelle Griner wrote in the caption. "To care for another, a stranger to some, a friend to some— is humanity in its purest form! As BG and I start our journey to heal our minds, bodies, and spirits— I wanted to personally say thank you to some of the hands; seen and unseen, that helped make it possible for me to see my wife again!"