LSU star Angel Reese made her position clear about first lady Jill Biden breaking with tradition and suggesting both teams from the NCAA women's basketball championship game should get a trip to the White House this year.
"A JOKE," Reese tweeted with laughing emojis on April 3.
During remarks delivered in Denver on April 3, Biden congratulated both teams and said she wants the runner-up Hawkeyes to come to the White House in addition to the Tigers, who won their first NCAA championship in program history.
"Congratulations to both teams. I know we'll have the champions come to the White House, we always do," Biden said. "So, we hope LSU will come. But, you know, I'm going to tell Joe I think Iowa should come, too, because they played such a good game."
Reese, who was named the Most Outstanding Player of the Final Four, was clearly not happy with that idea.
Traditionally, only the champions get invited to the White House.
"I mean absolutely zero disrespect to the First Lady, but you are 1000% correct," ESPN commentator Stephen A. Smith tweeted about Reese's reaction. "That is a bad suggestion. Runner-ups don't get invited to the White House. Why are we trying to change it now?"
Iowa standout Caitlin Clark echoed those sentiments on ESPN on April 4.
"I don''t think runner-ups usually go to the White House," she said on "Outside the Lines."
"I think LSU should enjoy that moment for them," Clark said, adding her congratulations to the competition.
"They deserve to go there (to the White House)," she said. "Maybe I can go to the White House on different terms but you know, that's for LSU."
The first lady's team also later walked back Biden's remarks about welcoming both schools.
"Her comments in Colorado were intended to applaud the historic game and all women athletes," Vanessa Valdivia, press secretary to the first lady, wrote in a tweet posted early April 4. "She looks forward to celebrating the LSU Tigers on their championship win at the White House."
Reese's comments came in the midst of a heated debate about sportsmanship following her behavior in the national title game.
Multiple times during LSU's 102-85 victory, Reese did the "you can't see me" gesture in front of Iowa superstar Caitlin Clark, who went viral earlier in the NCAA Tournament for making the same gesture during an Elite Eight game against Louisville.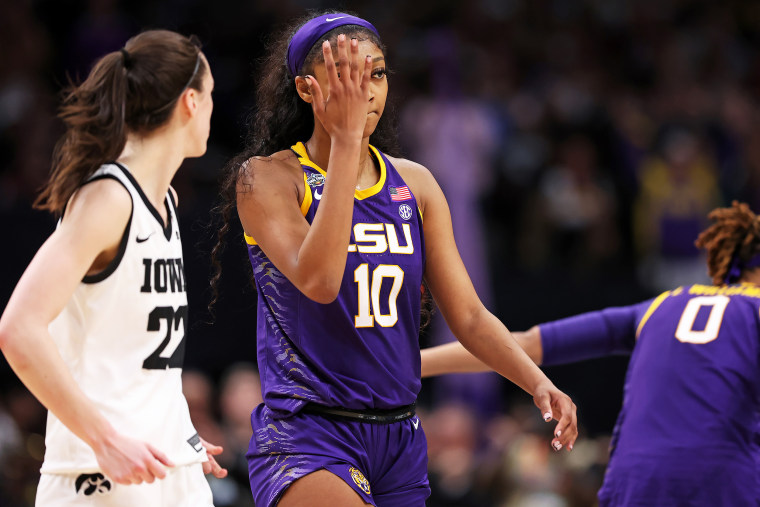 Reese was labeled "classless" by some for her taunts, while others noted that Clark did not face the same criticism.
"I don't fit in the box that y'all want me to be in," Reese said in the press conference after the game. "I'm too hood, I'm too ghetto, y'all told me that all year. When other people do it, y'all don't say nothing. This was for the people that look like me, that's going to speak up on what they believe in. It's unapologetically you."
LSU coach Kim Mulkey also defended Reese on April 3 on TODAY.
"That child just won a national championship," Mulkey said. "She's not afraid of social media. That is who Angel is. She trash-talks on the court, but she doesn't cross, really, the line of vulgarity."
Clark said in the press conference after the game that she did not notice Reese's gestures toward her.
"That's all you can do, is hold your head high, be proud of what you did," she said. "And all the credit in the world to LSU. They were tremendous. They deserve it. They had a tremendous season."