What's it like to lead a life that's spiritual, but not traditionally religious? Answers vary, but perhaps not as wildly as one might expect.
A recent TODAY survey indicated that 77 percent of participants see a difference between religion and spirituality, with more than 70 percent of respondents indicating it's more important to be spiritual than religious.
Perhaps among those who identify with that latter majority is Suzi Lula, who prays and expresses gratitude on a daily basis. Raised by a Jewish mother and Christian father, Lula says she found comfort in being raised with religious traditions, but discovered a deeper connection once she attended events through Culver City, California's Agape International Spiritual Center.
"To me, spirituality is the best of what any religion is seeking to offer," Lula told TODAY's Erica Hill. "When I found Agape, it really felt more like a community where the spiritual essence that I was looking for was just infused."
A transdenominational movement founded by Rev. Michael Beckwith in 1986, Agape claims some 9,000 local members and 1 million "friends worldwide" — all on a quest to find deeper spirituality.
"I think that sometimes there's a misconception that spiritual people are airy-fairy," he said. "I would say it's just the opposite: that a deeply spiritual person is trying to manifest their gifts and their talents in this world to change the world for the better."
Discussions about God, acts of prayer, and an emphasis on service mirror elements of religion, but Agape doesn't offer the traditional structure many Americans associate with religion.
"God is a presence that's never in absence," Beckwith said. "This presence is everywhere, so, you would never pray for God to come here, because the presence of God is infinite."
Rev. Linda Mercadante was raised in an interfaith, nonreligious home, but yearned for something more as a young adult. After her own spiritual journey, she found fulfillment in the structure of organized religion.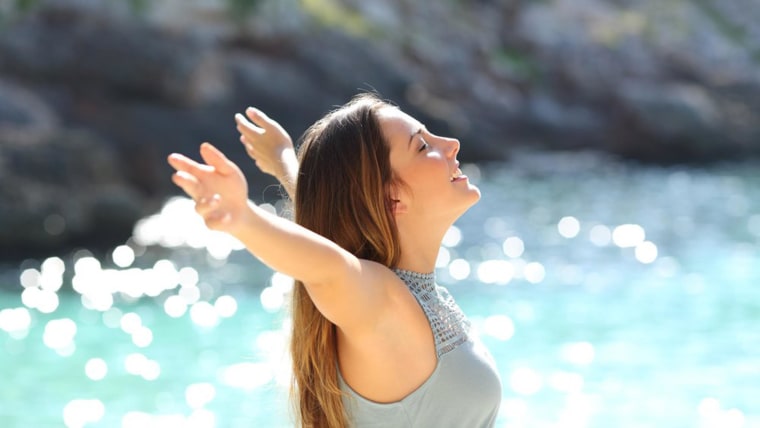 "When I just saw myself as spiritual, but not religious, I found it a little lonely, actually," said Mercadante, now an ordained minister and a professor at the Methodist Theological School in Ohio. "There were things I had questions about but could not find the answers to."
Mercadante has focused much of her research on people who classify themselves as spiritual, but not religious — a category that includes about 11 percent of Americans. "People do want to separate those two terms, [but] I think they're more harmonious than people realize," she said.
For her research, Mercadante interviewed people of different races, ethnicities and socioeconomic backgrounds throughout North America. Perspectives on spirituality, she said, were remarkably similar.
"Often, what they didn't like [about religion were] some aspects of the theology," she said. "They felt that religion would require them to sign on the dotted line that would control their beliefs and their behavior."
When TODAY asked Beckwith what might draw people to spirituality, Beckwith replied, "There's an old saying that religion is for people who don't want to go to hell, and spirituality is for people who have already been there. So, often times, people are on a spiritual path because they've had some very, very hard times. Religion hasn't provided an answer."
The journey to find those kinds of answers, he added, is an essential component of spirituality.
"We're keenly aware that there are many paths to enlightenment, many paths to your sacred connection to the divine," he said. "It doesn't have to be just one way."
While there may be nuanced differences between spirituality and religion, Mercadante says a lot can be gleaned by those who identify more with one classification rather than the other.
"I really want organized religion to take spiritual people but not religious [people] seriously, and to appreciate their open minds," she added. "And I hope spiritual but not religious people, with their open minds, can take seriously what organized religion has to offer them."
Lula boiled her spirituality down to two components: "God is love," and a quote attributed to the Dalai Lama: "My religion is kindness."
Added Lula, "That, to me, says it all. Kindness, I think, comes from the inside out."
Follow TODAY.com writer Chris Serico on Twitter.