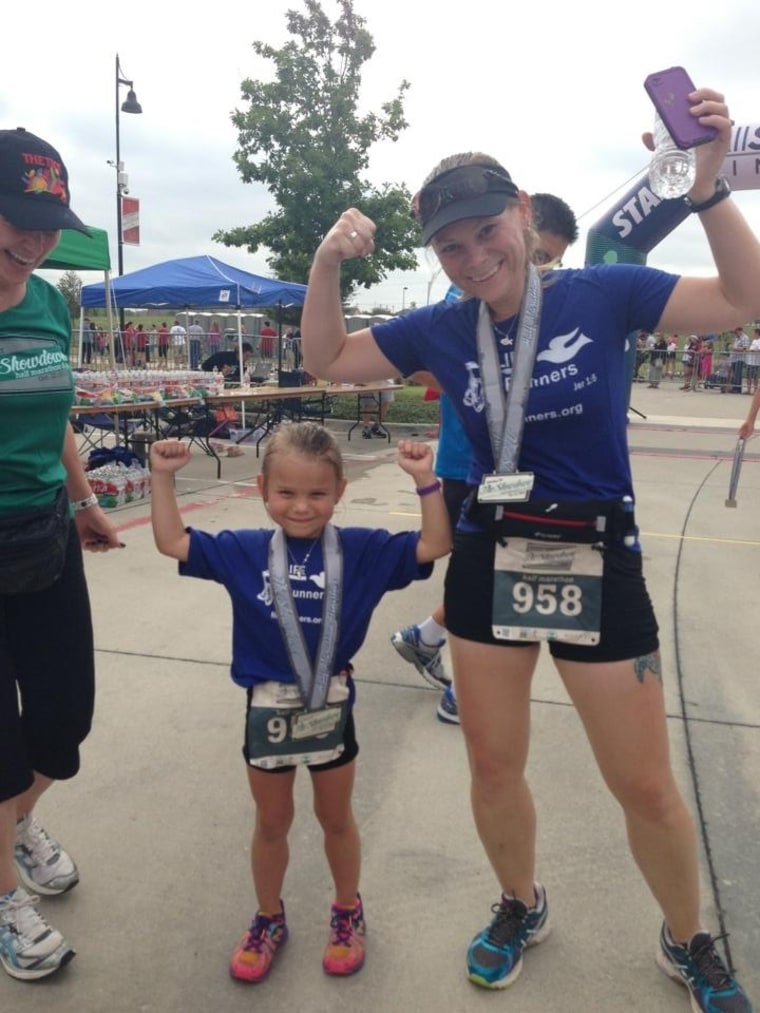 Some 6-year-olds spend their Saturday mornings watching cartoons, while others might play in a soccer match or two. Keelan Glass of Abilene, Tex., likes to go for 9-mile runs.

"This girl comes home, and when she's finished with homework, she's outside doing her practice triathlons," her mom, Tracy, told TODAY.com. "This is just what she likes to do."
Keelan's daily training culminated in "The Showdown Half Marathon" this past Saturday, which she completed in 2 hours and 47 minutes, becoming one of a handful of 6-year-olds to finish that distance in under three hours. She came in fifth place in the 14-and-under category.
"She was all smiles," said Tracy, 39. "It was a special moment to see her cross the finish line. She did something that not many kids are able to do, and it was very special to watch her achieve that."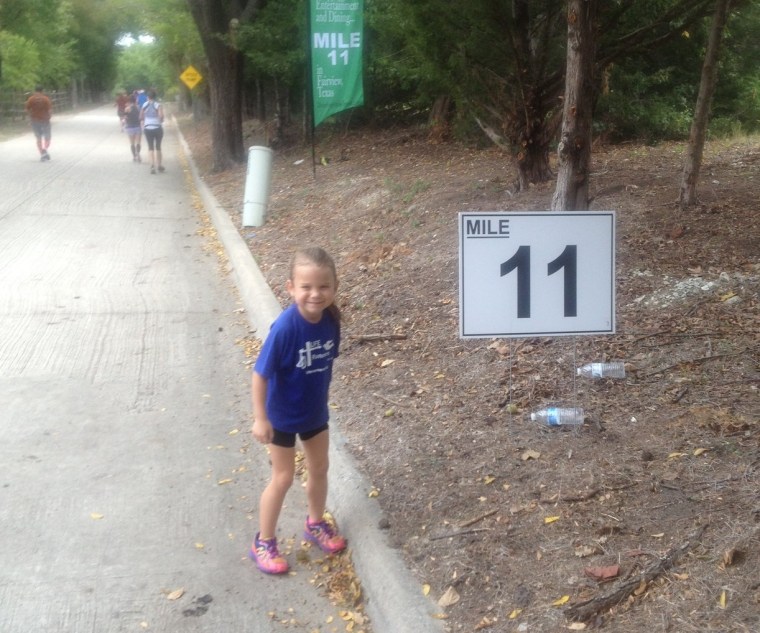 Though Keelan is only six, she's been running for years. It started with long bike rides alongside her mom and dad, Greg, as they ran to train for triathlons. She eventually asked if she could run with them, and to Tracy's surprise, she didn't stop for three miles. 
Keelan completed her first official race, a 5K organized by the YMCA, at the age of 4, and it wasn't long before she was beating mom to the finish line. She completed a 10K last May, running part of the way on her own.
"That was the first real race where I let her go," Tracy said. "She wanted to do her own thing, so I let her run on her own. She would stop and talk to other runners and stop to get water at the table."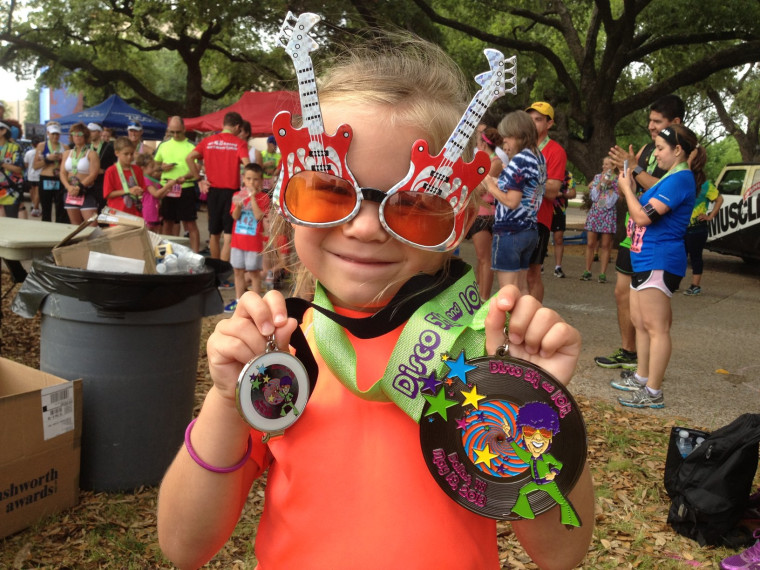 Around that time, Keelan started expressing her desire to participate in a half marathon, but Tracy and Greg initially approached the idea with trepidation. Without a lot of concrete research available on the safety of children running long distances, Tracy, a doctor herself, brought it up with an orthopedic surgeon and two pediatricians, who advised her to train Keelan slowly.
"As a parent you want to be supportive of your child's dream, but I don't want to support her now at the detriment of her future," she said. "But for the most part everybody said just take it slow and train gradually in small steps. At no point would we have ever pushed her."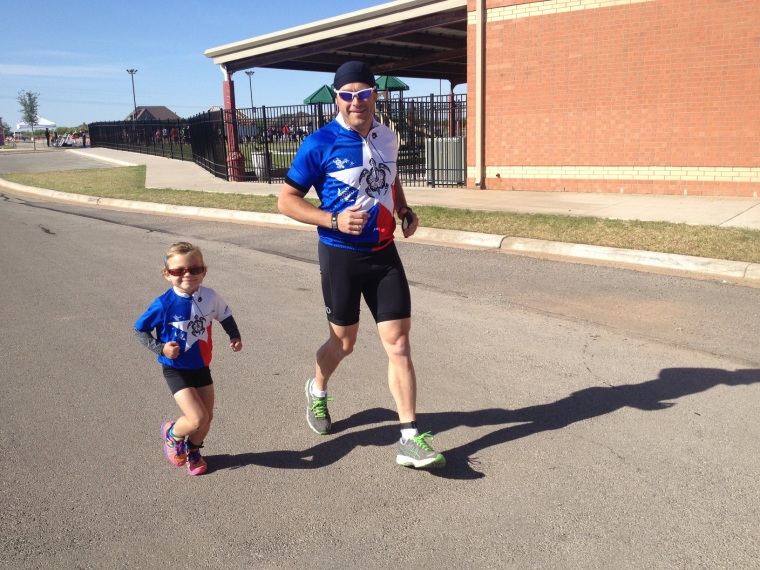 Keelan started training for the half marathon with her parents in May, taking long runs every other weekend and running four to six miles a day during the week. On the big day, Keelan, who was "so excited," ran next to her mother, taking the time to stop and drink and nibble on crackers. She even paused to pose with a cute llama they found along the path.
"Everybody was supportive out there," Tracy said. "They were awesome. They ran across the course to high-five her and cheered her on the whole way."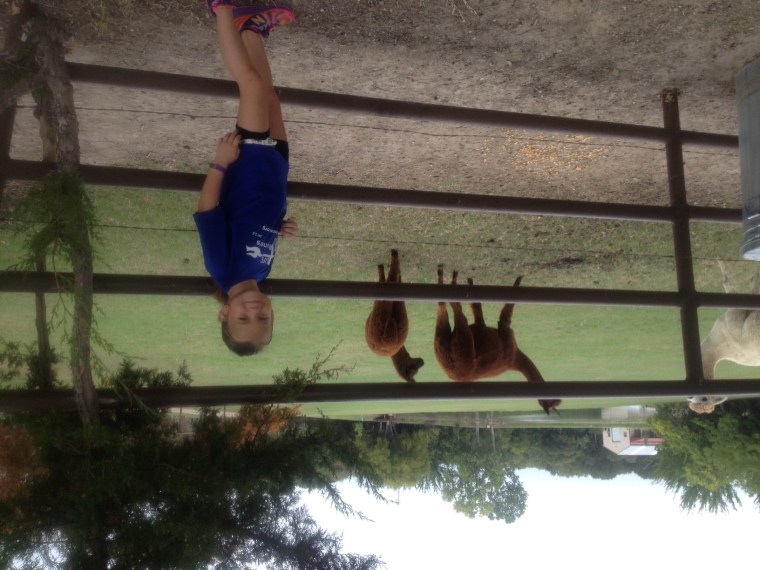 Keelen hopes to run another half marathon, this time with her dad, in the next year or two, but for now she's sticking to shorter races. For Keelan, who Tracy describes as "shy but sassy," running isn't just about the exercise (though she said she enjoys that too).
"I like to make people happy," she told TODAY.com.