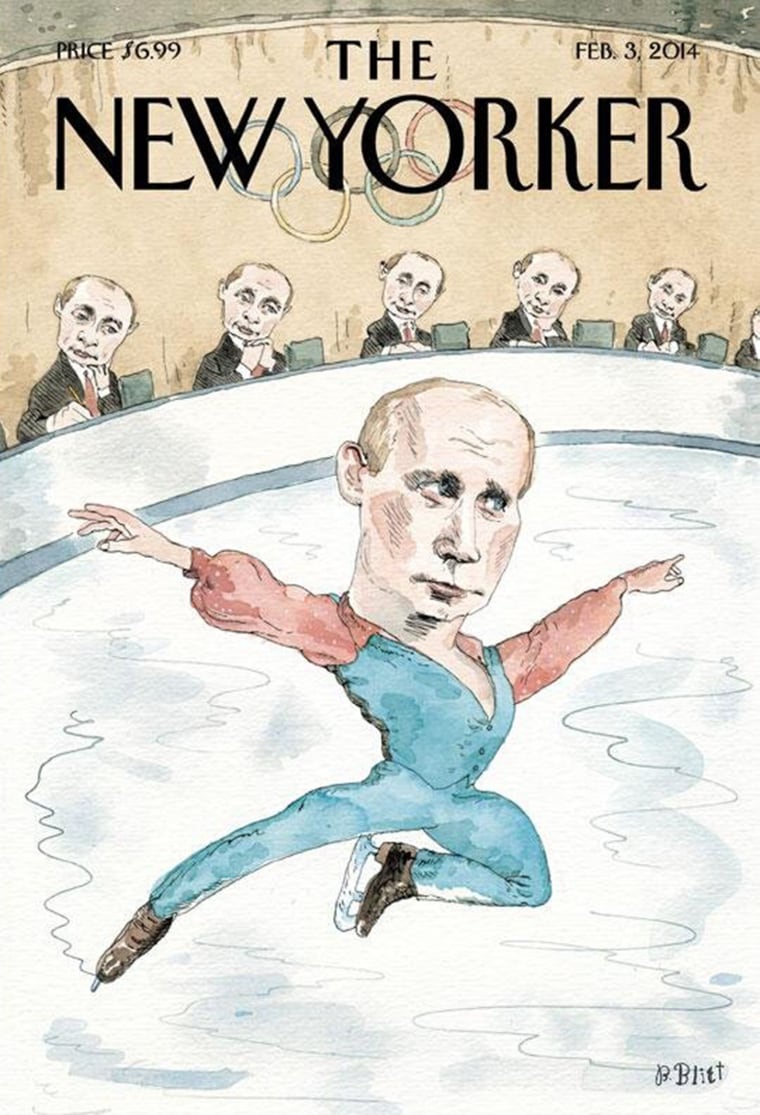 Two different magazine covers with strikingly similar concepts combine Russian president Vladimir Putin and figure skating to create a satirical spectacle on ice. 

With the Olympics set to begin next week, The New Yorker and The Economist both have some fun with Putin on their latest covers, depicting him as a figure skater striking flamboyant poses. In a cartoon titled "Jury of his Peers'' on the cover of the Feb. 3 issue, New Yorker artist Barry Blitt depicts Putin on a skating rink leaping into the air with his arms spread as a panel of identical Putins rate his performance.
In a post about the cover on The New Yorker site, Blitt said: "Mr. Putin is a gift to caricaturists (but to humanity in general, not so much)."
One of the Russian leader's most notable human-rights controversies has involved an anti-gay law passed last July. It outlaws "propaganda" of "non-traditional sexual relations" around minors. However, in comments to state-run media last week, Putin said: "We are not forbidding anything and nobody is being grabbed off the street, and there is no punishment for such kinds of relations ... You can feel relaxed and calm [in Russia], but leave children alone please." 
The cover of the Feb. 1 issue of The Economist shows Putin striking a pose on figure skates while a female skater falls on her backside in his wake. The word "Russia" is on the back of her outfit. The title is "The triumph of Vladimir Putin." 
The government has spent a reported $51 billion to prepare for the Olympics in Sochi and denied numerous allegations of corruption. A 2012 report by the government's Audit Chamber unearthed $500 million in "unreasonable" expenditures related to the Olympics, according to The Associated Press.