A mysterious email accidentally sent to thousands of California residents last week triggered a seemingly endless string of replies, a spectrum of emotions, a tongue-in-cheek Facebook "Survivors" group, and a picnic that celebrated unexpected friendships.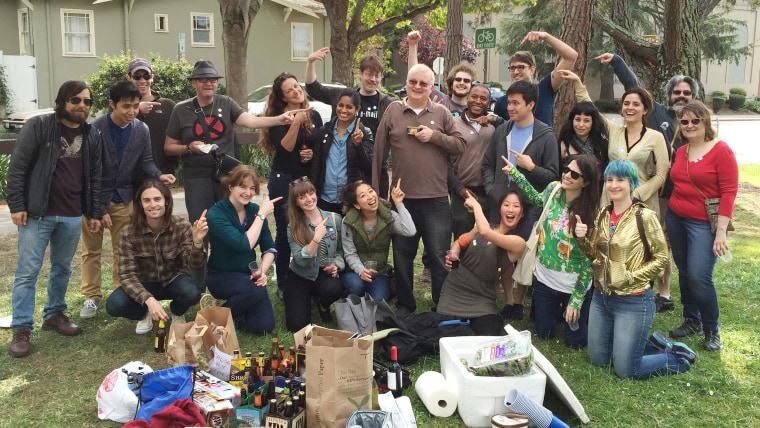 The phenomenon that's been dubbed "Spampocalypse" began the night of March 17 in Berkeley, California, where Nigel Guest, president of the city's Council of Neighborhood Associations, reportedly tried to address an email to himself, but wound up sending it to thousands of regional registered voters instead. With a subject of "Re: test" and a lowercase "x" in the body text, Guest's email not only confused the people it reached, it prompted many of them to share their feelings about it — via the dreaded reply-all function.
"Why did I just get this email?", "I have the same question" and "Who's sending this?" were among the earliest replies sent in a four-minute span, according to one of many screen grabs posted by recipient Christopher Berry. About 100 well-intended but ultimately counterproductive replies, including "It would helpful if all of you quit replying to this," were sent within the first four hours, according to Berry.
Yelda Bartlett said she didn't see the email chain at first, because it was sent to one of her old email addresses. "It was all waiting for me in a beautiful package in my spam folder," she added.
Her husband, Ben, said he experienced it all in real time and went through three phases: confusion, frustration and amusement. "In a sense, [Guest] provided this opportunity for us to come together, to have a unique bit of fun," he added. "And there was the [initial] mystery of it: It was almost like were invited to an episode of 'Lost.'"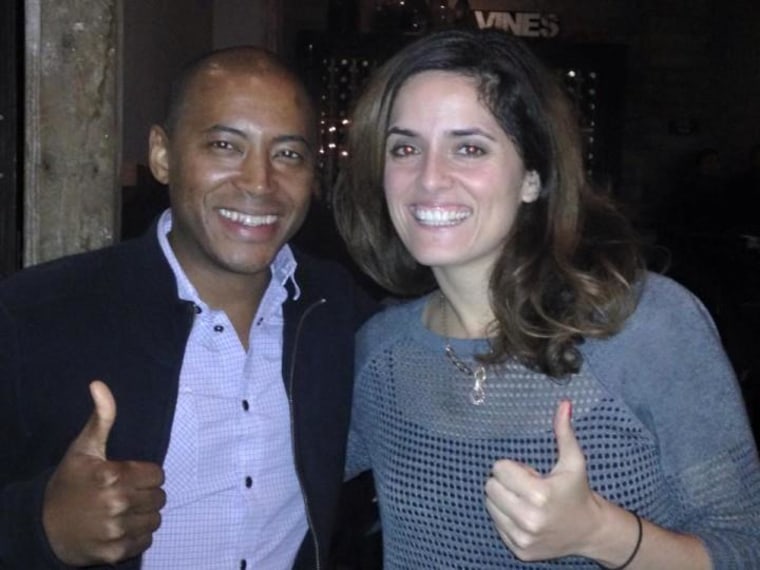 Another recipient, Liz Carlson told TODAY.com (via email, of course) that she "did not know a single person in the thread, though it was [later] revealed we were all registered voters of Berkeley, California, with last names A-G."
The morning after Guest's confusing email set off an electronic firestorm, he explained to recipients that he'd "made a mistake while setting up [CNA's] email system." Before closing his follow-up email with an apology for the inconvenience, he used red text to emphasize, "PLEASE DON'T REPLY TO ALL."
It didn't work. Many continued to vent their frustrations to everyone on the chain, with one recipient fuming, "My personal email better not have been compromised, or I will proceed with legal action."
One jokester replied to the chain with a supposed solution, encouraging members to reply-all with the phrase "Subscription terminate." The prank worked, because the solution didn't.
Email recipient Jude Berman expressed mixed feelings over everything that transpired last week. "[There] is the ease with which voter registration lists can be used for a range of purposes, other than campaigns," he told TODAY.com. "Perhaps the lesson is to juggle the hilarity without losing sight of the more serious implications."
Still, almost 250 recipients who focused on the ordeal's lighter side joined a "CNA Survivors" Facebook group, which fostered a sense of community among the online friends who'd been strangers just days earlier. The group's slogan? "Because one online party of strangers just isn't enough."
Sofia Chang was one of several in the group to adapt Internet memes to the situation, tacking the words "Not sure if [this is] annoying spam or entertaining spam" onto a frequently referenced picture of a confused "Futurama" character.
Last Wednesday, Emilie Raguso, a senior reporter for the news website Berkeleyside, received a tip about the fiasco, as well as links to some of the funny reactions on Facebook. "I could not tear myself away," Raguso — who broke this story in an incredibly detailed article on Berkeleyside — told TODAY.com. "I spent at least an hour reading through all the comments and responses on that [Facebook] page and kept laughing out loud."
Novelty items followed. Commemorative "I Replied All" T-shirts were made. Stickers were distributed. And Chang ordered lapel buttons that are homages both the "Subscription terminate" prank and the email that started it all.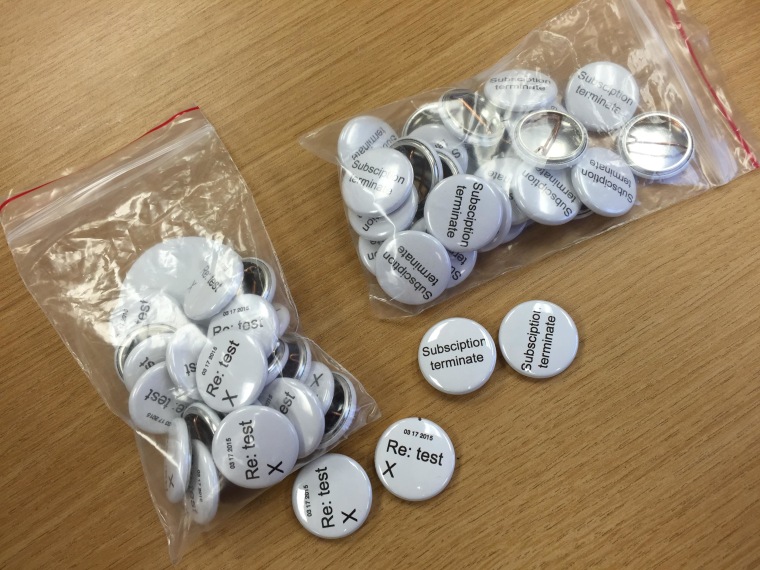 All of this led to a group picnic held Sunday in Berkeley's Ohlone Park. Through Facebook, Nisha Balaram organized the event, attended by dozens of members of the email chain — including Guest. There, the author of the original email was among many to pose for a photo, where he appeared, front and center, holding a can of Spam.
"What struck me most was the sense of community that resulted due to this technology error," Balaram said. "Usually we only hear how constant emails can lead to isolation behind a computer screen. However, this 'spam' was fascinating in that it really connected us. Ironically, I organized the picnic knowing that I was unlikely able to attend. That's how much it impacted me."
Those who were able to attend felt the impact, too.
"It was the most fun I've had in a long time," Ben Bartlett said.
Added Chang, "I'm in the final years of my graduate program, and this whole [Spampocalypse] will be one of the best cherished Berkeley memories."
Carlson, too, was moved by the picnic. "I had great conversations with people from all ages and walks of life," she recalled. "When I walk down the street, I have a stronger connection to my neighbors — and wonder if they, too, were survivors of the 2015 Berkeley [Spampocalypse] that started with an 'x.'"
Follow TODAY.com writer Chris Serico on Twitter.