Tom Hall had no idea what he was going to find when he went trailing through knee-deep water during a rescue mission in Columbia, South Carolina, on Sunday. The region has been hard hit by historic rainfall.
Hall was out with his family, checking to make sure their community was safe by knocking on doors and putting up blockades, when they decided to break for lunch.
"The storm was getting worse, the water was coming up, so I said let's go home to get dry and eat and we'll see what we can do later," Hall told TODAY.com.
On their way home, they wanted to check one last spot — and it's a good thing they did. They came across a stream that feeds all of Elizabeth Lake and decided to go check it out. In the distance they saw a car.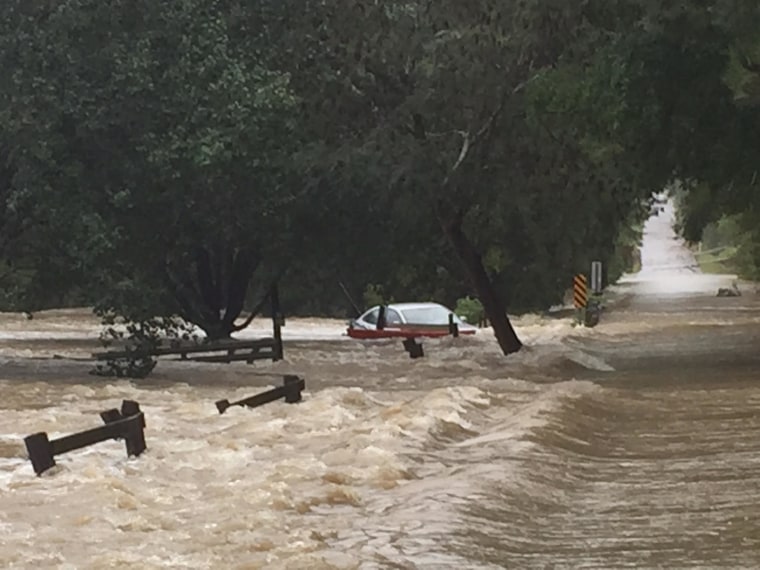 "As soon as we got to the bottom of the hill, we knew it was going to be rough, but we had no idea what we were going to find," Hall said.
RELATED: After Texas flood, grandma reunites with beloved poodle
Floating in what used to be 200 yards of meadow was the car that appeared to have been swept off the road.
"We thought for sure there couldn't be anyone in the car because no one would've tried to cross at that point," Hall said. "The water was already at two feet and rising. I tried to look with binoculars but couldn't see anyone, but just to play it safe, I wanted to go find out myself."
He put on his life jacket, told his sons to stay where they were and if anything happened, to immediately call their mom, who was already back at the house.
While approaching the car, he saw a hand reach out. It was George Osterhues', who was traveling to Florida with his loyal companion, Tila. They had been in the car for about three hours when Hall found them. Osterhues was in hypothermic shock, but remained very calm for a man who thought he was going to die out there.
RELATED: Blake Shelton rescues man from Oklahoma flood
Hall ran back to his house quickly to grab his boat, but was having trouble getting it to start, so he abandoned that plan and decided he was going to use his own strength to bring Osterhues to safety.
It took him 30 minutes to get back to the car and when he arrived, he asked Osterhues if he'd be comfortable leaving the dog and waiting for 911 to come and rescue him, but Osterhues refused to leave Tila behind.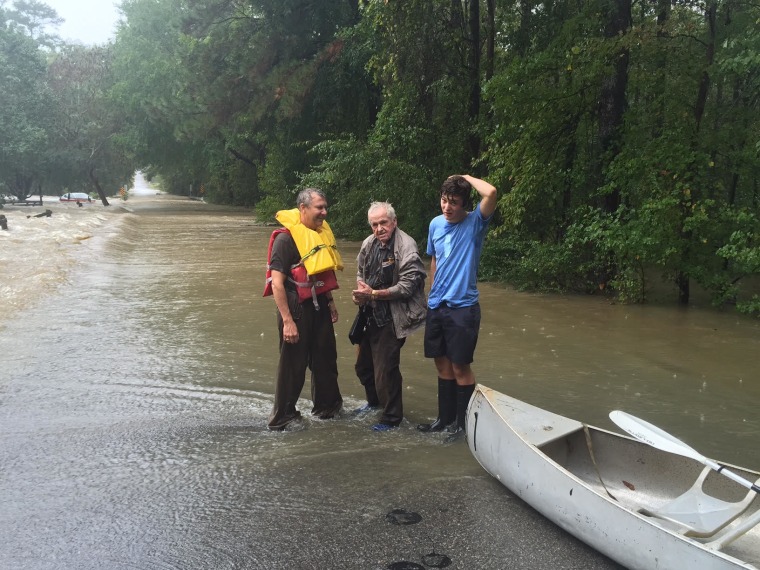 "I knew immediately this wasn't a negotiation, so I pulled them both out of the car and put Tila on a suitcase," Hall said. "George had absolutely no energy, so it was up to me at that point."
Hall struggled to drag them through the water and at one point Osterhues looked up at him with the most peaceful expression.
"This moment was crystalized in my brain and I thought to myself that if I let go, I'd never be able to go to sleep and wake up without this image in my head, so I was committed to not letting go," Hall said. "I'm not a very spiritual guy, but I found myself praying."
Hall was about 50 yards away from shore, where his family stood with an emergency medical technician, when he broke down and lost all his energy. So that's when his wife, Julie Hall, a South Carolina prosecutor, came out in the water and grabbed Osterhues' other arm.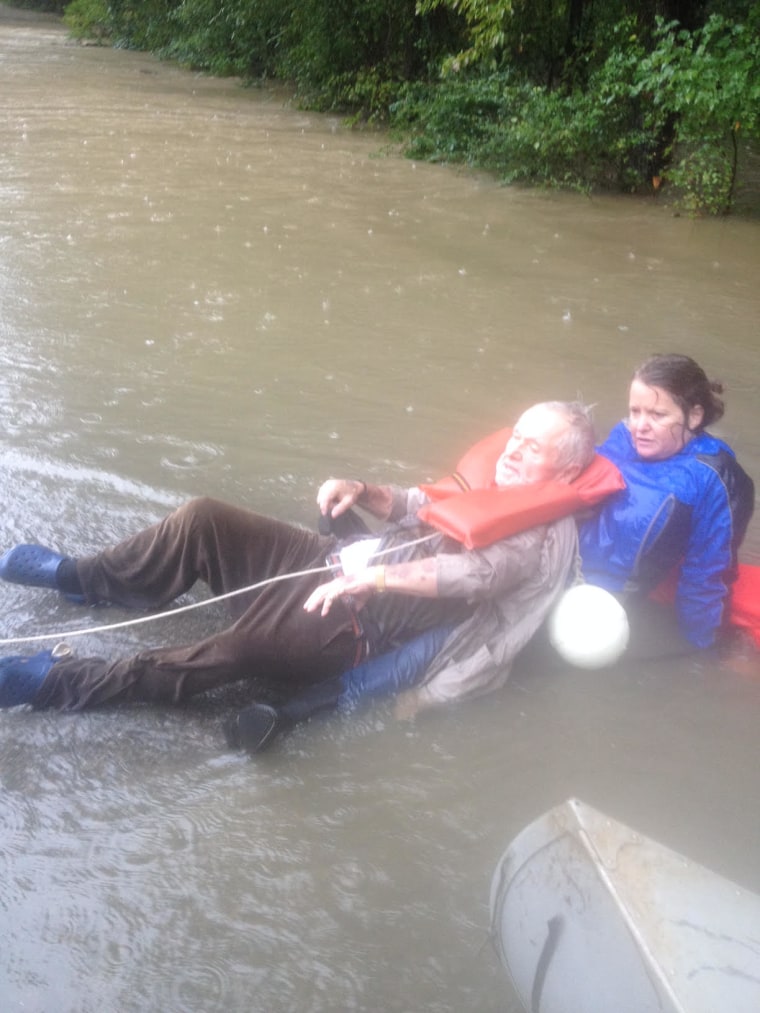 When they finally arrived at the shoreline, they shared a group hug and cried tears of joy.
"There's no feeling in the world of getting back to safety and having your whole family there," Hall said.
They took Osterhues and Tila back to their house to dry off and get warm. They spent the night and then were off to Florida in a rental car.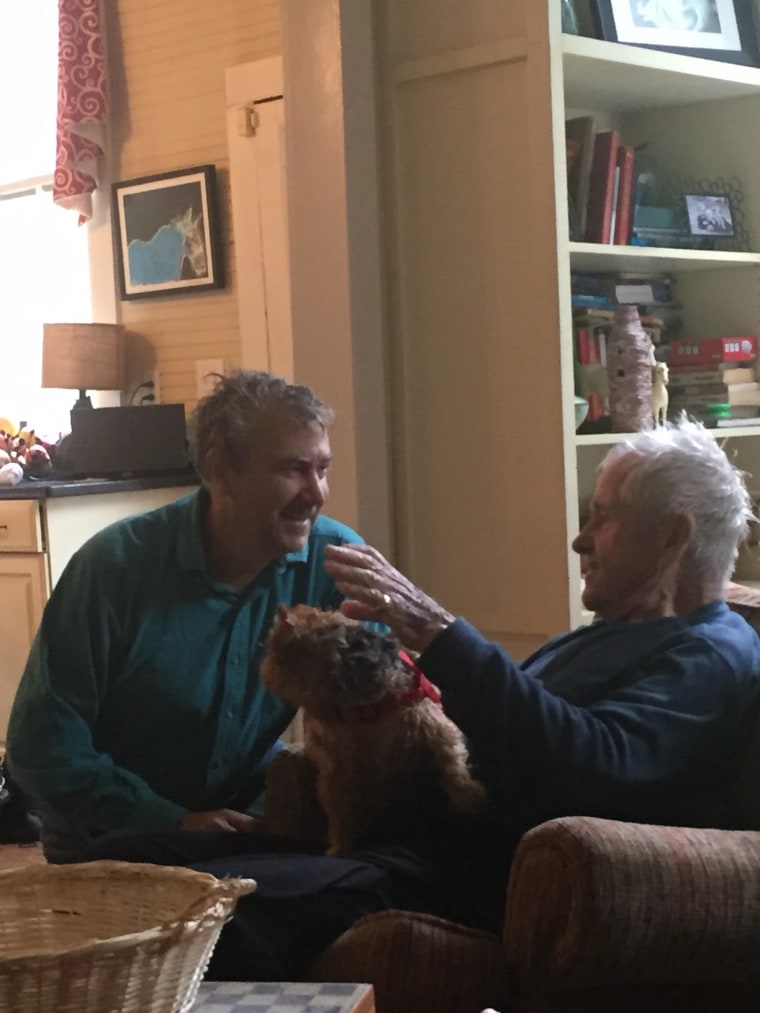 He's heading there to sell his condo because he's moving to Germany to live with his sister. Hall's children are going on a German exchange program over the summer and are excited to connect with Osterhues while they're there.
"I've now got a lifelong friend in George and I couldn't feel more grateful," Hall said.