The sultry ice dancing is going to have to be enough for now, folks.
The fiery chemistry between Canadian ice dancing duo Tessa Virtue and Scott Moir has some Olympic fans thinking the real fireworks happen when their skates come off.
Alas, for "Tessa and Scott" fans, the gold medal winners keep it strictly in the friend zone.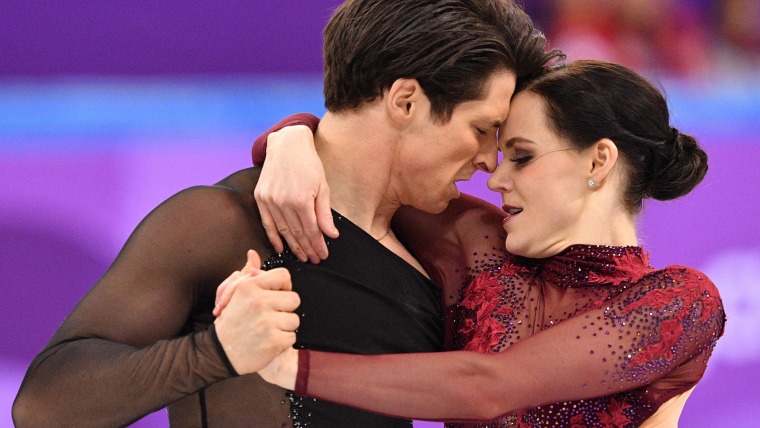 Virtue and Moir helped Canada win gold in the team figure skating competition on Sunday with an emotional routine set to songs from the movie musical "Moulin Rouge." It was the second gold medal of their already decorated careers.
The performance even had Baz Luhrmann, director of the 2001 hit starring Nicole Kidman, cheering from his couch.
The pair's sexy routine included a segment set to the screen musical's version of The Police hit "Roxanne."
Moments like the on-ice kiss they shared had some hoping it was more than just a performance.
"Maybe that means we're doing our job?" Moir told Maclean's last month. "We're always telling stories, we're supposed to be reacting, a man and woman on the ice, it's romantic.
"What we have is such a cool relationship," she said. "It's more about a friendship, our working relationship is so strong. We take so much pride in that."
Sunday's skate was a toned-down version of their usual routine, which typically includes a move that has Virtue straddling Moir's shoulders from the front.
They took that part out to make the performance more family friendly, according to the Toronto Star.
Virtue, 28, and Moir, 30, actually did date once - when Moir was 10 and Virtue was 8. Moir eventually called her eight months into the budding "romance" and ended it, he told the Globe and Mail.
The two have been skating together for two decades. Their partnership has produced two gold medals and two silver medals in three Winter Olympics, as well as three World Championships.
Even though they maintain they're just good friends, that hasn't stopped fans from reading into every gesture between them.
Follow TODAY.com writer Scott Stump on Twitter.