Janae Vorrath figured the closest her husband would get to meeting their newborn daughter for at least six months would be witnessing her birth on his iPad while he was deployed in the Middle East.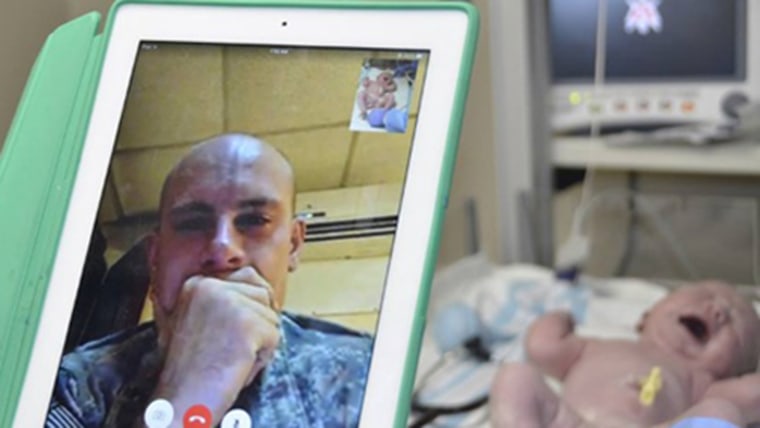 Instead, just one day after Sgt. John Vorrath watched the birth via FaceTime on Oct. 24, he was holding his brand-new baby in his arms, after surprising his wife by showing up in person at Mary Greeley Medical Center in Ames, Iowa.
The couple shared an emotional embrace and then John met his daughter, Charlotte, for the first time, which was captured in a touching video. 

"I was shocked and stunned,'' Janae told TODAY.com about the surprise visit. "I'm not sure if I can put into words how special it was to share those first few days of our daughter's life together, especially since we had prepared ourselves for him to not meet her until she was approximately six months old. But as her mom and his wife and in a very difficult time emotionally, it thrills my heart that he had the opportunity to meet her, hold her, kiss her, and that she'll know the sound of his voice now."
While watching Charlotte's birth online, John, whose wife declined to say where he was deployed out of safety concerns, was given a note by his commander indicating that his request for leave had been granted. 
After a 22-hour journey back to the couple's hometown of Ames, he was able to share the special moment he never thought he'd see in person. The couple had prepared all along for him not being able to be present for Charlotte's birth.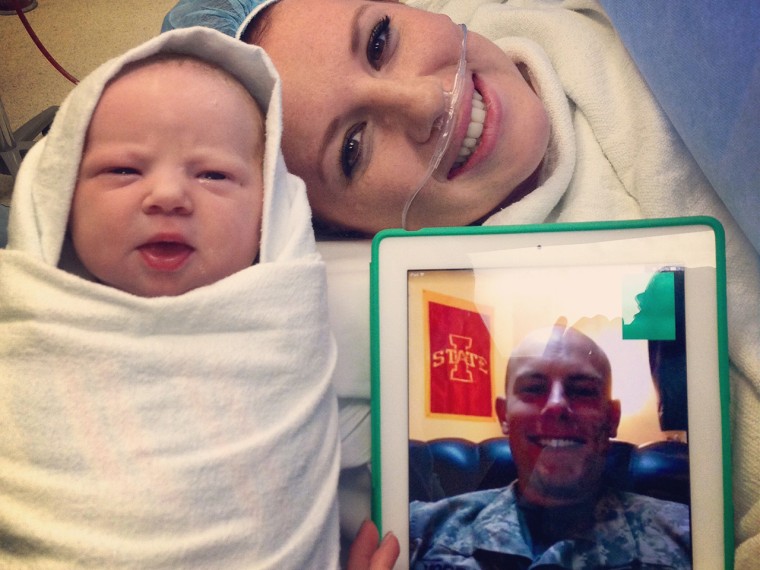 "We knew when we got pregnant that they were not allowed any leave, and I'd be having the baby by myself,'' Janae said. "I think it's hard to not be hopeful in circumstances like this, but you still have to prepare yourself for the worst. Two weeks prior to my scheduled C-section we went over our plans again for who would be in the room with me, who would FaceTime with him and to make sure he would be available during the time of the surgery. Everything seemed as good as it could be, given our circumstances."

John also got to spend time with the couple's 2-year-old son during the week he spent at home on leave. He has since returned to active duty in the Middle East as a member of the Iowa Army National Guard. 
"It felt surreal to have him back,'' Janae said. "Everything about having him home has made him leaving again that much more heartbreaking. After having such major surgery, and having him here to take care of our kids and serve me and love me, it felt more like a dream then my reality. 
"Listening to him read our kids stories and take our son to the park and play 'trucks' with him, and rock our daughter to sleep, has been truly surreal. He's my best friend and I hate doing life without him. As hard as this is on me as a single parent, this deployment I believe is hardest on him, so I am eternally grateful that he had this opportunity to be with our family, even if only for a short time. It gives us hope to have a taste of what our future will be in six months."