Madeline Schwartzman was just riding the New York City subway one day this spring on her normal commute when an idea came to her "with a thunk": "Ask a stranger to write a poem!"
The architecture professor says she had the brainwave while "sitting and staring at passengers on the 2 train," and that it snowballed from there. "I started that day, using my iPhone as the repository," she told TODAY.com. "When I got off the train I purchased my first notebook."
Everytime Madeline Schwartzman gets on the subway, she asks a complete stranger to write  a poem. "People seem to have things they want to share," Schwartzman said. "Some people feel so tortured by my request. My job is to break through that wall."
She's now on her fifth notebook, and has collected just under 100 poems, such as this one by Chris Usher:

"A stranger's approach
sometimes warmer than a phone
call from a friend.
Or an attempt at a relationship
to mend.
I think I just met a new
friend :)
on a subway
in a strangeland
a stranger became a helping hand."

Schwartzman displays a selection of the poetry on her website, Poems by New Yorkers, where she posts the work alongside photos of the people she asked to write it. Her subjects are a diverse mix of men, women and children of a wide variety of ages and races, and the poetry they've produced ranges from serious to silly, with a heavy emphasis on reflections about love.
"People have so much to say," she says. "It turns out everyone can write. It is so touching to talk to people. We share many of the same thoughts, desires, and experiences."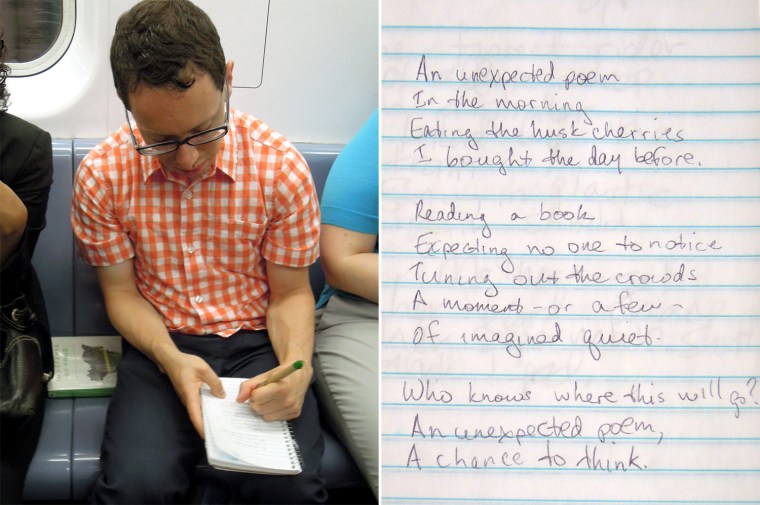 And the strangers she approaches are usually receptive to the project. "My success rate is 85-90 percent. Some days it is 100 percent," she says, though she notes that it's easier to get women to agree than men. "People seem to have things they want to share. Some people feel so tortured by my request. My job is to break through that wall."
Schwartzman was partly inspired to start the "social art project" by work she'd done over the last 10 years as a professor at Parsons: The New School for Design, where she often asked students to do unusual interactions with the city and its inhabitants.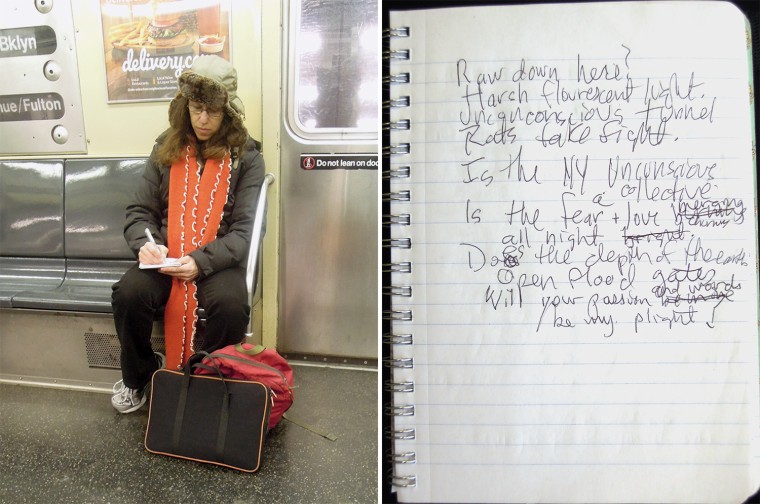 But this project goes well beyond what she had ever done before. "Poetry is entirely new to me — a new love," she says.
And Schwartzman isn't the only one who benefits — those who have given her their time and talent say they've been positively affected by the experience.
"I'm often glad when someone breaks the unspoken rules of avoiding eye contact and conversation on the subway," 26-year-old Brooklyn social worker Jeremy Schwartz told TODAY.com. "My reaction when Madeline asked me to write a poem was something along the lines of 'Sure, why not?!' It felt like a fun diversion from my normal commuting experience."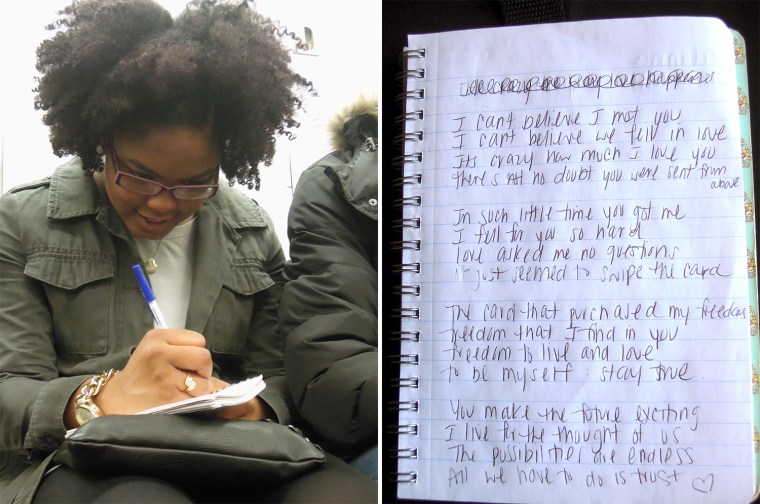 "I'd say it was fate that brought Madeline and I to the same Clark Street subway platform in Brooklyn Heights," said blogger and aspiring journalist Breanna Chevolleau. "I think Madeline's project is such a great idea. Madeline gives a few lucky people the chance to stop, think, and express some emotion."
When Schwartzman is not teaching or asking strangers to write poetry, she is a mother of 10-year-old twin daughters, Flora and Ariel. She encourages them to write poetry just like the strangers she meets on the train.