Charvis Brewer, an 8-year-old super-fan of the Memphis Grizzlies, has bragging rights that most children can only dream about.
On Sunday, the basketball team drafted Charvis as its newest and youngest member. The ceremony, complete with a mock press conference, team photograph and visit to the locker room, was orchestrated by Make-A-Wish, a non-profit wish-granting organization for children with life-threatening medical conditions.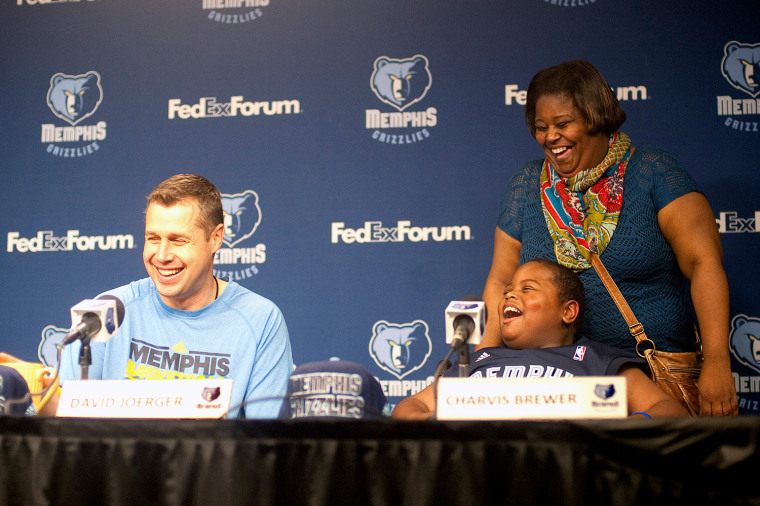 Charvis has cerebral palsy, a neurological condition that confines him to a wheelchair. His mother, Colissa Brewer, and a home health aide tend to his every need.
"It brought tears to my eyes," Brewer said of the Grizzlies' welcoming gesture. "I never imagined he would get a chance to do something like that."
Despite his illness, Charvis attends school and is the kind of basketball fan who can rattle off facts about his favorite team and their opponents. About a year ago, he was referred to Make-A-Wish Mid-South, the Memphis-based chapter of the national organization.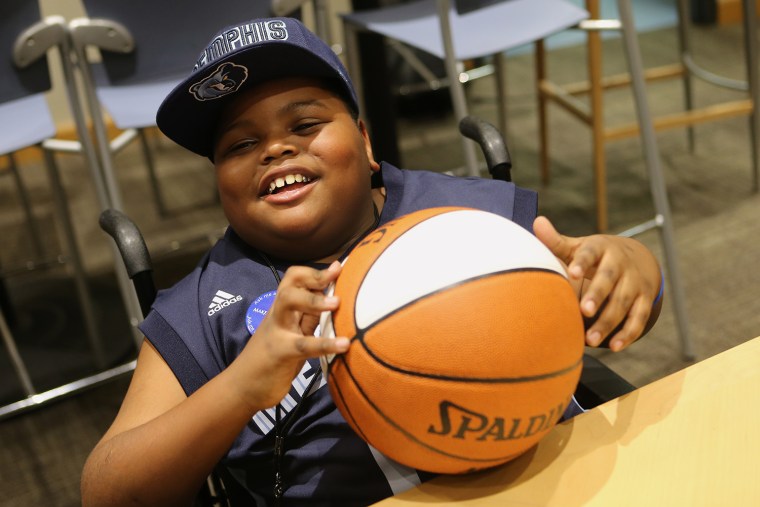 When volunteers asked what Charvis would like to wish for more than anything in the world, he shared his fantasy of being drafted by the Grizzlies. Since then, his mother told TODAY.com, Charvis kept wondering: Would his dream come true?
He got his answer on Sunday when the Brewer family, including Charvis' sister, brother and stepfather, went to brunch in Memphis, about an hour's drive from their home in Somerville, Tenn.
At the end of the meal, Memphis Grizzlies announcer Pete Pranica charged into the dining room and called out Charvis' name. Pranica had great news — the Grizzlies had a supplemental draft and they chose Charvis.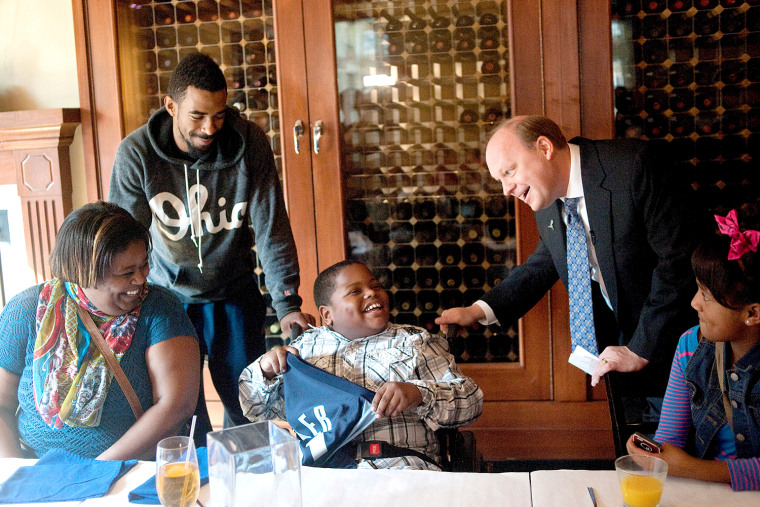 Mike Conley, a guard for the Grizzlies and a favorite player of Charvis', joined the festivities with a jersey made for the team's newest member. A limousine then ferried the Brewers to the basketball arena where the players awaited Charvis' arrival.
The whirlwind included eating lunch with the team, watching practice, visiting the weight room and quizzing the players about basketball. Miranda Harbor, director of community outreach for Make-A-Wish Mid-South, said Charvis was thrilled and quickly took his place on the team, even offering suggestions on player positions and strategies.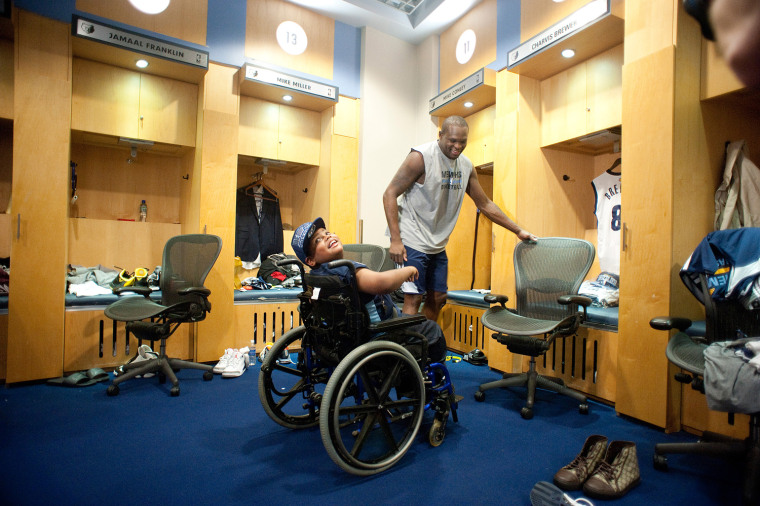 The team just as quickly embraced Charvis. "He's a great kid that comes from a great family and is so full of life," Grizzlies CEO Jason Levien said in a statement to TODAY.com. "We are a bigger fan of his than he is of ours."
Each year Make-A-Wish grants 14,000 requests, more than 1,000 of which are celebrity- and sports-related. While the organization has previously "drafted" children to their favorite sports teams, Harbor said Charvis is the first in the area to join the Grizzlies.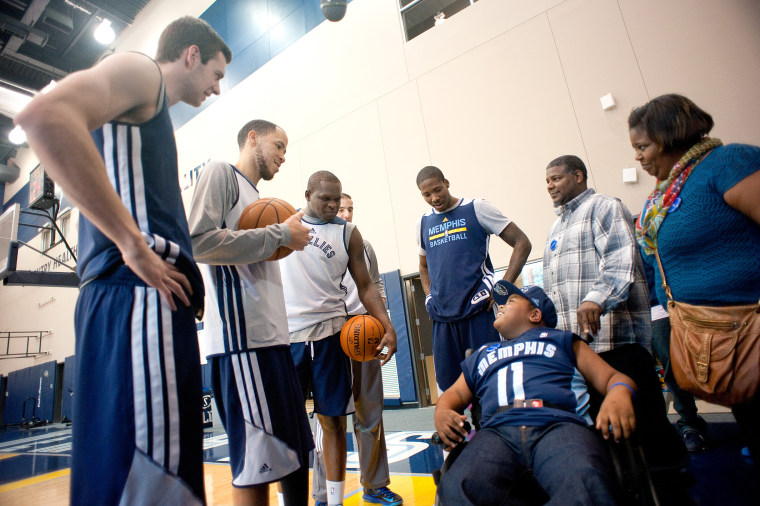 The fun will continue for Charvis on Monday night as he and his family watch the Grizzlies battle the Chicago Bulls from box seats. It will be only the second Grizzlies game that Charvis has attended. This time, though, he will give the players high-fives as they run onto court.
His mother said Charvis has been preparing all day for his new role on the team: "He said he's ready to tell them to beat those Bulls."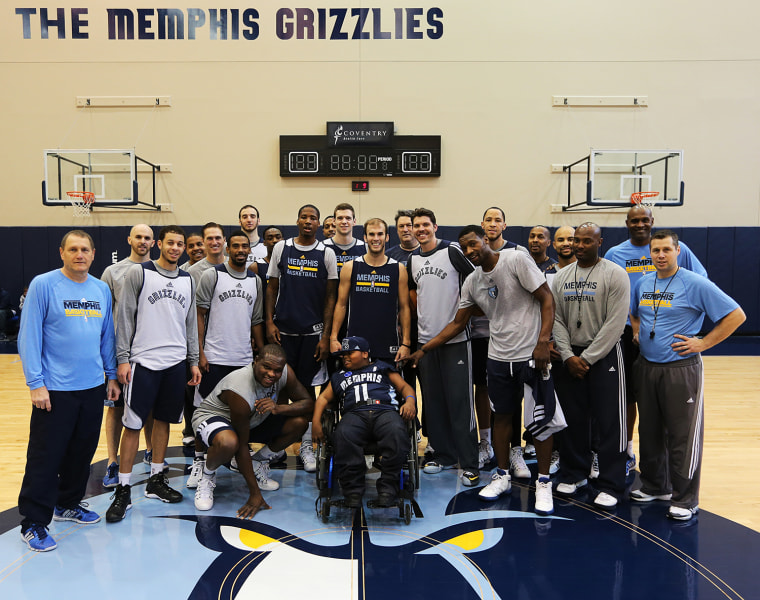 Though Charvis will watch from the sidelines, he is exploring the possibility of one day competing in Special Olympics basketball.
For now, Charvis and his family are enjoying the special attention. "It made me feel like somebody else cared," Colissa Brewer said. "Somebody took out time to do something my baby really wanted to do."