It's that most wonderful time of the year in New York City -- Fashion Week! -- and that means more celebrity sightings than usual around Lincoln Center.
Pictured below you'll find the always lovely Claire Danes, who's cultivated an understated style that's landed her on many a best-dressed list, supporting designer pal Narciso Rodriguez.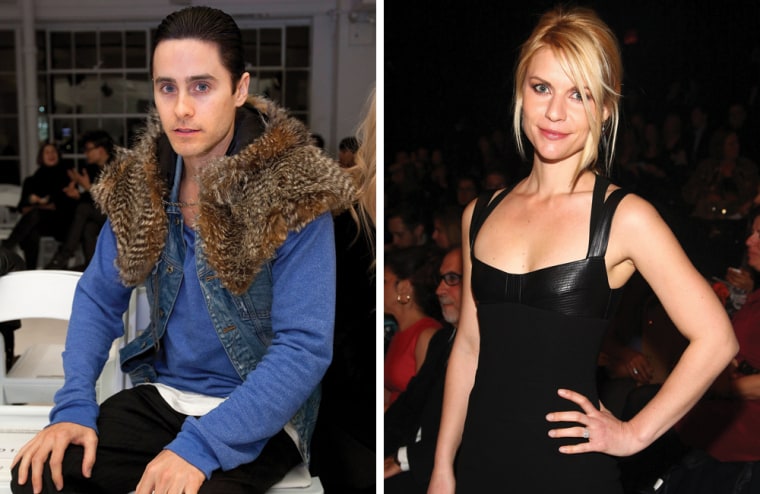 Do you know who else always shows up at these things? Jared Leto -- who on most days dresses like one of the Olsen twins circa 2005. What is that around his shoulders? We're afraid to ask, since the Westminster Dog Show just wrapped in NYC.
These pics were snapped on Tuesday, also known as Valentine's Day.
Are you thinking what I'm thinking?
Let's take a minute to imagine the conversation if
Jared Leto: "Can we ... go somewhere?"
Claire Danes: "Sure."
Swoon. Has it been 17 years already?
In fact, the former "My So-Called Life" co-stars shared a rare photo opp two years ago in London. He sported a mohawk and a velvet trench coat, natch. She looked, you know, normal.
Their reunion underscores just how much has changed since high school. Who would have thought the cutest guy in school would grow up to be such a weirdo? Leto has become known more for his outlandish style than his career, although I suppose if you're the lead singer of a band you don't have to hire a stylist. (And about that band, Thirty Seconds to Mars? Does it make you think of a song? A song called "Red"? Maybe it's about a car, maybe it's about Angela's hair, or maybe it's about a planet. Only Jordan knows for sure.)
Angela Chase, on the other hand, has blossomed from pensive teenager to the elegant Claire Danes, who has won high marks for her roles in "Temple Grandin" and "Homeland" -- not to mention her red carpet choices when she picks up various acting awards.
And she's married. Jordan Catalano, eat your heart out.
Let's hear it, "My So Called Life" fans. Do you still follow the careers of Jared Leto and Claire Danes? Talk about it under the bleachers over on Facebook.
Related content: