Snake hunters this week caught the longest Burmese python ever documented in Florida that measured an eye-popping 19 feet, authorities said.
The super-sized slitherer was discovered Monday in Big Cypress National Preserve, about 45 miles west of Miami, according to the Conservancy of Southwest Florida. The record-breaking female python weighed 125 pounds and bested the previous longest Burmese python, which measured 18 feet and 9 inches, that was also found in Florida, the conservancy said in a statement Wednesday.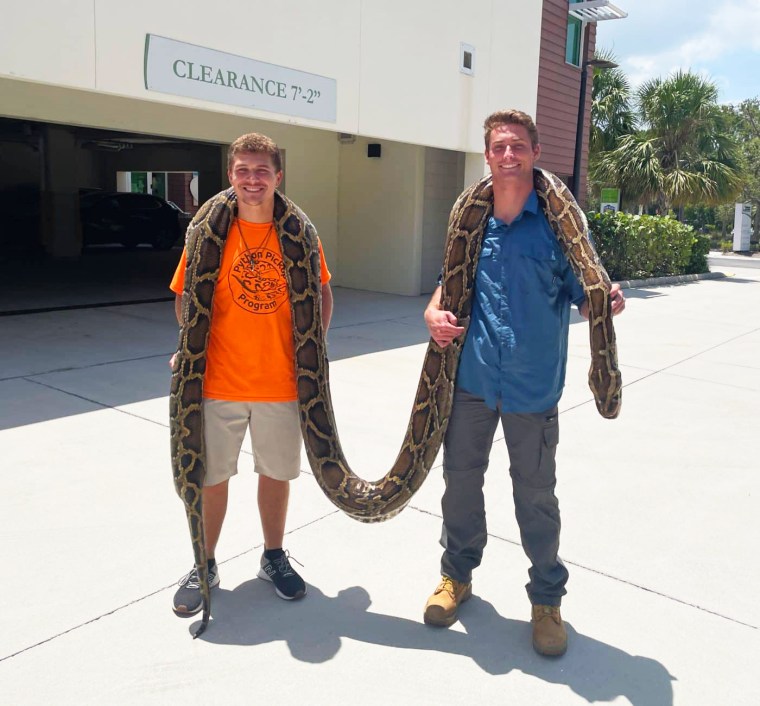 The conservancy is an environmental nonprofit based in Naples.
Jake Waleri, 22, found the snake and said he knew it had to be measured and weighed for the sake of science.
"We brought the snake to the Conservancy to be officially measured and documented. We wanted to donate this find to science," he said in the conservancy's statement.
The environment group described Burmese pythons as an "invasive apex predator" that should be removed from Southwest Florida's ecosystem.
The heaviest Burmese python found in Florida was documented in 2022 and weighed 215 pounds, the conservancy said.
Ian Easterling, a biologist with the conservancy, said it was important to enter into the record how long Burmese pythons can grow.
"We had a feeling that these snakes get this big, and now we have clear evidence. Her genetic material may prove valuable for an eventual understanding of the founding population of South Florida," Easterling said.
Burmese pythons are docile behavior, making them a favorite among large reptile owners, according to National Geographic. However, they are often poorly cared for, frequently released into the wild and attacks on their handlers are not atypical, National Geographic said.
The reptiles are native to grassy marshes and jungles in Southeast Asia. They can grow up to 23 feet or more, and their diets consist primarily of small mammals and birds, National Geographic said. They kill by constriction, and grasping their prey with their teeth while coiling their bodies around it and squeezing until suffocation, according to National Geographic.
This story first appeared on NBCNews.com.