Nine skydivers made an incredible safe return to earth after a terrifying collision between two planes that caused one aircraft to burst into flames.  
On TODAY Tuesday, as the exclusive footage of their harrowing ordeal played in Studio 1A, they told Matt Lauer the disaster has not deterred them: They'll jump again. 
The fiery scene, which unfolded 12,000 feet in the air above Wisconsin Saturday evening, was captured on five helmet cameras worn by the divers as they were flung into the air.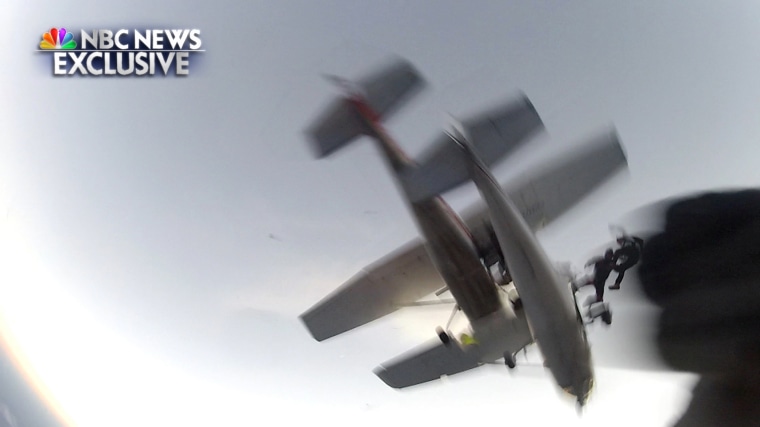 The two single-engine planes were in position for a maneuver called a tracking dive, with one closely following the other.
"The sun was just getting ready to set, it was our last load of the day," Mike Robinson, one of the divers, told NBC News. "It was just a perfect time to be up in the sky."
"It was so slow at the time," said Patricia Roy on TODAY of the moments before the second plane crashed into hers. "It seemed like it's getting closer, closer, closer and all of a sudden it clicked like, 'This is too close.' The impact just threw me back."
The footage, licensed exclusively by NBC News, shows the jumpers landing on the ground, one by one, shaken and emotional but uninjured, and hopping into a truck to gather up the others.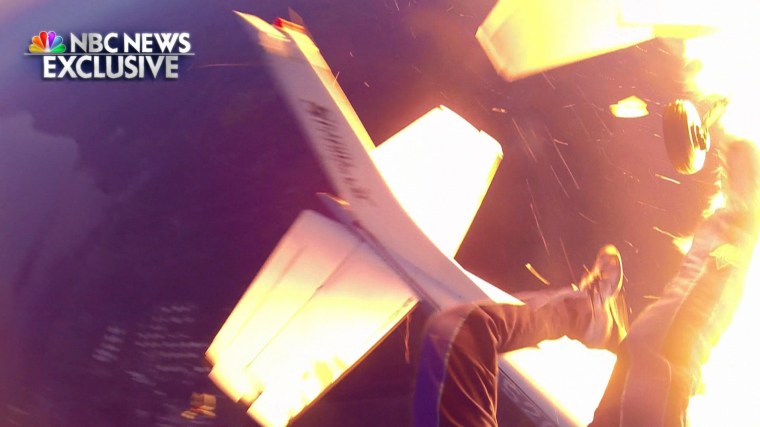 All the skydivers opened their chutes and landed safely; the pilot of the first plane got out alive, too, using his emergency parachute. 

All that was left was for Blake Wedan to land the second plane, which he did, safely, even though there was damage to the propeller and wing. 

As he touches down on the runway, the divers on the ground are heard cheering in the video footage. 
"Originally, I assumed Blake was dead because we didn't hear the plane flying," said Patricia Roy. "Normally it's pretty loud, and I didn't hear the plane flying at all. It's like, 'Oh my God, he's alive. This is awesome.' It's like, 'Don't screw this up now, buddy.'''
"It's kind of a joke now, but it was actually one of my better landings," Wedan told Lauer. 
"It was unpleasant," said Daniel Chandler, who was wedged between the two planes and nearly collided with a propeller that chased him through the air. "I had no time to react....The sound behind me, I'll never forget. And that's all I could do was try and stay forward and try not to move because I knew I was going to live where I was, or thought I could."
Amy Olson remembers Wedan screaming "Go!" to the divers who remained on the plane, ordering them to jump. "That's probably the worst, was hearing him scream," she said through tears. "It's pretty raw." 
"As soon as I got knocked off I was back to earth," said Lanaya Bonogofsky. "I just saw the big burst of flames and the wing go."

Barry Sinnex chased the plane while in a mid-air free-fall to make sure the pilot escaped. "I watched the plane blow up in flames and I knew the pilot was still in there," he told Lauer. "Everybody else had parachutes on, so they were kind of on their own, so I chased the plane. I think Dan did too, he came down with me. We chased the airplane to see if the pilot got out. Once I saw the pilot bail out, I made sure he was going to open the parachute because he was a student."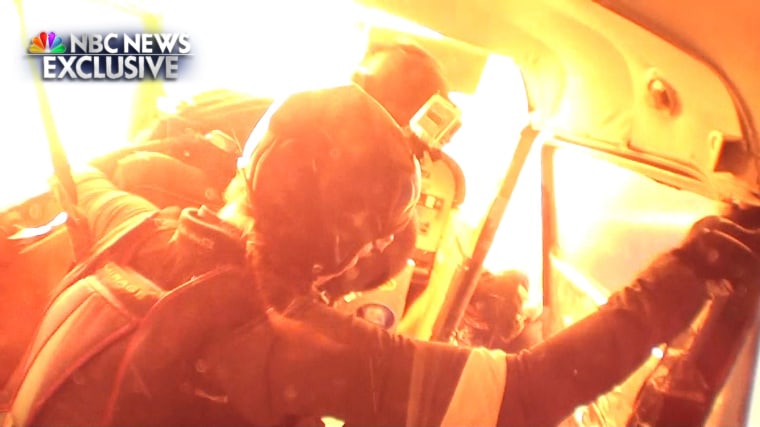 Lauer asked the group who among them would jump from a plane again. Every single diver raised their hands. 
"This is just who we are," said Sinnex. 
"I'm more afraid of spiders," said Bonogofsky. 
Wedan told Lauer that he didn't notice any problems with the plane before the collision. "Everything was exactly as it should've been," he said. 
The cause of the accident is unknown, according to the Federal Aviation Administration. The planes were owned by Skydive Superior.

"We think about this all the time," said Daniel Chandler, one of the divers who is a pilot but wasn't flying that day. "It's part of our initial flight training. For all of my pilots at Skydive Superior, there's a reason we do the training we do. I talked to them about the possibilities of these things happening, and we go through these procedures. This is the first time we've ever had to even consider using these, and thank God for pilot chutes."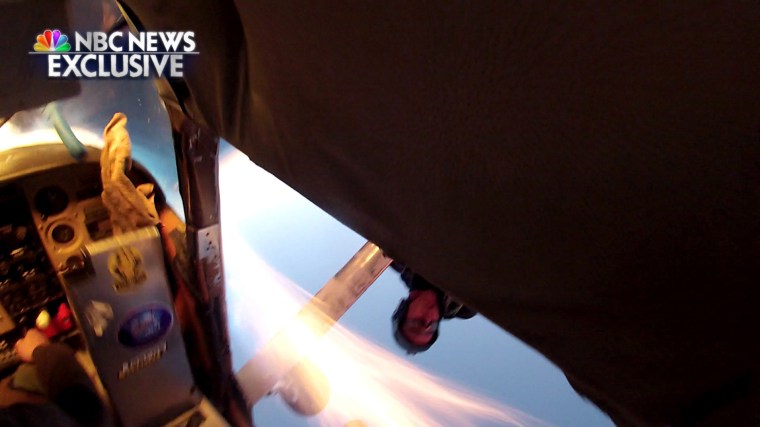 Chandler's message to prospective jumpers: Don't be afraid.
"What we do is safe, and we train for this," he told Lauer. 
Still, he's grateful.
"It's important to remember that there are incidents that have happened very recently where the jumpers weren't lucky enough to walk away," he said. "We are superbly thankful that we did survive, and we wish our skydiving community all the safety that we had, all the luck we had."
More of the divers' and pilots' survival story will air on Dateline NBC next week. 

With Tracy Connor, NBC News