/ Source: TODAY contributor
Twenty years after "Look Who's Talking," there still seems to be no limit to the public's yen to see babies who talk and act like really hip adults.
It all may have started with the 1989 comedy "Look Who's Talking," in which Bruce Willis voiced the thoughts of a wisecracking tot. The film was so popular it spawned two sequels: "Look Who's Talking Too" (1990) and "Look Who's Talking Now" (1993). There was also the 1991-92 ABC sitcom "Baby Talk," in which Tony Danza voiced Baby Mickey.
Then came "Dancing Baby," aka "Baby Cha-Cha" — an early 3-D animation who danced through the Internet in the mid-1990s via e-mail (YouTube hadn't been invented yet) to the tune of "Hooked on a Feeling."
Evian bottled water took it to the next level in 1998 with "Water Babies," a spectacular takeoff on a Busby Berkeley-Esther Williams water ballet.
E*TRADE resurrected the concept with its snarky and ubiquitous e-trading baby dude with his faithful cell-phone sidekick.
Now there are some new digitally manipulated kids on the block who have just raised the cuteness bar — and then leaped over it.
High rollers
The piece is called "Skating Babies," an online ad for Evian bottled water that's rung up nearly 5 million hits internationally on YouTube in little more than a week. Among those myriad viewers is TODAY's Natalie Morales, who has two young children, including a son who's nearly a year old. Her oldest son loved the ad, she told co-host Matt Lauer, who also admitted to having watched it with amusement.
The spot is beyond cute: a posse of bright-eyed, beaming, chubby babies who should barely be able to walk tearing up a playground on little four-wheeled roller skates — all to the big beat of a remix of the 1979 Sugarhill Gang single "Rapper's Delight."
They leap over obstacles; charge a fence and hang from it like monkeys; do backflips; leap over long rows of prone babies; engage in some old-school break dancing; weave through a slalom course of Evian bottles, and walk upside down on their elbows, completely unhampered by the diapers bulging beneath their matching onesies.
Evian made the video as a commercial, but decided to post it on YouTube to see if anyone would watch before buying air time on television. It's part of the same campaign as "Water Babies" — "Live Young."
Dream scheme
Evian's worldwide director of brand Michael Aidan told The Mail of London that the firm was trying to sell drinkers a "dream."
"In the majority of countries in recent years, our communication has been very fact-based," Aidan told the newspaper. "But consumers expect more from a big brand: emotion, dream. This is what we want to achieve. Hence this breakaway and back-to-roots campaign."
There are two versions of the ad: one for international audiences and one for the American market. As of Thursday morning, the international version had racked up just short of 2 million hits, while the U.S. version was pushing past 2.6 million.
It should probably not be surprising that the comments posted by viewers on YouTube show that women tend to adore the ad, while men tend to be less sanguine.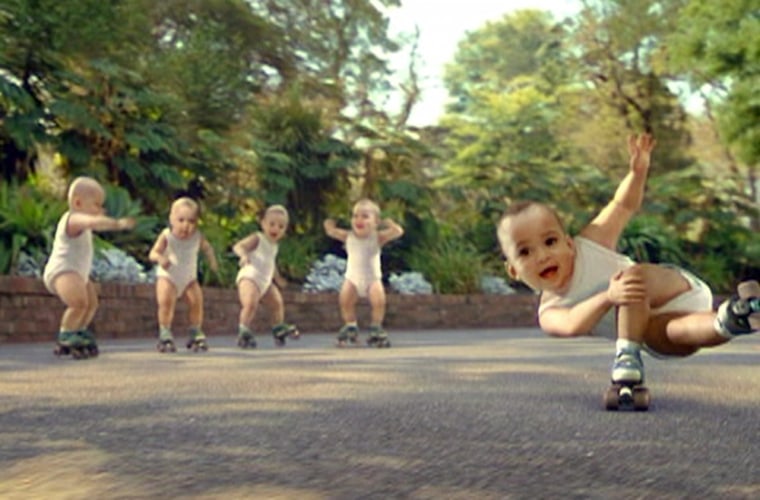 One woman wrote: "oh my god, they're sooo cute, and they look so real."
"i want all those babiesssssssssssssss LOL," wrote another.
"strange......," wrote a man. "BUT AWESOME."
Weighing in for the opposition was someone nicknamed CryptoJones who wrote: "oh my god... this is terrifying. The awkward voice at the end combined with the absolute horror of an? army of skating mutant babies."
But CryptoJones was in a very tiny minority. As princesspkia wrote to general agreement: "omg!!!! this is so cute!!!!"