Don't you hate it when a clicky jingle gets stuck in your head? How about getting it stuck there in a dozen musical styles? New York singer Mia Gentile turned one of those addictive little commercial tunes into magic with her twist on the ubiquitous Stanley Steemer carpet-cleaning ad.
You know the jingle: "Call 1-800 STEEMER, Stanley Steemer gets carpet cleaner!" That's it. That's the whole shebang. But in Gentile's professionally trained voice, it comes out as a twangy country tune, a smoldering jazz song, a poodle-skirted 1950s romp and more.
"This all started as a voiceover demo," Gentile told TODAY. "I had the idea to take one jingle and do it in a number of different musical genres to show my vocal versatility. I picked Stanley Steemer because it is one that I've heard SO many times over the course of my life, and I knew that others have, too. Recognizable, simple, fun to play with musically. My musician friend Roger Klug played all the instruments, recorded and edited the music tracks, and composed the jingle variations."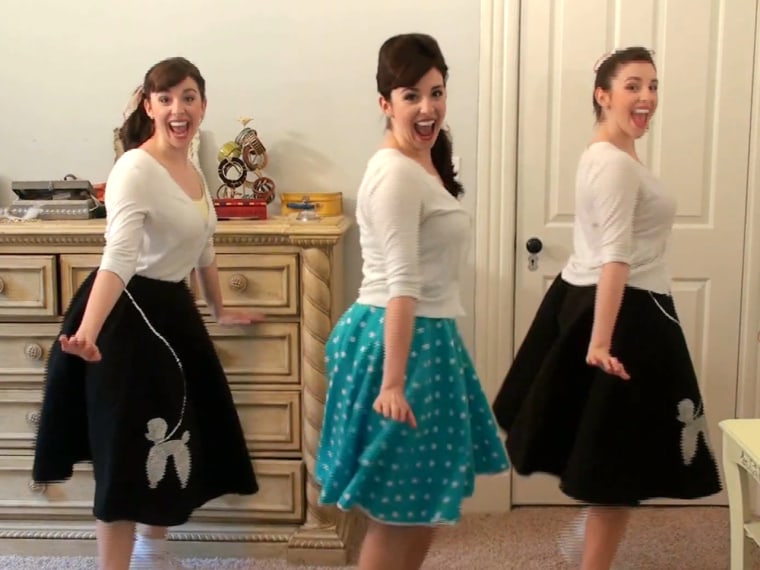 Gentile changes from formal gowns to a punkish mini-dress to a flamenco look. She sings the jingle in operatic fashion one minute, Joan Jett-style the next. For her flamenco number, she even sings in Spanish. ("Uno Ochocientos Stanley Steemer!") She dances, kicks, slinks and even goes goth.
"I loved doing every single character," Gentile told TODAY, saying she "cha cha'd (her) booty off" for the Latin music-accented tune, and "had a romping good time doing the Avril (Lavigne) video," in which she throws pillows, stomps around, and acts like "a Brat on Wheels."
"Roger and I imagined this kooky nobody girl who plays dress-up in her bedroom in front of a camera," she said. "After a day of filming and a bunch of editing, we came to realize that the girl wasn't a persona, it was me."
Gentile and Klug hoped the video would help her find an agent and some new career opportunities, but were overwhelmed with the positive response.
"When we first unleashed the video, one of the universal responses was, 'You've got to get this on 'The Ellen DeGeneres Show,'" Gentile told TODAY. "But so far, Ellen hasn't called."
Stanley Steemer hasn't either, though they did post the video on the company's Facebook page with a positive comment. And Gentile admits she doesn't have an actual use for their product. "I don't even have any carpets to clean," she told TODAY. "I am a poor NYC artist trying to make it on Broadway."
What do you think of the video? Tell us on Facebook.
Related content: