For the fifth time in her career, Simone Biles took the top honor at the U.S. National Gymnastics Championships — but in a first for her (or any other female gymnast in the last 24 years), she did it by grabbing the gold in each and every event.
And that's not all.
She also did it while making a powerful statement.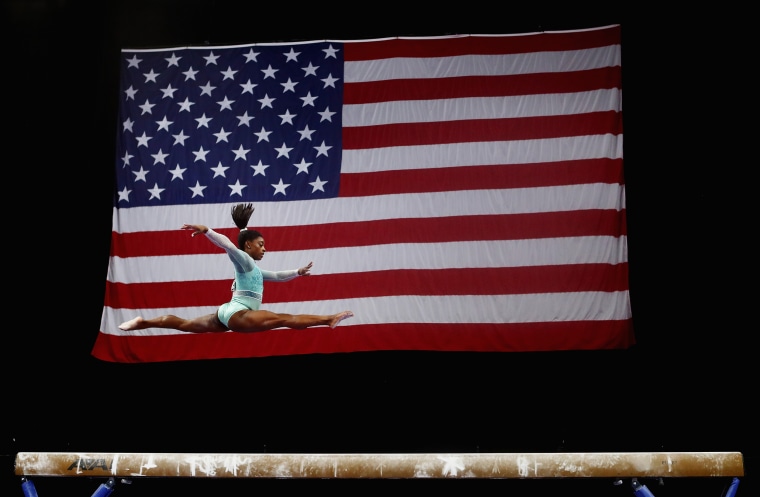 The 21-year-old wore a pale teal leotard as she stepped up to the mat (and the vault, bars and beams) in Boston, the same striking shade that's used as the ribbon color for sexual assault awareness and prevention — which is precisely why she wore it.
"(The color) is for the survivors," Biles told the Associated Press on Sunday. "I stand with all of them and I think it's kind of special to unite (people)."
Those survivors include Biles herself, who in January revealed that she was one of the many girls and young women who were sexually assaulted by former Team USA doctor Larry Nassar.
"We need to know why this was able to take place for so long and to so many of us," she wrote in a tweet at the time. "We need to make sure something like this never happens again."
Biles is certainly doing her part to make sure no one forgets, via tweets, interviews and, now, even her leotard choice.
The decision to wear that leotard at the championships was one she planned eight months in advance, as a symbolic gesture — and it served as the only apparent nod to survivors at the event, which was the first U.S. Championships held since Nassar's conviction.
In January, Biles former Final Five teammate Aly Raisman was among more than 150 former patients of Nassar who gave emotional and powerful victim impact statements in court for his sentencing. He's currently serving two sentences, one for 40 to 175 years in prison and another for 40 to 125.
As for Biles, the four-time Olympic gold medal winner is expected to compete once again at the Tokyo 2020 Games, and if Sunday's results are any indication, that might just be another golden moment for Team USA.
"I kind of thought I'd be a nervous wreck and maybe fall apart," Biles to the AP about returning to compete after her post-Rio Games break. "Going into these events, I kept telling my family, 'I don't know if I'm going to be able to calm myself down the way I did before and handle the nerves.' But so far, so good."
And then some.