Last month, Timothy Poole of Mount Dora, Florida, won nearly $3 million on a scratch-off lottery ticket purchased at a 7-Eleven. Like most jackpot winners, he was given a giant check and got his picture taken by the state lottery.
But that picture may have gained the ex-cab driver a lot more publicity than he ever wanted. Soon after Poole cashed in a lump sum of over $2.2 million dollars (after taxes), his picture was recognized and his past came back to haunt him. Poole is a registered sexual offender: After being arrested in 1999 in the wake of alleged sexual battery of a 9-year-old boy, he pleaded guilty to attempted sexual battery of a minor under 12.
"He was accused of heinous and horrible sex acts with a child," said Orlando, Florida, attorney Mark NeJame, who is representing two brothers who say Poole sexually assaulted them in 1996. They have now filed a lawsuit against Poole for psychological damages and are asking for a share of his newfound winnings. 
"There's something inherently wrong with these sex offenders now becoming instant millionaires, living the life of Riley, living large, and their victims getting ignored," said NeJame. 
But Poole isn't the first registered sex offender in Florida to strike it rich playing the lottery.
In January 2007, Edward R. Cowal, a registered sex offender in Florida, was the sole winner of the state's $14 million lottery drawing. Law enforcement records show arrests of Cowal going back to 1993, including lewd and lascivious or indecent assault upon a child.
There are about 750,000 registered sex offenders in the U.S. as of 2014. The list of lottery winners among them goes on from Alaska to Connecticut.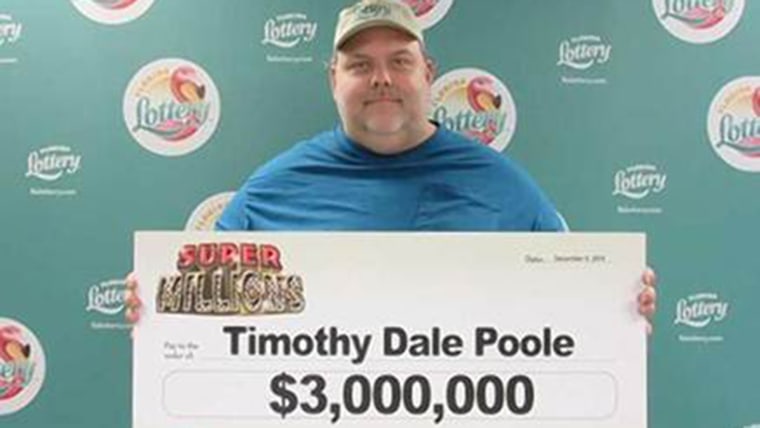 Daniel Snay of Uxbridge, Massachusetts, for example, won $10 million on a Connecticut lottery scratch ticket in 2008. At the time he was classified as a Level 3 sex offender (the highest of three court-designated levels of repeat offense risk) after being convicted six times of indecent assault and battery in the 1970s and '80s.
Police say Snay used some of his lottery winnings to entice a boy he is accused of sexually assaulting over four years, when the boy was under 14. They say he bought the boy such gifts as two all-terrain vehicles to get his trust and assure his silence. Last November, a grand jury indicted Snay of showing pornography to a minor while he was already being held on $500,000 bail on charges that include two counts of rape of a child. He has pleaded not guilty and currently remains in custody awaiting trial.
In January 2009, Alex Ahsoak won the $500,000 Lucky Time Pull Tabs lottery in Alaska, whose proceeds help a nonprofit group called Standing Together Against Rape in Anchorage. According to state records, Ahsoak had been convicted of sexual abuse of a minor in 1993 and 2000. 
In June 2008, registered sex offender Fred Topous Jr. won a $57 million Mega Millions lottery jackpot in Lansing, Michigan. Corrections department records show that Topous had pleaded guilty to assault with intent to commit sexual penetration in 1999.
"It just flat out stinks," said NeJame. "They might have paid their dues to society, but what they haven't done is they haven't paid their debt to their children victims. And that's what we're going after."
When TODAY national investigative correspondent Jeff Rossen tried to interview Timothy Poole about the issue, Poole lingered inside a Mount Dora, Florida, e-cigarette shop for hours before going out the back to a waiting car.
Florida state Sen. Darren Soto (D) wants to change the state law that allows convicted sex offenders to keep lottery winnings with no strings attached. "My bill would provide that the winnings would be frozen to up to a year for a sexual predator so that the victims could have an opportunity to seek compensation and justice," Soto said.
Victim's groups say putting millions into the hand of a child predator is like giving them a loaded gun because the money gives them the means to seek out other victims.
To suggest a topic for an upcoming edition of Rossen Reports, email us.