Pita Taufatofua is back in the Olympics, and this time he's gonna need a shirt.
The athlete who gained international fame for his oiled-up torso as a flag-bearer for Tonga during the 2016 Summer Olympics has improbably qualified for next month's Winter Olympics in Pyeongchang, South Korea, as a cross-country skier.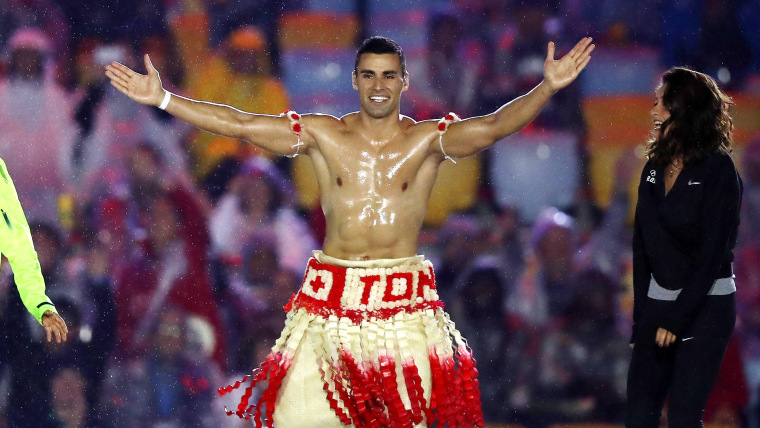 Taufatofua, 34, had everyone wondering in 2016 about the glistening star carrying the Tongan flag when he came out bare-chested, covered in coconut oil, and wearing a Tongan ta'ovala (decorated cloth) and ornamental waist girdle.
After wiping all that oil off his chest, he competed in taekwondo in Rio de Janeiro, where he was eliminated from any medal contention with a loss in his first bout.
Taufatofua announced in late 2016 that he would attempt to transition from taekwondo to cross-country skiing in order to earn a spot in this year's Olympics despite the fact that the Polynesian archipelago of Tonga doesn't have any snow.
There also was the fact that he had never skied in his life until 2017 after growing up in the sand and surf.
He practiced with a coach on roller skis in the absence of snow, needing to finish five races with a certain qualifying time in order to be eligible to compete in Pyeongchang.
It came down to the wire as he got his fifth and final qualifying time in his last chance on Saturday at a race in Iceland. He is the first cross-country skier from Tonga to ever reach the Winter Olympics.
"This is a miracle," he told Olympic Channel.
Taufatofua used a GoFundMe page to help raise money more than $16,000 for ski equipment and travel expenses as he criss-crossed Europe to compete. He also lost 33 pounds in order to get faster on skis.
"I decided to find the hardest sport possible because I needed a new challenge,'' he told Olympic Channel. "The goal was to do it in one year and we did it. Financially, I'm in the worst position ever, but I'm the happiest ever.
"There's nothing special about me, other than I don't quit. Anyone can be that person."
No word yet on what he will be wearing during the Opening Ceremony.
Follow TODAY.com writer Scott Stump on Twitter.