With Facebook facing criticism that it played a role in disseminating fake news during the U.S. presidential election, Chief Operating Officer Sheryl Sandberg believes it's an important problem, but one whose impact has been overstated.
"There have been claims that it swayed the election, and we don't think it swayed the election,'' Sandberg told Savannah Guthrie in an exclusive interview on TODAY. "But we take that responsibility really seriously. And we're looking at things, like working with third parties, helping to label false news, doing the things we can do to make it clearer what's a hoax on Facebook."
RELATED: How a partying Macedonian teen earns thousands publishing lies
Facebook CEO Mark Zuckerberg outlined steps last month that included improving the ability to detect misinformation, making it easier to report hoaxes and false stories and labeling stories other users have flagged as false.
"We've been working on this for a long time, and we've taken important steps, but there's a lot more to do,'' Sandberg said. "We know that people don't want to see hoaxes on Facebook, and we don't want to see hoaxes on Facebook. And so we're working on it because misinformation is something we take seriously and something we're going to continue to iterate on the service."
RELATED: Facebook: 5 small changes for a happier news feed
Striking a balance between freedom of expression and ensuring that fake news doesn't proliferate has been a challenge.
"Anything on the scale we're operating on is complicated, but there are a lot of things that are going on Facebook this year which show people taking the steps to connect what matters to them,'' she said.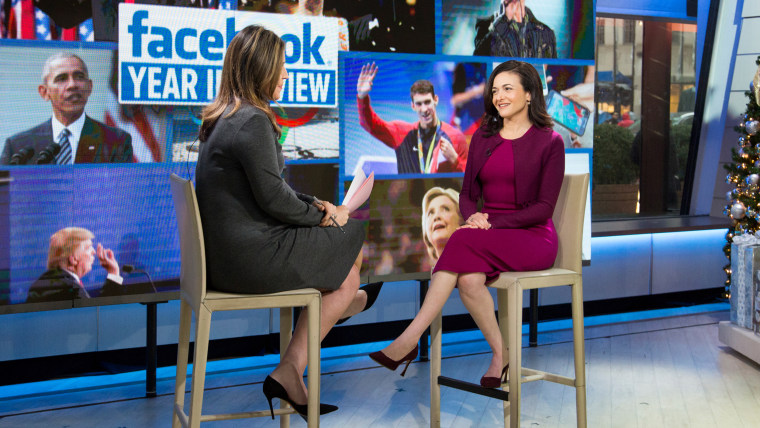 Sandberg appeared on TODAY to unveil the top global topics on Facebook for 2016, led by the U.S. election for the second straight year, while also sharing the top Facebook Live video for the first time.
RELATED: 'Chewbacca Mom' visits Facebook, gets Wookiee surprise
"One of the things that happened this year in the election that didn't happen before was Facebook Live,'' she said. "We didn't have it last time there was an election, and that meant that people could connect with the video moments like the debates right from their phones anywhere they were.
"That's (also) what happened with Black Lives Matter. Black Lives Matter has been happening for years. This was the first year it broke into top 10 on Facebook, and we think that's partially because the power of live helps people bear witness."
While plenty of serious topics made the list, the most viewed Facebook Live video was Chewbacca Mom with 160 million views.
"For anyone who watched it or watched it as many times as I did, the laughter was infectious,'' Sandberg said. "And there was something about the power of video, watching her laugh, that really brought people in."
Follow TODAY.com writer Scott Stump on Twitter.