/ Source: The Associated Press
Animal shelter workers in the United States call it the "Black Dog Syndrome": Black dogs and cats are often the last to be adopted and the first to be euthanized.
There are no statistics, but there's plenty of anecdotal evidence and many possible explanations, ranging from superstitions like the notion that black cats are bad luck, to a simple logistical problem: Black animals are hard to photograph well, and are therefore hard to advertise. To combat the problem, shelters have come up with a variety of creative measures, from reducing adoption fees to improving the quality of the photos.
"Overwhelmingly, we hear from the shelter and rescue groups that black dogs, especially the big black dogs, and black cats take longer to get adopted," said Kim Saunders, vice president of shelter outreach for Petfinder.com, the country's largest online pet adoption database.
Black animals may be wrongly perceived as menacing
Some have called Black Dog Syndrome a hoax, but Inge Fricke, director of sheltering and pet care issues for the Humane Society of the United States in Washington, D.C., insists "it is not a hoax. There is definitely anecdotal evidence. There haven't been any definitive studies to absolutely prove that the phenomenon exists but it is something commonly accepted by shelter workers as truth."
Some in the adoption business think there may simply be more black dogs and cats than animals of other colors. Others think the animals may be wrongly perceived as menacing.
Mike Arms, president of the Helen Woodward Animal Center in Rancho Santa Fe, California, blames part of it on typecasting. "If you think of any movie with a mean, devil dog, it's always a black dog, and if you see a witch in a movie, they always have a black cat."
Shelters will change lighting, use light colored blankets, and even dress the animals up to try to get better photos for websites, ads and fliers, Fricke said.
"The easiest way to make a black dog look friendly is to put it in a bright colored bandanna," Arms said. "Who pictures a devil dog in a yellow bandanna?"
Deformed puppy, rescued from trash, learns to walk
Photographer Seth Casteel of Little Friends Photo in Los Angeles says any shelter pet can pose a photo challenge, but black ones top the list.
"I hear about Black Dog Syndrome all the time," said Casteel.
A bad picture can make a pet look sick, mysterious or even ominous, he said.
"To photograph a black dog or cat effectively, you want to capture personality, important physical traits and details and have the photo be in focus. The key is lighting and shutter speed," he said.
For years, Casteel has spent at least a day a week volunteering at shelters across the country, taking pictures of available dogs and cats of all colors.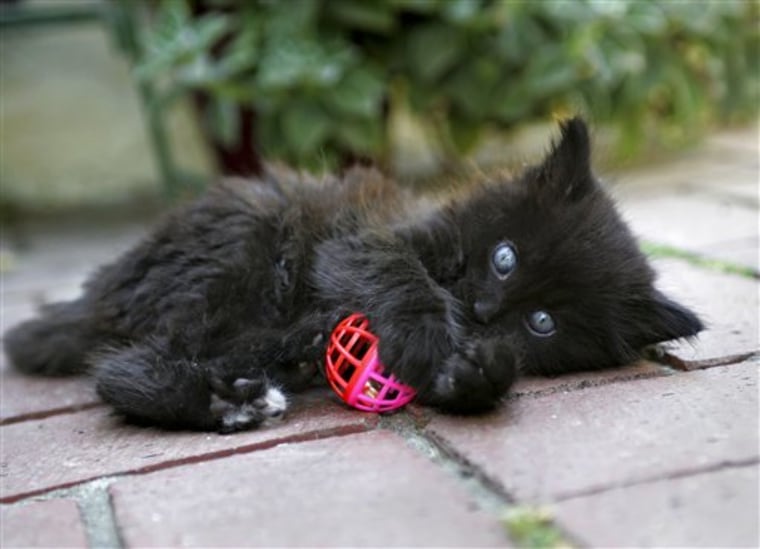 He just launched a free, nationwide, nonprofit program called Second Chance Photos to teach volunteers how to take good photos of shelter pets. Volunteers (amateurs are welcome) can sign up at secondchancephotos.org. The program also gives shelters some ideas on ways to raise money for cameras and photo editing software.
Black pets should be photographed in the shade or on a cloudy day, not in direct sunlight, Casteel said.
"In the shade, the challenge is shutter speed. Your camera may respond by slowing down the shutter speed to achieve the proper exposure, resulting in a blurry photograph. To remedy this on a point-and-shoot camera, change your setting to 'sports mode,' which will give you a faster shutter speed and sharper photos," he said.
You can also manually set the shutter speed to 1600, he said.
"With black dogs, do your best to showcase their unique and positive personality. You can take the dog on a short run before the photo shoot so that he or she will pant, which looks like a smile," he suggested.
"A good photographer for shelter pets is worth his weight in gold," Saunders said.
Pets 101: Adopting a shelter dog
"If you are thinking about adopting a dog please don't overlook black dogs. They are every bit as wonderful as lighter colored dogs, and make just as loving and faithful companions," said Alyce Russell, volunteer executive director of the Glendale Humane Society.
'Don't judge a pup by its color'
Some shelters hold special adoption events for black pets, with incentives like lower adoption fees and two-for-one adoption days. They also make sure the animals are taken out of their cages to meet potential owners as a way of encouraging their adoption.
At the Helen Woodward Center, they hold "Me and My Shadow" adoption specials when they get too many black kittens, waiving the fees when a black kitten is adopted with another kitten.
Another simple factor in getting black animals adopted is making sure people can get a good look at them. A dog or cat that's been abandoned or abused may cower, and if the animal is all black, it may be hard to see inside a cage.
For years, many shelters stopped offering black cats for adoption around Halloween because some cats were being abused. But that thinking is changing.
Applicants are screened better these days, the cats have microchips and too many cats might be missing out on good forever homes, said Beth Chee at the Woodward center.
"Once we are sure that you are truly planning to make a lifelong commitment to a pet, we will accept your application," she said.
"We really encourage shelters and rescues not to stop promoting adoption of those pets at this time of year," Saunders said.
On its website, the Oahu (Hawaii) Society for the Prevention of Cruelty to Animals talks about Black Dog Syndrome and asks potential pet parents: "Don't judge a pup by its color."