/ Source: TODAY contributor
When Heather Thompson learned her ex-husband was about to be released from prison some 15 years after he beat her to within an inch of her life — the prison from which he had written her a letter in which he vowed to finish the job when he was paroled — she faced an agonizing decision: whether to uproot her family out of fear, or stare mortal danger in the eye.
In the end, she chose to stay put.
"I feel like if we were to move and relocate because of him being released, he wins, and I've decided to stand my ground," Thompson told Matt Lauer Tuesday.
The 38-year-old North Carolina resident, her second husband, Dwayne, and her two daughters by now-paroled ex-husband Thomas Price Jr. appeared live on TODAY Tuesday to recount the harrowing story of a family that looks over its collective shoulder every day.
Horrific violence, chilling threatTo be sure, little has been normal in the Thompson household since the May 29 prison release of Price. He and Heather were once teen sweethearts. Price had already showed signs he would physically abuse her before their 1989 wedding. Still, she believed all would be well in their marriage "if I just loved him enough," Heather told The Associated Press.
But a steady pattern of violence ensued, culminating in a 1994 beating straight out of a horror movie. Thompson was bruised from head to toe by Price's hand, and suffered severe back, hand and neck injuries. At one point, Price squeezed her ears with a pair of pliers — and Thompson begged him to kill her with the gun he was brandishing.Attorney Donna Stepp, who prosecuted the case, told the AP that in all her years serving the court, Thompson "probably suffered the worst and had the most horrific injuries for somebody who survived."
Price was convicted on the assault in 1995. But, just a year into his sentence, he sent Thompson a chilling letter, stating in horrifying detail what he intended to do to her and their daughters, Katie and Ashley, when he got out. Price wrote:
Dear slut. You better enjoy life while you still can. God forgives, I don't. Paybacks are hell and you have hell to pay! There will come a day when I dance on your grave. If unable to dance I will crawl across it! Unable to dance I will crawl. I'll be the one who puts you there and throws dirt on your body. I dream about it every night. One day you will turn around and there I'll be and I can't wait to see the fear in your eyes … before I kill you! All three of you will die by my hands!
90 minutes awayPrice received a five-year federal prison sentence for writing the death-threat letter. But after serving his federal sentence in addition to his state time, was paroled 12 days ago after 14½ years in prison.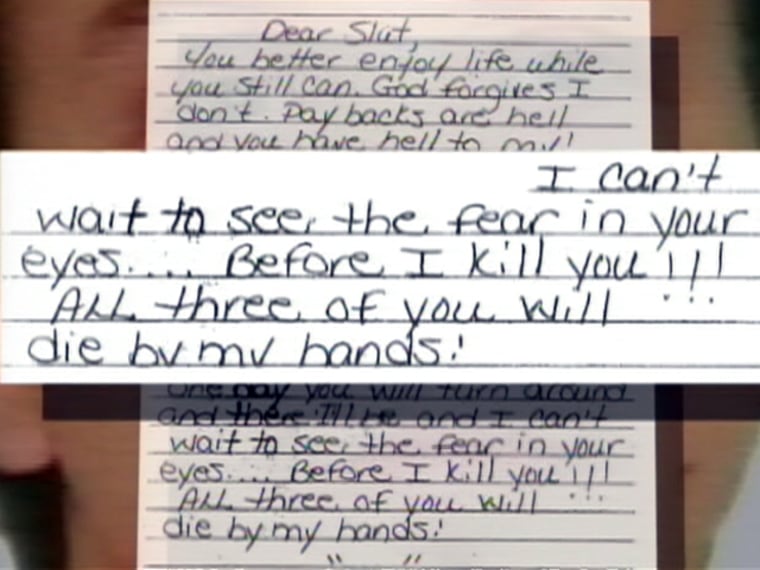 Thompson told Lauer she "still has no doubt" Price harbors the intention of killing her family. "I think the only reason that we've been safe for 14 years was because he was behind bars," she said.
Alarmingly, upon Price's release there were initially no provisions in place to keep him away from Thompson, her second husband, and the now-teen girls. But five hours after his release, Price found himself before a judge at Thompson's insistence. He agreed to wear an electronic monitoring device for six months, and to observe a curfew for six months after that.
Thompson was in court that day, seeing Price for the first time since his arrest 15 years earlier. Thompson told NBC it was "eerie" to hear his voice again."The last time I heard his voice was that night, and he was telling me I wasn't going to live to see my kids. So that voice does haunt me."
Thompson told Lauer that the fact that Price — who now lives with his mother, about an hour and a half from the Thompsons' residence — can be tracked by the courts is cold comfort to her. "It makes me feel a little more comfortable. I still do not feel safe."
Standing their groundStill, Heather and her family weighed the pros and cons of pulling up stakes and putting more distance between them and Price. Husband Dwayne told Lauer on TODAY the family "talked about moving several times, and she wouldn't do it. So I've stood behind her since day one."
Daughters Katie and Ashley are now young women. Katie Price, 19, is a college student, while Ashley, 17, is set to graduate from high school. Appearing in silhouette on TODAY — Price doesn't know what his daughters look like as adults, and the family wants to keep it that way — Katie Price told Lauer she lives in real fear about her father coming after the family.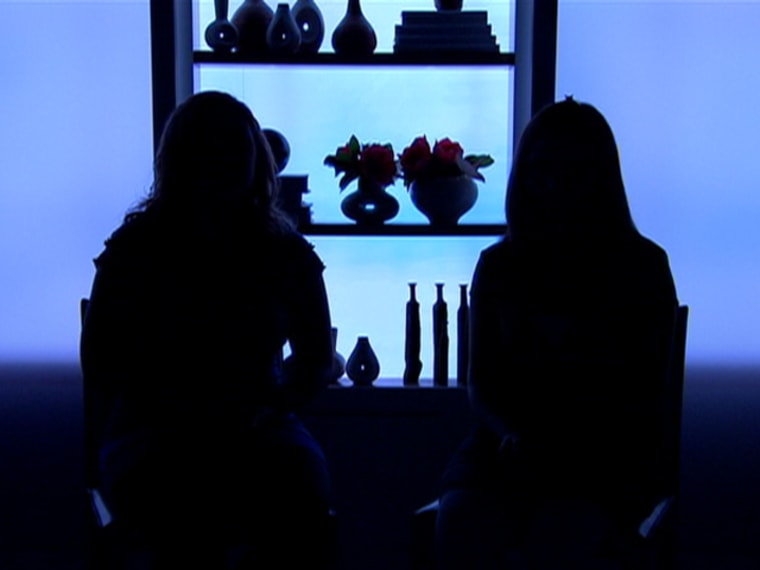 "I would say my emotions are definitely constant fear all the time, constantly looking over my shoulder, just worried all the time about what's going to happen," she said. Ashley added her feelings are "bittersweet" about celebrating her high school graduation at nearly the same time her possibly vengeful father has been made a free man. "It's still scary what could happen."
Their mother still suffers daily from the effects of her 1994 beating, which her doctors told her are consistent with someone involved in a severe car accident. She is unable to sit comfortably for more than an hour, and cannot work full time.
Still, she defiantly refuses to let to let the memory of her beating, and the knowledge her abuser is free again, limit her life. Lauer asked her whether by appearing on TODAY — Thompson's first national television interview — she may be exacerbating the situation.
Thompson says she is trying to speak up and stand up not only for herself, but for all abused women. "I think the reason that domestic violence is a silent killer is because women tend to stay silent, and that's exactly what the abusers want," she told Lauer.
"I have chosen not to do that, for the last 14 years. I realize that my decision to stay in my hometown and not relocate — which is what a lot of people suggested I do — may cost me."
'No interest'?Price's attorney, Milton Shoaf, has said Price is no longer set on vengeance toward Thompson and their daughters. "He will not go around her. He has no interest."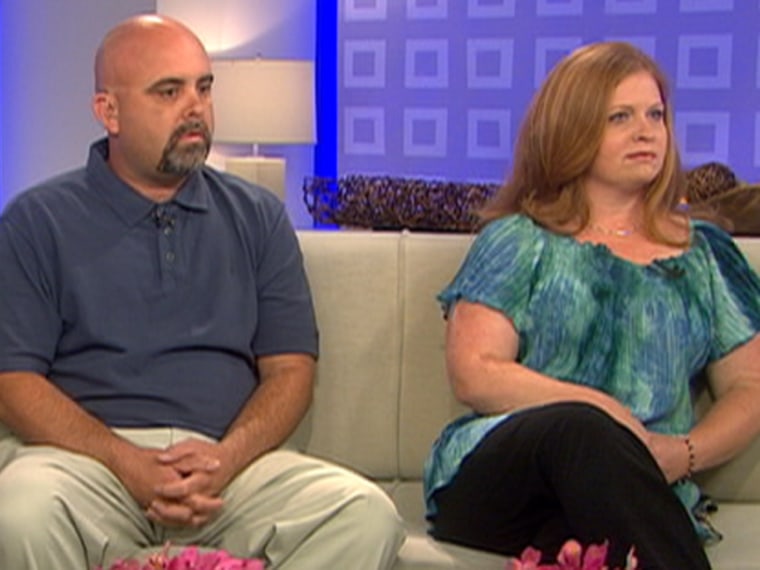 Appearing live with the family Tuesday, NBC legal analyst Dan Abrams told Lauer he believes Shoaf used an odd choice of words in summing up Price's intentions. "This idea that he has 'no interest' — that's unnecessary and I don't think the lawyer should have used this kind of language."
Abrams added that Price was not required to show he had been rehabilitated and that he no longer has thoughts of vengeance in order to win his release from prison. "All he really has to show is that he's been an upstanding citizen in prison."
There are plenty of statistics to back up Thompson's feelings of fear toward her paroled ex-husband. According to the National Coalition Against Domestic Violence, about 50 percent of orders obtained by women against men who have physically abused them are violated. Worse yet, nearly a third of all female homicide victims are killed by an intimate partner.
Rita Smith, the coalition's executive director, told the AP's Neil Redmond that Thompson's fear of Price is well-founded.
"These guys are good," Smith said. "There isn't any real protection. You can do your best to hide and disappear. But I've heard of cases of men finding women who thought they were invisible."