Shaun White may have walked away from the 2014 Olympics without a gold medal, but he won the hearts of a 10-year cancer survivor and his family.
Moments after qualifying for the halfpipe final on Tuesday, the American snowboarder hopped the barrier separating him from spectators to greet Ben Hughes of St. Louis.
"It was awesome. I couldn't believe it," Ben told TODAY Wednesday, of meeting his hero.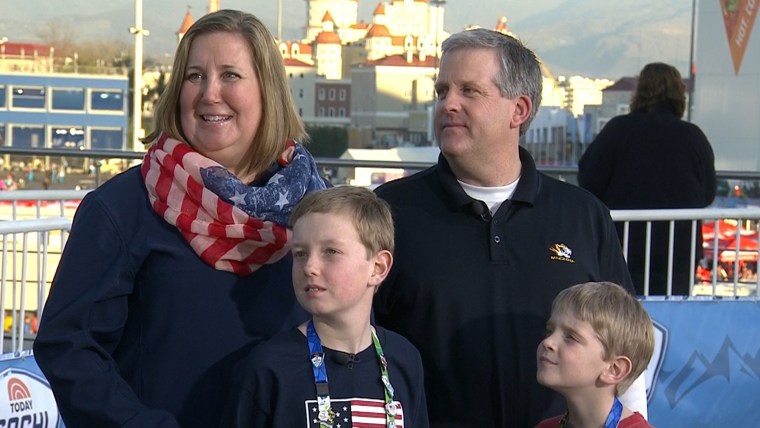 Ben, who considers himself a mega White fan, was diagnosed with leukemia in 2010 but is now cancer free after undergoing chemotherapy and radiation. He and another cancer survivor, 19-year-old Alabama undergrad Kaitlyn Lyle, went to Sochi, Russia, with the Make-A-Wish Foundation.
After the qualifying halfpipe event, White headed off the course to speak with reporters. A Washington Post sports columnist who heard about Ben and Kaitlyn's story reached out to the U.S. snowboarding press attaché and suggested that White stop by to say hello. Moments later, White spotted Ben in his USA beanie cap waving an American flag and "he leapt over the barrier, catching some of the best air of his career," according to columnist Mike Wise.
White surprised Ben and everyone around him as he greeted fans with high-fives. Ben's mother, Liz Hughes, started crying.
"We got there very early, so we had a very good spot near the press," she told TODAY. "He just happened to be very close and someone mentioned that Ben wanted to meet him and he hopped right over the fence.
While White ultimately failed to medal in the halfpipe, the real disappointment Tuesday may have come from Ben's younger brother, Will, who missed his chance to meet White with his brother.
"I was in the seats," he said.