If a three-ton apex predator took a chunk out of you, how would you feel about it? Surprisingly, most shark attack survivors — so many of whom are surfers and ocean lovers — are ready to forgive and get right back in the water.
DAVID COZZAN AND HIS SON: Surviving shark attacks a family affair

Cozzan, 37, was chomped on the foot when he was 19, while surfing off Singer Island, Florida. Two decades later, his 9-year-old son Sebastian, was bitten in the same general area.

David, who is from the Northeast, said he had a feeling he shouldn't have gotten in the water the day he was bit as a teen.
"We saw sharks all throughout the waves, and my buddy was like 'I'm not going out,' and I was like, 'Come on!' There were like 30 kids all there — locals. I said, 'It can't be that bad, these guys are out!'"
He admitted, they were a little tipsy.   
Cozzan missed a wave and was sitting on his board when "boom! I got nailed."
The shark, which he thinks was a juvenile spinner or blacktip, didn't drag him or bite any further.
"That was it, I paddled in, waved my buddy in, went back to my dorm, got more drunk — I think at some point we made the decision to go to the hospital. It was a good puncture."
He was back in the water as soon as he could get wet again.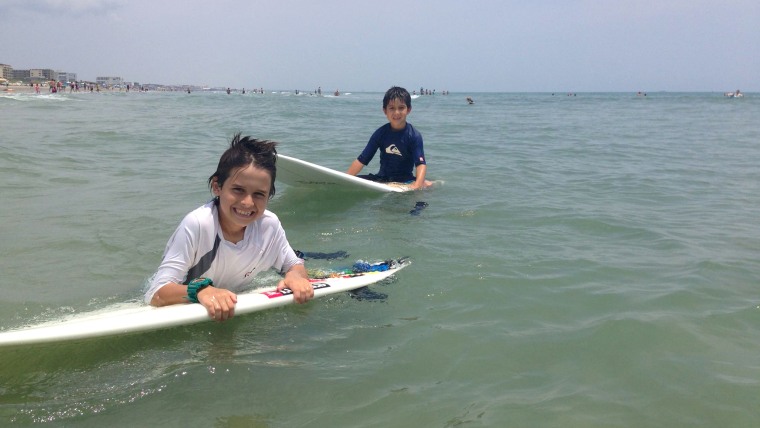 "Fear? Sure, still have a little, I don't know if you would call it fear, but I have respect."
His son Sebastian shares that respect. The youngster was surfing at North Palm Beach on March 21 when he was bit.
"It was scary," said Sebastian. "I was surfing, and then the shark just came up and bit me, on the foot. It pulled me down and then I went back to shore with my surfboard."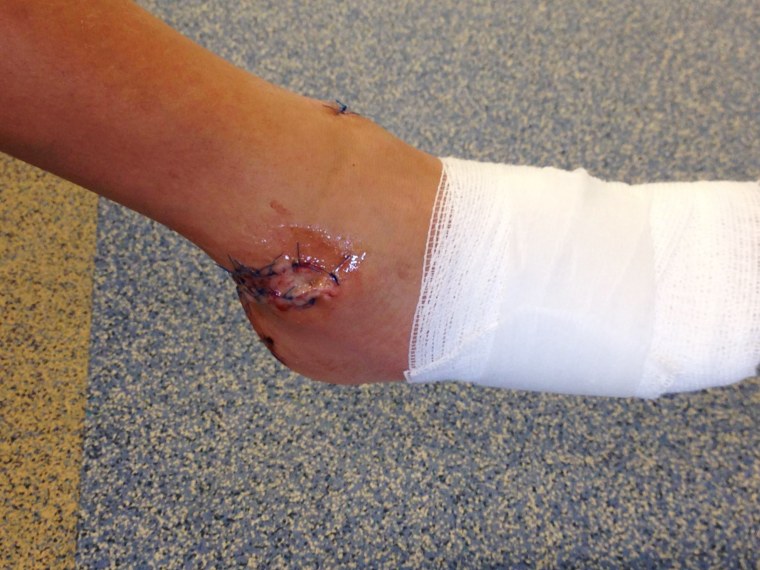 Eighty stitches later, the boy got back in the water on Memorial Day.

He doesn't blame the shark because "I know sharks attack by accident, because they think their prey is us," he said.

FRANK WACHA: Bit while surfing
The restaurateur was bitten by a shark in March of 2012, while surfing off of Jensen Beach, Florida. Ask him how he remembers the attack, and the time since, and the major theme is: "I liked it better before it happened."
That is, while he has no lingering pain, nerve damage or nightmares, he just enjoyed the beach life more when he didn't have the memory of his attack.
"I liked going out and surfing and never even thinking about it," Wacha, 64, told NBC News this week. "You see them, but I never even thought about them."
He was paddling to get into a wave when "I guess the shark thought my hand was a fish," he said. "I was stroking real hard and it actually came up out of the water and bit me." Wacha believes it was a small bull or sandbar shark.
"I saw it, I mean I was eye to eye with it, it was right there — its one eye was looking at me, and I thought, 'Oh sh-t!,' so I thought I better get away from here, so I paddled away. I couldn't see how badly, but I could tell I was bleeding, a lot."
Wacha rode a wave in — "the fastest way to get to shore" — and a lifeguard helped stop the bleeding before his wife drove him to the hospital.
He got 30 stitches on his hand, and seven days later, his doctor said he was healing so well that he'd probably be able to surf again in just another week or two.
"I figured that was a challenge, he said.. Two weeks later, I went out to the same spot — I figured you gotta get back on the horse."
Every March 15 — the anniversary of his attack — he now puts "shark bites" on the menu of his Kona Beach Café restaurant.
"We bring in 40 pounds of shark from Hawaii — because Hawaii is the place where they have really stringent laws, regarding that (shark hunting) — and they have great mako."
TRISTAN DURHAM: Attacked at the shark bite capital of America
Fourteen-year-old Tristan Durham was bit last week at New Smyrna Beach, Florida, where a concentration of fishing causes shark heightened shark activity.
"I was blown away, I didn't think I'd be bit, I didn't even believe it at first," Durham told TODAY. "It started ripping my foot away from it, and it wouldn't let go, so, I just had to rip it out of its mouth."
The young surfer was calm as a veteran as he told his shark tale from a hospital bed.
"At first when I got bit though, it didn't hurt as bad, like it was like I was all adrenaline," he said. "So when I was paddling in I didn't even feel it."
He had surgery to repair tendons, but he's aching to get back in the water.
"I'll be out there when it heals. I'm not going to stop surfing just because of one shark," he said.
CJ WICKERSHAM: His friend got a piece of the shark
Wickersham was just 21 in September of 2011 when he was attacked off the coast of Florida's Anna Maria Island while spear fishing. Wickersham was bobbing in the water when a nine-foot-long, 500-pound bull shark bit down on his leg.
His friend Connor Bystrom jumped in the water instantly, and punched the shark in the face.
"I can't remember how hard I punched it, but I must have punched it pretty hard because it let go pretty fast," Bystrom told TODAY at the time.
Three years later, Wickersham said the close call doesn't haunt him.
"Nah, I've never had a dream or anything about it," he told NBC News this week. "Never really thought about it when I go diving."

He still remembers the details: "Saw a snapper, shot at it but missed it. So I went back up to catch my breath. And as I was catching my breath I felt something hit my leg and I wasn't sure if it was somebody got back in the water and hit my leg and when I looked back down I saw a shark. The first thing I thought was to punch it so I let go of my gun and punched it."

Watch CJ Wickersham show off his 800-stitch leg bite.
His instinct to punch the shark wasn't based on years of experience in the water, so much as experience on the couch.
"Just from seeing it or hearing it on TV — just punching it or hitting it on its nose," he said.
He thinks a lot about his friend selflessly jumping in the water to save him.
"It's pretty heroic to jump especially after all the blood in the water and he doesn't know if the shark is still there. Could have bit him too but I guess he was just fast-thinking."
And he doesn't fault the shark: "It was just curious, I guess. "
ERIC TARANTINO was surfing near Monterey, California in October of 2011
"I was struck suddenly at 7 in the morning by a white shark at Marina State Beach," the 30-year-old told NBC News. "In one hit with its mouth open it left a 19-inch diameter bite on the bottom of my board, a gash on my neck that almost severed my carotid artery, three slashes to my forearm that in effect opened my arm up, superficial scratches on my face, and damage to both hands."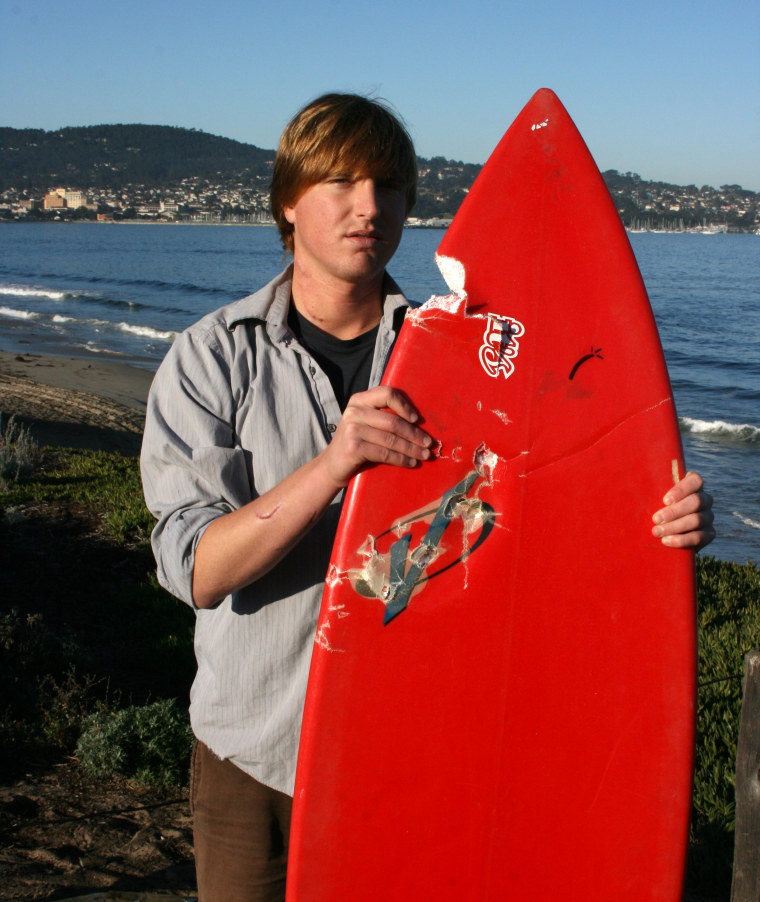 As is often the case when a shark attacks a human, after the initial bite, the shark left him alone and he was able to retrieve his board make it to shore, where he got help in the parking lot.

Even now he still suffers nerve damage in his hand, and has some loss of feeling — and he's changed the way he surfs.
"Not by myself in the morning (and I) don't surf certain spots where shark sightings are more common," he said.
Yet, like so many who have been "attacked" by sharks, he is on their side.
"I still, and always have, held a tremendous respect for sharks and the ocean and believe both should be protected along with other sensitive/threatened animals/regions like coral reefs," he wrote in an email.
"The attack certainly increased my appreciation for the power of these animals; how can a 15 foot animal that weighs over a ton sneak up on you, cause so much damage, and disappear just as quick? It's impossible to put into words the power and stealth of these amazing predators."