In Portland, Oregon, perhaps the police's motto should be "Courtesy, Pizza and Respect."
After a Pizza Hut deliveryman was injured in a collision on Sept. 1, the two officers who responded to the crash helped him finish his delivery, making sure a pizza made it to one of his customers, local station KOIN reported.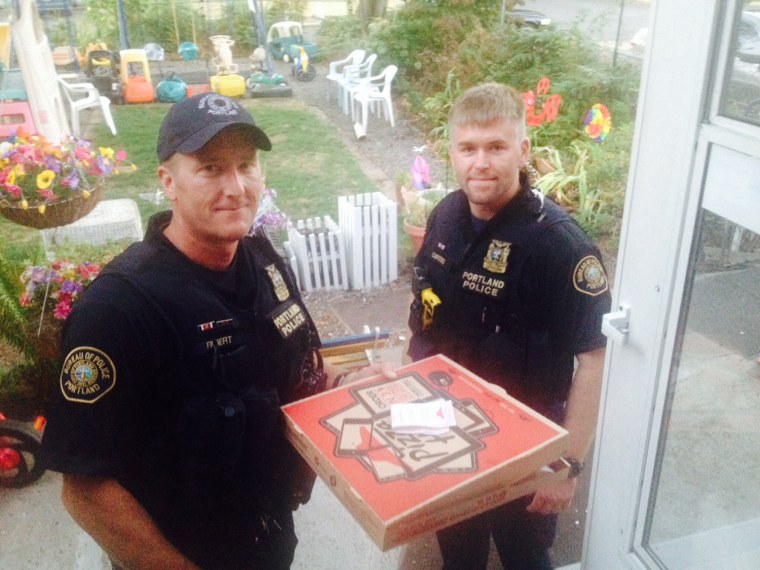 The customer who ordered the pizza was so stunned to see the pair in blue on his doorstep with the pie that he snapped a picture, which went viral.
Steve Huckins and his wife, Ginger, were already tucking into another pizza, delivered by Pizza Hut's manager for half price because of the delay the crash caused. At first, they didn't know what to make of the cops at their front door.
Officers Royce Curtiss and Michael Filbert explained that the deliveryman had been in a wreck, so they had finished the job for him. After inquiring about the driver's condition and learning he would be all right, the couple had a laugh and grabbed the second pie.
"They turned to leave and I said, 'Wait, I want a picture. Nobody will believe me that the police would deliver that pizza,'" Huckins told TODAY.com.
Though the officers were not available to comment on their supper service, the Portland Police Bureau issued this statement: "The Bureau believes it's very important for officers to invest time in having positive interactions with the community. In this instance, taking a few minutes to deliver someone their dinner is a perfect example of what kind of officers we have in Portland, officers who care about those they serve."
Huckins said he shared the photo on Facebook and with the Portland police, who dispersed it more widely through social media.
"It exploded," Huckins said. "I'm just amazed. I'm just a 40-hour-a-week working man. I don't want the attention. The cops deserve it."