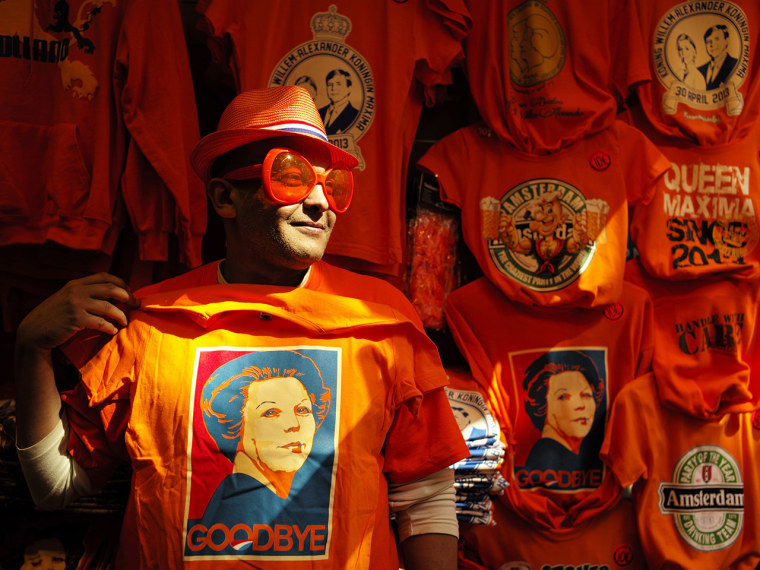 Queen Beatrix will pass the crown to her eldest son Willem-Alexander on Tuesday, making him the first king of the Netherlands in over 120 years, and the Dutch are getting ready for a party.

Orange, the royal color, is everywhere. Houses are covered in bunting and flags. Shop windows are stuffed with orange cakes, sweets, clothes and flowers.
April 30, or Queen's Day, is always a day for partying in the Netherlands. But this year the city of Amsterdam is putting on a special show to celebrate the investiture of the 46-year-old king and the abdication of his 75-year-old mother who wants to retire after 33 years in the job.
Nearly a million are expected to join the street party with dancing to bands and DJs helping create a carnival atmosphere. As always, there will be people on the pavements setting up traditional makeshift bric-a-brac stalls.
Britain's Prince Charles and Japan's Crown Princess Masako, who is making her first foreign trip since falling ill a decade ago, will be among 2,000 visitors at the official ceremony.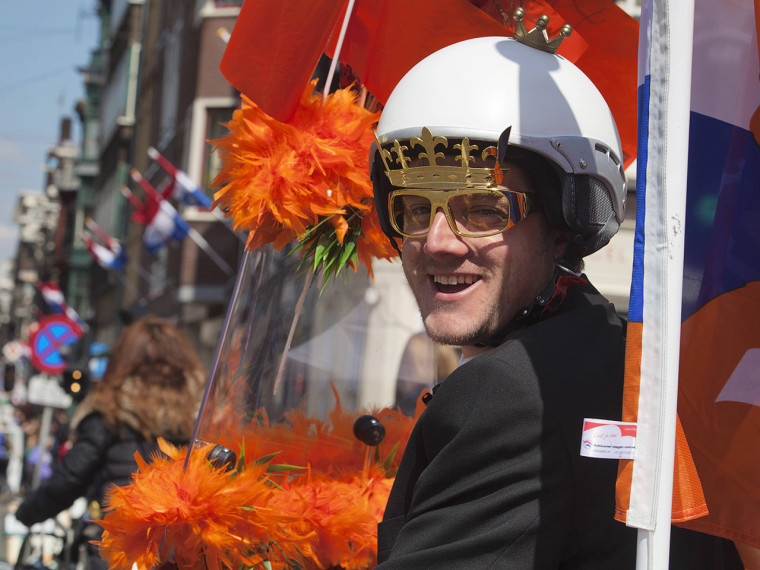 "There will be tears on Tuesday," said Dutch Prime Minister Mark Rutte, paying tribute to "this formidable lady who has ruled this country for over 30 years."

On her last evening as Queen, Beatrix will hold a banquet in the newly renovated Rijksmuseum. The next morning at 10:00 a.m. she will sign her abdication, whereupon Willem-Alexander immediately becomes king and his wife Maxima, a popular former investment banker from Argentina, becomes Queen.
All three will then appear on the palace balcony to wave and address the crowds in Dam Square.
They will then head from the palace to the 600-year-old Nieuwe Kerk, or New Church, next door where the king will swear an oath to uphold the Dutch constitution before lawmakers.
The celebration will continue through the evening with a water pageant along the Ij, Amsterdam's historic waterfront.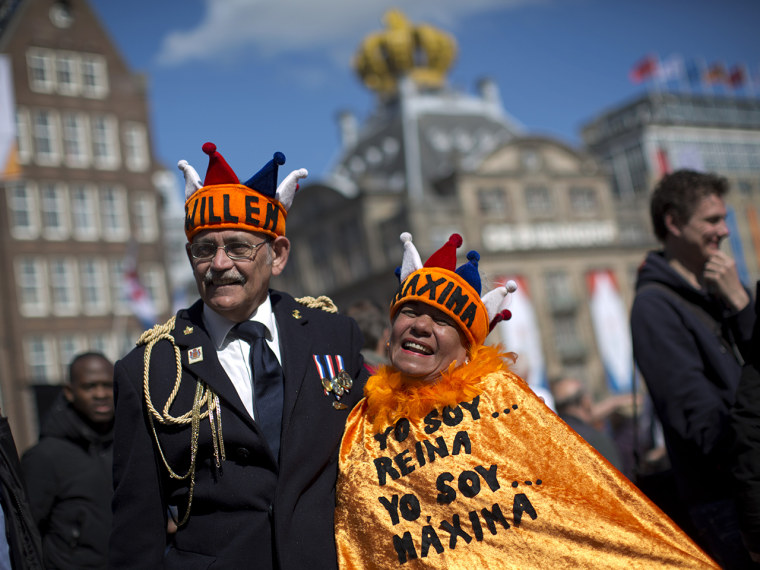 Prince Pils

Queen Beatrix, known for her sculpted hair and big hats, has been a fixture of Dutch life during her reign.
But she has also played an active part in politics, making known her views on the environment and her dislike of the anti-Islam, anti-immigrant agenda of populist politician Geert Wilders.
At her weekly audiences with her prime ministers, the Queen poured the tea or coffee herself while discussing politics. She had real influence, mixing with captains of industry and political movers and shakers, and appointing the mediator who conducts exploratory talks when forming government coalitions.
But the Dutch monarch was officially stripped of that role last year by parliament, and Willem-Alexander, who said he prefers to be addressed by his first name rather than "Your Majesty," will be a less formal head of state.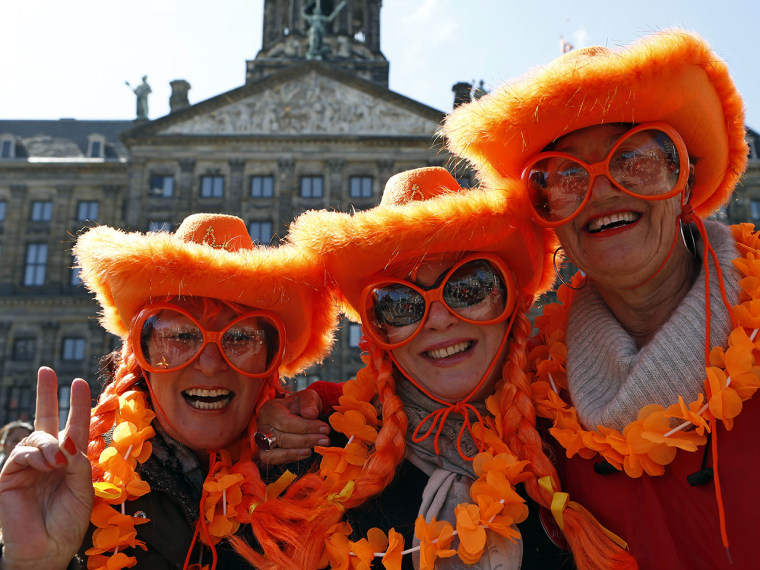 Known as "Prince Pils," a reference to Pilsner beer, in his youth because of his hard-partying lifestyle, Willem-Alexander is a water management specialist, a useful expertise in a country much of which lies below sea level.

His marriage to Maxima in 2002 was controversial because her father, Jorge Zorreguieta, served in Argentina's military dictatorship more than 30 years ago.
But Maxima quickly endeared herself to the Dutch and a poll showed she is now as popular as the queen and even more popular than her husband. The same Ipsos poll found that 78 percent of Dutch are in favor of the monarchy, up from 74 percent a year ago.
Economic uplift
The abdication and investiture have provided an excuse to celebrate at a time when the economy is in the doldrums, as plummeting house prices, rising unemployment and slumping consumer confidence have pushed the country into recession.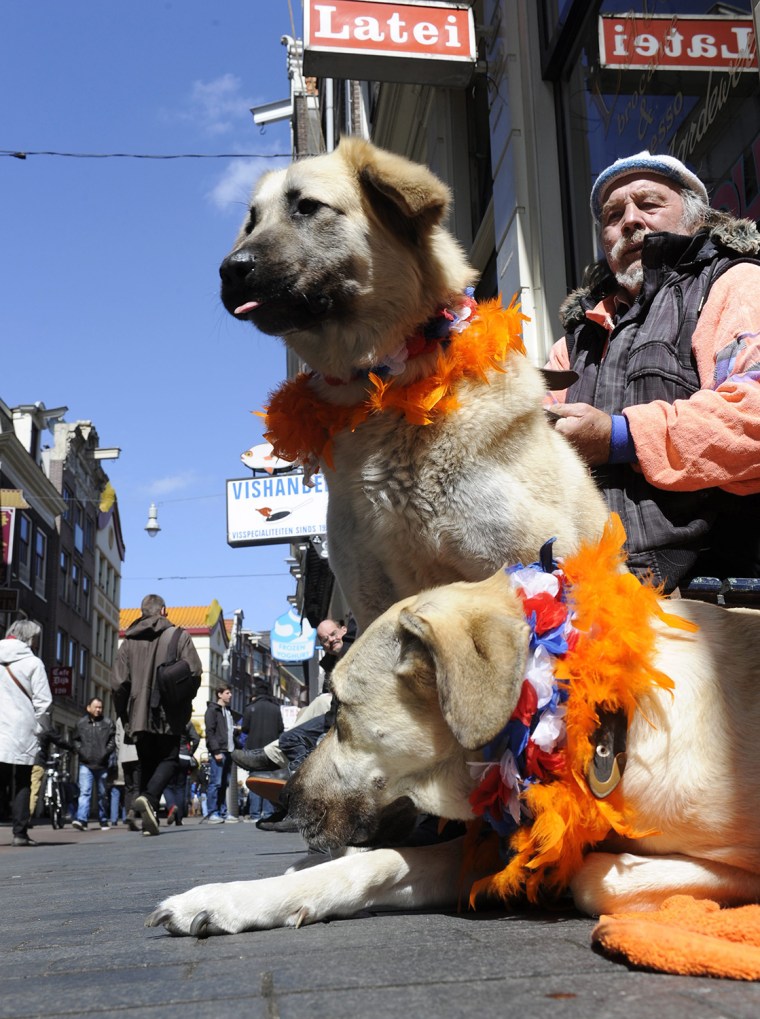 "It will certainly strengthen our sense of nationhood," said Rutte, adding that he hoped the uplift to the national mood would have a beneficial impact on the economy as well.

At a time of austerity and billions of euros of budget cuts, the government promised to keep the cost of the pageantry down.
Republicans have said the monarch should accept a lower salary and pay taxes, and a petition calling for Willem-Alexander's salary to be cut to 150,000 euros, down from his mother's 850,000 euros, has collected several thousand signatures.
This week's ceremonies will cost about 12 million euros, but that excludes the bill for the extensive security measures.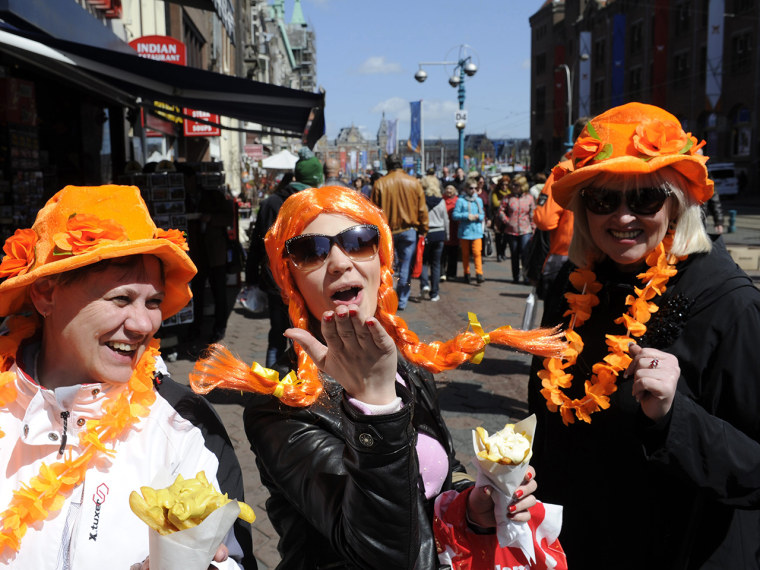 Just two weeks after a bomb exploded at the finish line of the Boston marathon, authorities are taking precautions ahead of one of the largest public gatherings ever in the Netherlands, bringing in sniffer dogs from Germany and putting more than 10,000 police on the streets.

Rutte said there would be "an unprecedented logistical and security operation."Q
Demonstrators who oppose the monarchy plan to dress in white, in contrast to the orange color of staunch monarchists. And catering to all views, dissenters will have half a dozen sites made available where they can stage their protests, far from Dam Square.