Mark Sanders had just experienced love at first sight at a twins convention in Twinsburg, Ohio, when his first thought was that he better go find his identical twin brother.
Craig and Mark Sanders had stopped by the convention in 1998 when Mark met Darlene Nettemeier, who was there with her identical twin sister, Diane. The twin blondes were visiting family nearby and decided to stop by the event.
"I was actually by myself in the lobby of the hotel when I first saw Darlene and Diane,'' Mark told Savannah Guthrie on TODAY Wednesday. "Craig was actually back in the hotel working, because we were working at the time on a story, and I had to go get him because otherwise I was afraid they were going to be scared I was some single crashing the twin party. I had to prove I actually had a double somewhere.''
Mark not only met his future wife, Darlene; he also ended up introducing his twin brother to his future wife - Diane. The two couples had a double wedding in 1999 after the brothers proposed on the same day.
Taking the twin theme a step further, Craig and Diane had identical twin boys, Colby and Brady, in 2001. Identical twins have no hereditary traits that influence a predisposition to having identical twins. No one knows why identical twins happen, as they come from a spontaneous split of a fertilized egg. 
The two families now live next to one another in Houston, and all of the twins, plus Craig and Diane's other son and Mark and Darlene's two girls, had Guthrie seeing double on TODAY Wednesday.
The odds of having identical twins are three in every 1,000 births, but the odds of an identical twin marrying another identical twin and then giving birth to identical twins are millions to one. Genetically, the five combined children of the two couples are technically siblings, although in reality they are considered cousins.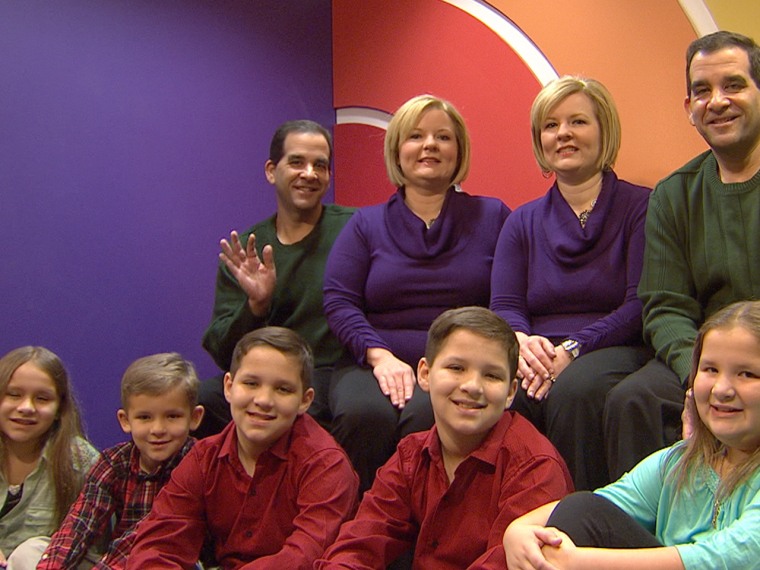 "We told (the doctor) the history of our families (when Diane was pregnant),'' Craig said. "She said, 'Oh yeah, it's twins.' We thought she was joking, but she said, 'No, come look. It's two.'''
After meeting at the convention, the couples bonded over their love of baseball and carried on a long-distance relationship from Craig and Mark's home in Houston and the girls' home in St. Louis. Within a year of meeting Darlene and Diane, the brothers decided they would propose to them on the same day.
"We were worried, 'Well, what happens if one proposes, what's that one going to think?''' Craig told Guthrie. "Is her sister also being proposed to? So we decided we would do it at the same time.''
The sisters both have the same style of engagement ring, and they wore identical dresses at the wedding while their father walked both of them down the aisle at the same time.
"It was fun shopping for dresses, because she would take half and I would take half, and we would try them on,'' Diane told Guthrie. "If it didn't look good on her, it wasn't going to look good on me.''
"We knew we had to go with something a little straighter (for a dress) so that we could all fit down the aisle with our dad,'' Darlene said.
The families have a shared backyard in Houston that allows the children to all play together. They admitted to occasionally mistaking an aunt or uncle for one of their parents when looking at them from behind. While the families don't do too many activities with all nine of them at the same time, for at least one of them, the twin theme can get a little old.
"I'm considered the evil twin of the four of us, because sometimes there is an evil twin,'' Mark told Guthrie. "I'm the one who gets a little tired of the story. It doesn't get that much attention, but every now and then it just gets to be a little too much.''
More: 
Sandy Hook survivors sing 'Over the Rainbow' to benefit Conn. charities
Kim, Kate both due in July: Brits bet on who will be first
Chelsea Clinton: Hillary is 'as vibrant as ever' 
College basketball star saves wheelchair-using fan from crowd