/ Source: TODAY contributor
Most couples wait until the reception before breaking out into the Funky Chicken on their wedding day, but Kevin Heinz and Jill Peterson figured, why wait to unleash their unbridled joy?
The 28-year-olds floored their wedding guests by having their whole bridal party — including seven bridesmaids, five groomsmen and four ushers — boogie down the aisle in a choreographed dance more at home in a Broadway musical than in a somber church.
Groomsmen split into sides as Heinz did a somersault in front of the wowed crowd — and the gown-clad Peterson quickly followed, shaking her hips to Chris Brown's "Forever" while pumping her bridal bouquet into the air during the June 20 ceremony in St. Paul, Minn.
Of course, some things are too good to keep to yourself. And when Kevin posted the wedding dance routine on YouTube, it quickly became a viral hit — some 700,000 people have already shared in the couple's novel way of showing their matrimonial joy.
Heinz and Peterson (she's keeping her maiden name) appeared live on TODAY Friday to tell their story of how their artistic self-expression on the biggest day of their lives captured America's imagination and made them Internet stars.
After watching the video, TODAY's Matt Lauer told the couple, "If that was a ceremony, I don't know how you survived the honeymoon!" He then asked the couple who came up with the idea.
"It was mine," Jill told Lauer. "I danced growing up and was a dancer through college and loved dance as a way to express yourself and share joy. So it was something I always thought about doing."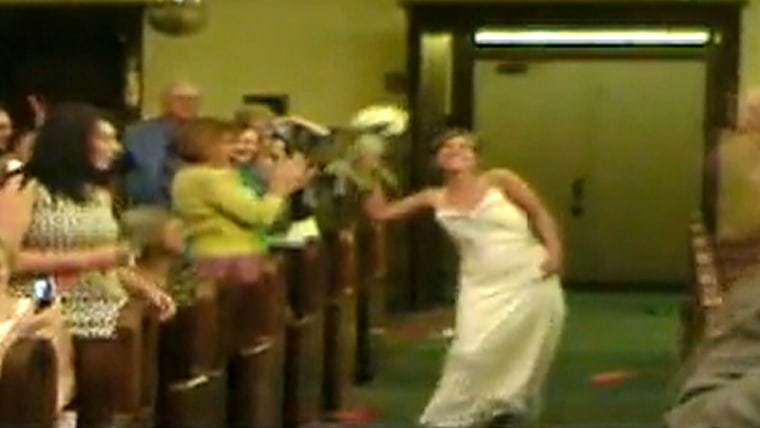 It didn't take her fun-loving husband Kevin long to agree to the idea, saying the decision to dance was "the first thing we really decided about the wedding that he wanted to do."
They then broke the news to the parents that their wedding processional wasn't going to take on the more reserved joy of a typical wedding. Jill admitted that her mom "was maybe a little nervous," and Kevin said his parents were "definitely apprehensive," but didn't try to talk the two crazy kids out of their plan. They swore them to secrecy so other wedding guests wouldn't know what they were up to.
Seat-of-the-tux performance
Next up was a dance rehearsal for the wedding party. Anyone seeing the YouTube video might think the whole party was composed of dance professionals — the bridesmaids alone, with their waving-hands routine at the altar, are worth the price of admission. But Jill said it was actually more seat-of-the-tux than the final result would indicate.
"We [practiced for] an hour and a half," Jill told Lauer. "A lot of that, people were sort of making up as they went, people just got really into it and went for it. We just gave them a general layout."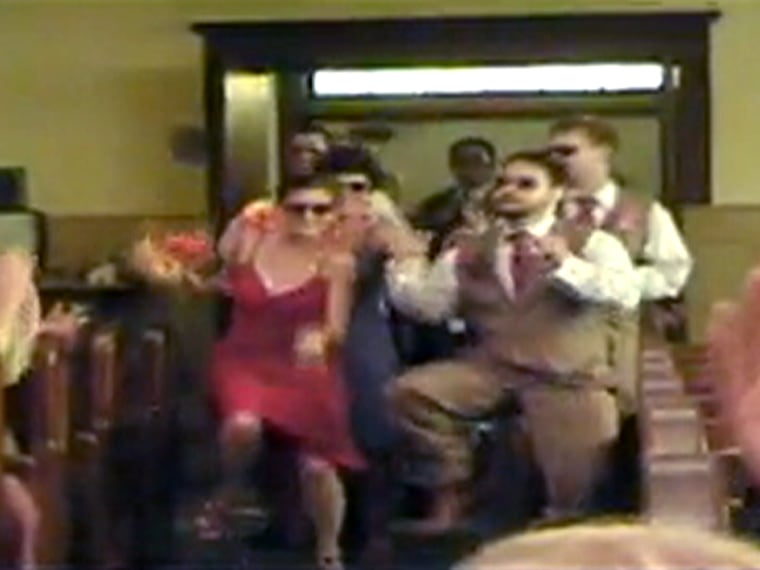 While guests were clearly overjoyed at getting a floor show even before the champagne flowed at the reception, Kevin and Jill are adamant they weren't seeking a quick kiss of fame by posting their dancing high jinks on YouTube. Like many other viral video sensations, it was originally intended for friends and family.
"I put it up because her dad had been really harassing me to get it out to some of his other family members, and it exploded," Kevin said.
TODAY's Meredith Vieira noted that fans of the video are in for a special treat — the whole wedding party will appear on TODAY Saturday to do an encore of their now-legendary aisle dance.
Lauer was clearly amused by the couple and their video.
"If you can have that much fun at the wedding, that much fun will carry over also into your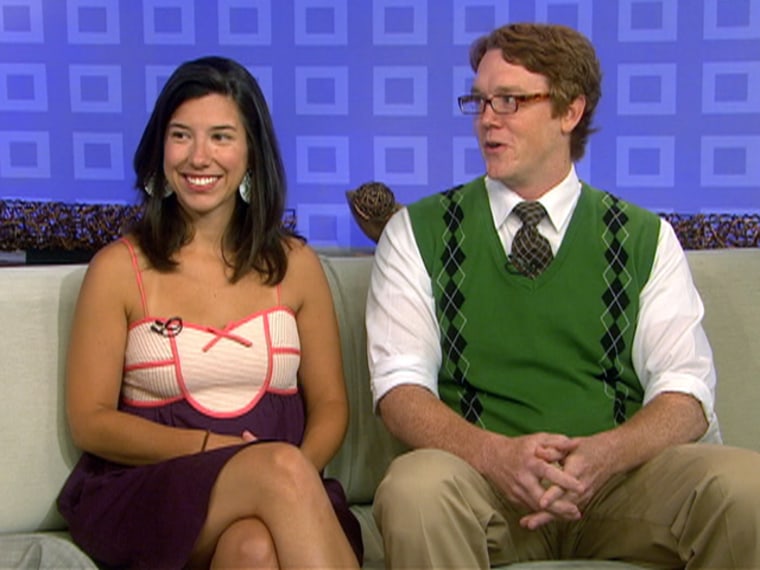 marriage," he told them. "What a great sign and what a great gift."
In an interview with Minnesota's WCCO-TV, the couple said they plan on dancing through life in a happily-ever-after tale.
"Our kids will dance," Jill said. "They'll definitely have some rhythm."