Part-time janitors rarely bequeath $6 million to local causes, but Ron Read was no ordinary janitor. He was a secret millionaire.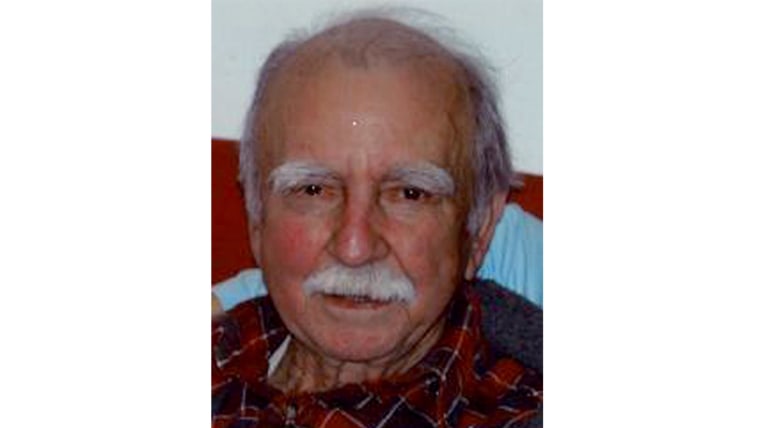 Known as an intensely private man who loved to chop wood and drive his second-hand Toyota Yaris around the Vermont town of Brattleboro, Read didn't strike locals as the type of guy who had a lot of money to throw around. When the 92-year-old passed away in June, most Brattleboro residents were shocked to learn his estate donated $4.8 million to the local hospital and $1.2 million to the town's Brooks Memorial Library.
"It was like a thunderbolt," said Jerry Carbone, the library's director, told TODAY.com.
Read's estate attorney, Laurie Rowell, said she could understand why everyone in town was surprised by the news. "Initially, he told me he had money, and I didn't really think so, because of the way he was dressed," she said, citing his typical ensemble of a well-worn coat, flannel shirt and baseball cap. "Never judge somebody across the table for what they look like."
Ellen Smith, who used to work at Brattleboro Memorial Hospital, told TODAY.com she befriended Read at the hospital's coffee shop about nine years ago, soon after she started working in the building. Every morning, she said, he'd order the same thing: a cup of coffee and an English muffin with peanut butter. "You would look at him, and you would never, ever, ever know [he was rich]," she said. "He would wear winter coats with safety pins keeping them closed."
Rowell said someone once offered to pay for Read's meal, based solely on the janitor's appearance. On top of that, Read was notorious for being frugal. "The last time he came to see me, I walked him to his car, because I was worried about his health, and, of course, he had parked far enough away that he didn't have to pay the [parking] meter," Rowell added.
Read's public persona fooled many. He worked at a local gas station after graduating from Brattleboro High School in 1940, and served domestically and overseas with the Army during World War II, according to a press release issued by Rowell's law firm, Fitts, Olson & Giddings. Returning to Brattleboro in 1945, Read continued to work at the gas station until 1979, when he planned to retire, but when that didn't suit his personality, he took a job as a part-time janitor at a local J.C. Penney, the firm said. According to Vermont's Rutland Herald newspaper, Read spent 17 years working there.
Added Rowell, "He was unassuming, unpretentious and down-to-earth. He had a nice sense of humor. He was quiet. He was easy to work with. He was very independent. And very private."
Read had been married for a decade when his wife died of cancer in 1970, and remained unmarried for the rest of his life, according to the Rutland Herald. One of Read's stepchildren, Philip Brown, told that newspaper that even he "had no idea whatsoever" that his stepfather was rich.
So, how did Read become a millionaire? He was a whiz at picking stocks, transforming his humble savings into about $8 million by the time he died, according to Rowell. "He did all his own investing," she added. "He had only a small account with Wells Fargo. His safe deposit box was filled with original stock certificates."
Smith, now a vice president for advancement at nearby Landmark College, described Read as a "very private, very unassuming" person who grew up poor but exhibited an incredible work ethic. As they became better friends, he shared his secret with her. "He really wanted that money to be taken care of, because it represented so much of what he had worked for, throughout his life," she said. "He was very fearful of it being squandered."
Read wanted to remain private, yet be recognized for his works and deeds, according to Smith, who added, "At one point, he said to me, 'Wouldn't it be nice to have my name up on a building?' And I'm like, 'You can do that.' And two minutes later, [he'd say], 'No, no, no.'"
Gina Pattison, Brattleboro Memorial Hospital's director of development and marketing, told TODAY.com that while the hospital's board of directors hasn't made any decisions about how to spend the money, capital projects and infrastructure improvements may be on the list.
"To know that he was worth $8 million — and also that he left so much to this hospital — was just amazing, and incredibly generous," she added.
Back at the library, Carbone said Read's stepson often drove him to the library, which hasn't received a donation as large as Read's since the library's original benefactor, George J. Brooks, donated the original building and additional funds back in 1886. Library board members may earmark Read's donation for technological upgrades and other initiatives, Carbone said.
"Mr. Read intrinsically knew the value of a free public library in a community and society," he added. "He was a self-made man; I believe he knew what free access to information, books and literature would do for an individual, and that's the role of a public library."
Smith finds Read's donations bittersweet. "I'm really happy for him, that he's getting this recognition now," she said. "I wish he were alive to see how his gift is going to impact this community."
Follow TODAY.com writer Chris Serico on Twitter.