An Illinois school resource officer whose quick action stopped an armed student from killing his classmates earlier this month says he let his police training kick in when he went after the gunman.
"When you're put in that stress, I guess that the training make makes such a difference that you revert back to it and it's just automatic," Mark Dallas told NBC's Ron Mott in an exclusive interview. "It's that muscle memory. It came back just like that."
Dallas was on duty at Dixon High School on May 16 when he recognized the sound of gunfire in the hallway near the gym where the seniors, including his own son, had gathered for a graduation rehearsal.
Moments earlier, according to authorities, 19-year-old student Matthew Milby had walked into the school and stopped inside a bathroom. He emerged a few minutes later and headed toward the gym, firing his weapon.
Dallas, who was in an office across the hall at the time, said he drew his own gun and started yelling at the suspect.
"It happened extremely fast. All my thought is, 'Oh my god. He's going to get somebody over there. I need to continue, continue,'" he recalled. "I was not going to let him get away."
Inside the school gym, Dallas' son, Josh, and his classmates were observing a moment of silence for classmates who had passed away. He heard his father's voice outside.
"I never once feared for my life because I knew he would protect us all," he said.
Dallas, a veteran with the Dixon Police Department, returned fire and eventually chased Milby from the school. One of his rounds struck the suspect in the shoulder, but no one else was injured.
Milby was later charged with three counts of aggravated discharge of a firearm in a school and jailed on a $2 million bond. He has pleaded not guilty.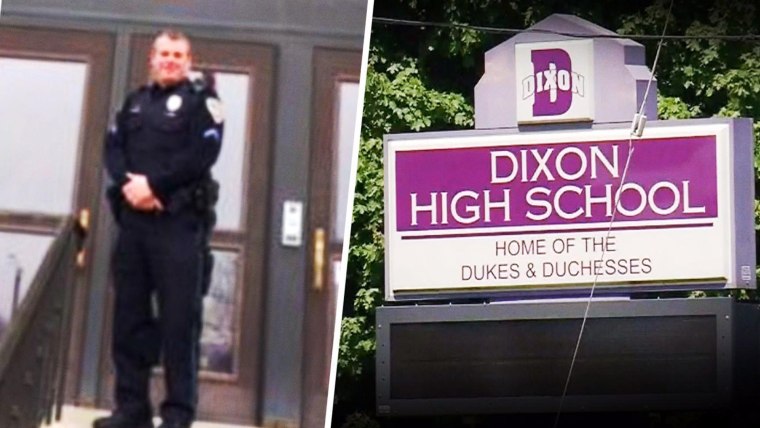 Dallas said he wasn't thinking about his own safety as he chased down the gunman. He said he was only thinking of the students — his own children and the hundreds of others he had seen grow up over the years.
"I'm dad to all these kids. These guys, especially the senior class," said Dallas, who started his job at the school four years ago.
After the shooting, Dallas didn't get to reunite with his family until hours later at home, when he shared some tears and hugs with his son and daughter.
"We all embraced and told them I loved them both and was glad that they were fine," he said.
His son Josh, who graduated from high school over the weekend, said his father deserves all the accolades he has been receiving.
"He is a hero," he said.